Featuring 4 couples games, Sex Roulette is an adult app that has something for everyone, whether you're looking to bring some spice back into a relationship or you simply want to find some inspiration. It is a distinctly creative app as you can try everything from Truth or Dare to Kamasutra sex dice, and the app can also be adapted to you and your relationship regardless of your sexual orientation.
What are the key features of Sex Roulette?
KamaRoulette: Roll the dice and try out something new. Maybe it's the inspiration you're after or you're just feeling adventurous, with KamaRoulette you might find yourself standing, upside down, on your side, or in any number of other acrobatic positions, there's something for every taste here.
Truth or Dare for couples….or for adventurous groups!: Play with fire and give truth or dare a try. There are 5 full truth-or-dare sex games from soft to hardcore, suitable for groups (if you dare!) but also special couples games.
Sexy Scenarios: A great game for couples who've been together a while and are looking to freshen up their relationship or even take it to the next level. Tailored to your sexual orientation, there are 3 levels or 'modes' to choose from with each hotter and more daring than the next:
More: Get me going, Unleash, Fantasy to reality.
Red-hot Dice: For those who like a challenge, this game is a must. There are 4 sex dice, each containing actions that are as creative and unpredictable as they are dirty. Apart from the act to be performed, there is the added challenge of a time limit in which it is to be completed. Ready to play?
The app is available in several languages so if you're entertaining a sexy foreign visitor, you'll be covered.
There is a new Never Have I Ever game in this latest version of the app, so you can discover fun secrets about your partner.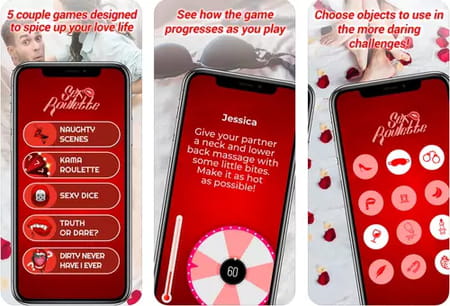 Is it free?
Yes, the app is free to download and use.
Is it safe?
Yes, Sex Roulette is safe to use.
Age rating
Sex Roulette is suitable for an adult audience.