Experience the ease of Windows ISO Downloader, your go-to tool for effortless OS and Office suite installations. Access official Windows ISO files directly from Microsoft's website, choose your version, language, and architecture, and let it handle the rest with fast, reliable downloads. Create bootable media effortlessly and unlock your computer's full potential.
What is Windows ISO Downloader?
The Windows ISO Downloader simplifies the process of downloading Windows ISO files by providing a user-friendly interface and organizing the available versions of Windows in an easily navigable manner. Users can select their desired Windows edition, language, and architecture (32-bit or 64-bit) to download the corresponding ISO file.
This tool can be useful for various purposes, such as reinstalling Windows, creating a bootable USB or DVD for system recovery, or performing a clean installation of Windows on a new computer.
What are the key features of Windows ISO Downloader?
User-friendly interface: The software provides a user-friendly interface that simplifies the process of finding and downloading the desired Windows ISO file. It organizes the available versions of Windows in an easily navigable manner and provides filters.

Selection of Windows edition: You can choose your preferred edition of Windows (such as Home, Pro, Enterprise), select the desired language, and specify the architecture (32-bit or 64-bit) before downloading the ISO file. Many different versions are available, such as Windows 11/10/8/7 and more.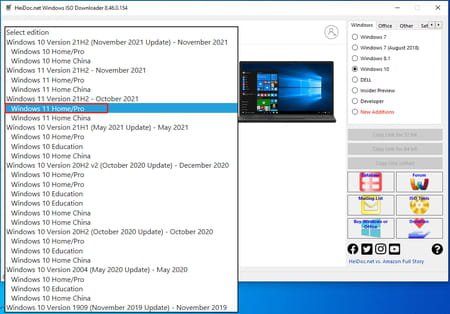 Microsoft Office: With Windows ISO Downloader, you can not only access ISO files for Windows operating systems but also download ISO files for Microsoft Office suites. This feature makes it convenient for you to install and set up Office applications without requiring an internet connection.

Fast and reliable: The software ensures fast and reliable downloads by directly connecting to Microsoft's servers. This helps you save time and ensures the integrity of the downloaded ISO files.
How to use Windows ISO Downloader?
Launch the application: After the installation, open the Windows ISO Downloader application by clicking on its icon on your desktop or in the Start menu.
Select Windows Version: Browse through the list of available Windows versions provided by the application and choose the specific version you want to download.
Choose language and architecture: Specify your preferred language and select the appropriate architecture (32-bit or 64-bit) for the chosen Windows version.
Download the ISO: Initiate the download process by clicking on the "Download" button within the application. It will establish a connection with Microsoft's servers and retrieve the ISO file for you.
Save the ISO: Choose a destination location on your computer where you want to save the downloaded ISO file. This could be a specific folder or directory.
Is Windows ISO Downloader free?
Yes, Windows ISO Downloader is free to use.
Is Windows ISO Downloader safe?
Yes, it is considered safe to use.