The Google Play Store app is Google's official source for Android apps and downloads. It provides millions of apps to billions of users worldwide and it is fully featured to give a great experience.
What is Google Play Store?
Google Play Store, also known as Google Play, is a digital distribution service where you can download free and paid digital content, including apps, games, books, etc. Created by Google and offering a pretty smooth experience, it is used to download all the other apps on your device and manage app purchases and refunds.
What are the key features of Google Play Store?
Modern interface: It offers an intuitive, stylish, and nice-looking interface that makes it very easy to navigate the different menus of the store and find whatever you are looking for in seconds and a few clicks. It even features a dark mode to make your eyes feel more comfortable throughout the experience.
Centralized hub: This is where you want to go if you are looking for an app on your device, as it manages millions of apps, including games, apps, books, and movies & TV. Besides, there are billions of active users each month, over 140 billion downloads every year, and it is available in over 190 countries.
Easy payments: Google Play Store supports many convenient payment types, including credit or debit cards, Google Play Balance, Mobile phone billing, Google Play gift cards, and PayPal. The whole payment process is always accessible and is done in seconds.
Google Play Pass: Google Play Pass is an excellent subscription service that offers you access to hundreds of apps and games completely free of ads and in-app purchases and provides a high-quality collection of titles. Moreover, you can share it with other family members so that everyone can enjoy it on their own.
Google Play Points: Google Play Points is a program rewarding users for engaging with the Play ecosystem. You can earn points by purchasing apps or in-app content and trying free apps and games. You can later redeem points for particular items offered by developers or Google Play Credit to buy or rent products like movies, audiobooks, etc. It is excellent as both the users and the developers are rewarded.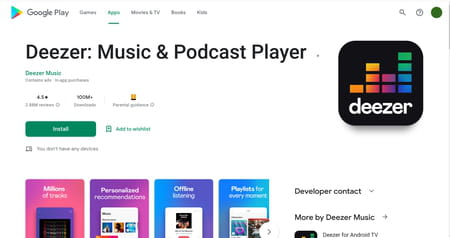 Kids friendly: You will find plenty of apps, games, and more that are approved and suitable for kids so that your little ones can take advantage of what's good for them.
Developer friendly: The platform makes it easy for developers to distribute their games and apps to billions of users worldwide. They also provide tools and free training to help developers manage app releases, performance, and account and payment management to make sure you are used to the platform.
How to use Google Play Store?
Once Google Play Store is downloaded, installed, and launched, you can log in with your account. Then, you just have to type the names of the apps you want in the search bar and find what fits your needs. You can also navigate across the different sections, depending on whether you are looking for apps, games, books, etc.
How to install Google Play Store on your PC?
Download the ZIP file we provide you at the top of this page, unzip it and run the BlueStacksInstaller.exe file to install this emulator on your PC.
Now, in BlueStacks, click on Play Store.
Sign in with a Gmail account
Once the Google Play Store app is launched, click on the Sign in button.
Enter your Google email address and follow the connection process. You are now good to go.
Sign in with a non-Gmail account
First, go to Google.com and click on the Sign in button at the top-right side of the screen (If you are already signed in, log out first and then click on the Sign in button).
Then, click on Create account, choose the option that suits you (either For myself or To manage my business), and click Next.
On the sign-up form, fill in your first name, and last name, and click on Use my current email address instead.
Fill in your non-Google email address in the Your email address field.
Finish the account creation process by choosing a password and confirming your email address with the verification code Google will send you.
Go back to BlueStacks and sign in using this email address. You are now good to go.
Is it free?
Yes, Google Play Store is 100% free to download and use.
Is it safe?
Yes, Google Play Store is a safe app where the content is checked to ensure you don't take risks. It will warn you about detected apps that violate the Google Play Store unwanted software policy. In addition, it sends you privacy alerts about apps that can get user permissions to access your personal information, violating the Developer Policy.