Use SOS emergency features: on iPhone, Android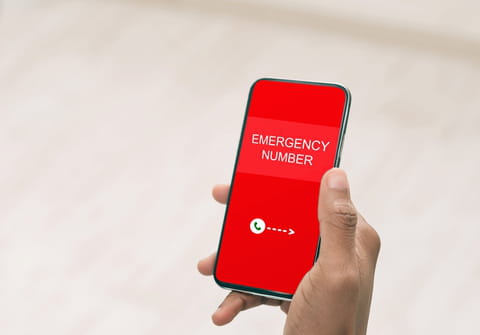 This article will show you how to set up and use these SOS emergency features for iPhone, Android and smartwatches.
How does SOS emergency work on iPhone?
How does the SOS Emergency Feature work on iPhone? When you activate the SOS emergency call, your iPhone will automatically call the local emergency number. In certain countries, you may need to select the service you need (police, fire or ambulance).
Once the call has finished, your iPhone can send a text message to your emergency contacts. This message will contain your current location and will update them if your location suddenly changes.
How to initiate SOS emergency call on iPhone?
iPhone 8 or Later
To make the Emergency SOS call on iPhone 8 or later, press and hold the side button and one of the Volume buttons until the Emergency SOS slider appears.

Swipe the Emergency SOS slider to call the emergency services.

If you continue to hold down the side button and Volume button, a countdown will initiate and an alert will sound. If you do not release the buttons before the countdown has ended, your iPhone will automatically call emergency services.
iPhone 7 or Earlier
To activate the Emergency SOS on iPhone 7s or earlier, you have to:
Press the power button 5 times in a row
The "SOS Emergency" option will appear on the screen.
It also allows you to add emergency contacts to whom your iPhone will alert with an SMS after making your alert call and send them updates about your location.
If your phone doesn't have a top button, then you will need to press the side button five times in rapid succession. In India, you need to press the button three times. The same "SOS Emergency" option will appear.
How to add iPhone emergency contacts?
To add emergency contacts on your iPhone:
Go to the iPhone Health app
Medical data
Edit
Emergency contacts.
After you set this up, this number will receive an SMS alert if you initiate the SOS emergency feature. With this information, this person can come to your aid and inform the relevant authorities.
If you'd like to add more emergency contacts to your list, follow this procedure:
Go to your Phone app and tap Contacts/Recents.
Tap the person's name in Contacts or the i sign in Recents.
Select Add to Emergency Contacts. If the person has multiple phone numbers, choose the one you will use.
Tap the contact's relationship to you and select Done on the next page.
How to remove an emergency contact?
To remove an Emergency Contact from your list, go to the Health app.
Next, tap on your profile photo and select Medical ID > Edit.
Tap the red sign next to an emergency contact and select Delete.
How does SOS feature work on Apple Watch?
The SOS Emergency Feature also exists on Apple Watches. Hold down on the side button until the Emergency SOS appears. Similar to the iPhone, continuing to hold the button will start a countdown before emergency services will be called.
Note: Your iPhone will need to be nearby to make the call, unless you have an LTE Apple Watch.
How to set up SOS Emergency for Android?
If you want to activate it on your Android phone, follow these steps:
Go to Settings
Advanced Features and select SOS Messages
Agree to the terms and conditions to set up your emergency contact
Add your emergency contact
Alternative setup
For some devices, this alternative setup may be required:
Go to Settings > Security and screen > Security and screen lock > Emergency rescue > Add your secure contacts.
Once configured, to send SOS messages, you just have to press the power button three times in a row and a message will be sent with your location. It also allows you to include photos and videos taken with the front or rear camera and even 5-second voice messages.
How to use SOS Message on a Samsung phone?
Samsung phones have an SOS Message feature that allows you to send an emergency message after pressing the side key three times. This will send a message with your location. It will include pictures from your front and rear camera and an audio recording.
How to use Emergency SOS on a Xiaomi phone?
Xiaomi phones have an Emergency SOS feature. Enabling this will send a message with your location and an SOS message. To trigger this message press the power button five times in quick succession.
Do you need more help with the emergency feature on your phone? Check out our forum!