How to sync iPhone and iPad: messages, contacts, apps, email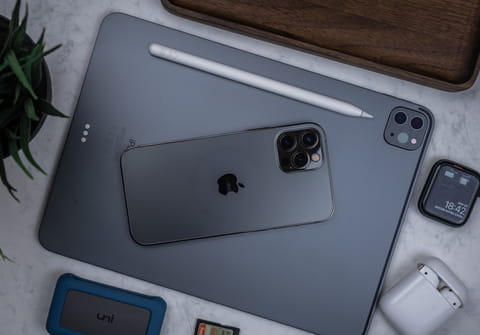 Synchronizing your iOS devices can help you merge all the content you have on your iPhone, iPad, or iPod and manage it from any device. You can listen to the music from your iPod on your iPhone during trips or keep your books and photos from the iPad on iPhone. In this article, you will discover how to sync your multiple iOS devices using your computer.
How to sync iOS devices?
If you are using macOS or Windows, either way, you can download iTunes app to synchronize all your data from iPhone, iPad, or iPod. Just follow these simple steps. First of all, download and install iTunes to your computer if it's not already installed.
If you are using iTunes on Windows OS, open iTunes and connect one of your devices to your computer by using USB cable. When it will be found by the software, the device icon will appear in the upper-left corner. Click on it and scroll down the page till your storage information and click on Sync.
Select the data you want to transfer and click Apply, then Sync. Make sure the transfer process is finished and plug the device out. Now you can plug in the other iOS device and follow the same procedure to transfer the files.
The transfer procedure for macOS is pretty much the same as for Windows. Connect one of your iOS devices in the computer using USB cable, open iTunes and click on device's icon in the upper-left corner. Go to Summary.
Choose the content you'd like to sync to your other devices.
Now the content from one iOS device is synced with iTunes and you can plug it out and plug in the other device. Follow the same steps as above: go to Summary and choose the content you'd like to synchronize. Press Done to start the transfer and after the procedure, you will see the related content on both devices.
How to sync iOS devices with Finder on Mac?
Open Finder on your Mac and connect your iPhone, iPod, or iPad to your computer by using the USB cable. Your device will appear in the left sidebar of Finder. Click on it and checkmark the type of content you'd like to sync: music, photos, movies, etc. Click on Apply and wait until the synchronization process is completed.
How to sync mails, messages, contacts and apps with iCloud?
The easiest and the quickest way to sync your iOS devices is to do it through iCloud. The iCloud server keeps all your backup data safe in one place, so all your devices are connected, and photo and video transfer is not a problem anymore. You can use with or without a computer, which makes the process even easier.
To enable iCloud synchronization you need to set it up on your iPhone, iPad or iPod. To do so, go to Settings > Apple ID, iCloud, iTunes & App Store; select iCloud and enter your Apple ID and password to log in. You should do the same procedure on all your iOS devices linked to the same Apple ID.
Then, you can select the apps which will automatically transfer your files from your iPhone to your iPad, or vice versa. Scroll down to see which iOS devices are successfully synced with this one.
You can also access your files through the computer: just log-in with your Apple ID to iCloud.com and you will see all your data stored there. You can download the iCloud app for Windows app to have all your data on deck.
<ital>Note: Make sure you have enough storage in iCloud, otherwise the system will not be able to transfer the data automatically. The free iCloud maximum storage is 5 GB, but you can always upgrade it to 50GB, 200GB, or even 2TB. You can check different plans and pricing here.
How to sync with software?
If for any reason you can not use one of the methods above, you can download and use on the following software to synchronize your iOS devices.
A well-noted app called iMazing also serves as synchronization software to manage your iPhone, iPod, and iPad files. You can download it for free to your Windows computer or MacOS and transfer your files via USB cable or Wi-Fi network. You can synchronize your favorite apps, photos, videos, even messages, and Safari data.
CopyTrans is an iTunes alternative that supports all iPod models and iPhone and runs on Windows. CopyTrans allows you to add music & video files to iPod and iPhone. You can download it from here.
Once installed, run the software and connect your iPod or iPhone to your PC. Your device will be detected and its content loaded within seconds. To add music to your device you can drag & drop files from your desktop to it or use the icons at the top of the interface.
PhotoSync app is designed to facilitate photos and video transfers between iPad, iPhone, and any computer (Windows, Linux, or Mac). Download the app and your iOS devices will be synced automatically, so all the photos and videos will be safely stored in case you lose your iPhone or iPad.
Need more help with iOS? Check out our Forum!