The IKEA Home Planner serves as your handy companion for planning and beautifying your living spaces. Easily revamp rooms to make the most of your belongings or simplify your daily cleanup routine. Whether settling into a new place or giving a fresh look to a room, you can effortlessly arrange your furniture and incorporate your favorite pieces with this tool.
What is IKEA Home Planner?
The IKEA Home Planner is budget-friendly and incredibly user-friendly for interior design. You can switch between a top-down perspective and a 3D view, allowing you to construct the room layout before introducing furniture. Additionally, it provides in-depth details for every item you incorporate, such as measurements and a comprehensive range of available colors.
What are the key features of IKEA Home Planner?
User-friendly interface: This tool is incredibly practical and user-friendly. Creating personalized spaces is a breeze, even for those without architectural expertise. Designing the layout of your home is simplified, and you can effortlessly experiment with various IKEA furniture options to find the perfect fit for your space, needs, and budget.
Bring it to life: You can tailor your design to perfection by customizing colors, patterns, and textures according to your preferences. Also, illuminate your virtual space with realistic lighting options, bringing your design to life with the perfect ambiance. And don't forget you can create intricate and detailed floor plans to ensure optimal spatial arrangement in your design.
Measurements: Guarantee a seamless fit in your space by incorporating accurate measurements into your design.
Furniture collection planning: The tool includes dedicated planners for specific IKEA furniture lines. This means you can easily design and organize entire spaces, such as your dining room, using only furniture that aligns with a particular collection.
Kitchen design: Easily plan your kitchen and visualize the result in both 2D and 3D. Arrange IKEA furniture according to your preferences, and the three-dimensional view accurately depicts how the furniture will fit in your space. There's even a specific tool for designing countertops.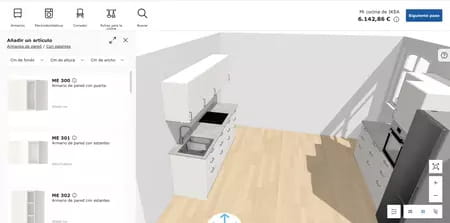 Office planning: While versatile for planning various spaces, the tool offers a specialized feature for office design. It guides you through the selection of IKEA office furniture, ensuring a seamless planning process.
Complements: Begin your project by planning a specific area, like the bathroom, and seamlessly transition to the complements phase. You can add finishing touches like soap dishes, towel holders, or wastebaskets here.
Decoration: After planning, the next step is decoration. Choose plants, artwork, and other decor elements to enhance your space. Alternatively, you can directly explore the decoration stage if your room is already furnished.
Plumbing: Include plumbing details by marking water intakes and other specifications to meet your requirements accurately.
Budgeting: The tool empowers you to build your budget effortlessly. Each added item displays its price, allowing you to stay within your financial parameters.
How to use IKEA Home Planner?
Get the app, open it up, and kick off a new project. Begin by measuring the area you want to design, whether an entire house or just one room.
When you dive in, you can opt to plan by room, utilizing tools like the furniture line planner or the bedroom planner. The app will walk you through key questions in order of priority to nail down your space, deciding where the bed goes, figuring out how many people will be sleeping, and so on.
Start selecting the furniture you want and arrange them within your space plan to create the ideal setup. Uncover the full range of possibilities with this handy IKEA app, simplifying and securing your process of buying IKEA furniture.
Is IKEA Home Planner free?
IKEA Home Planner is a completely free tool with no registration required. Still, you can register if you need to save your projects.
Is IKEA Home Planner safe?
Yes, IKEA Home Planner is a safe app.