Everything is a simple-to-use, handy, and very efficient utility to find your files and folders rapidly. Seriously, it is crazy fast and will quickly become part of your daily routine as a true asset. Furthermore, it is highly customizable and lightweight.
What is Everything?
Everything is a desktop search utility developed by David Carpenter for Windows designed to find your files and folders rapidly. As it indexes your content, it lets you search for your needs through a clean and straightforward interface.
What are the key features of Everything?
Interface: The interface is modern and clean, and offers a natural and accurate way to search for content. Also, you can customize the look of the interface.
Blazing fast: It locates files and folders rapidly thanks to its efficient indexing algorithm. You will usually type your search request, and it will almost instantly be found. Of course, the indexes are updated dynamically when the content location changes.
Handy search: You can search files or folders in many ways, like by their name and types, and even use regular expressions (through wildcards, boolean operators, etc.) for more refined results, and filters are available. Searching for file content is also available, but it is not the primary goal of Everything, so it is slower than a usual search.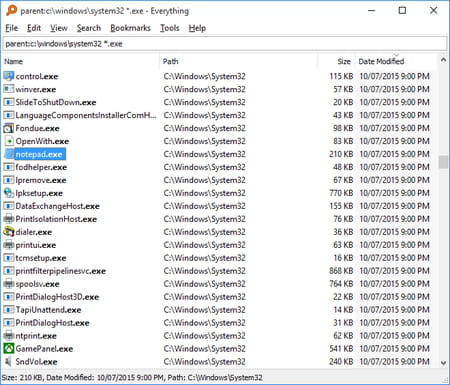 Export: You can export your search results to CSV, TXT, or EFU files.
Bookmarks: Your search can be saved so it can be quickly restored later. That's pretty handy for saving time daily.
Shortcuts and hotkeys: Keyboard shortcuts and hotkeys make your searches and actions in Everything simpler and more intuitive. Besides, you can even customize them in settings.
Developer friendly: As you can use Everything through the command line, it is easy to incorporate it into your other tools and pipelines.
How to use Everything?
At the first launch, it will scan your disks to index your content. Depending on the number of files and folders, it may take some time, but usually less than a minute.
Once done, you can start searching for files and folders using the search bar and filters.
For more specific questions, you can consult the support page, the dedicated FAQ, or the search section, for example.
There is also a dedicated section for customizing shortcuts and hotkeys.
Is it free?
Everything is free to download and use.
Is it safe?
Yes, It is considered safe to use. It does not contain any malware, spyware, or adware. Still, remember there are common potential risks depending on how you use it; check this thread about administrator privileges.