Top tech podcasts (2023): about AI, Machine Learning, web
If you are passionate about AI, computer and internet history, tech startups, robotics, web development and the dark sides of the digital world or just love video games and would like to know more – technology podcasts are your best escape to the tech world. In this article, we have gathered 18 best technology podcasts that you will definitely enjoy listening to.
The Dropout
Have you heard about the tech startup, built on the revolutionary blood testing technology, Theranos, and its founder Elizabeth Holmes crash? Well, if not, you need to listen to this podcast since it doesn't only tell the story of one of the most promising startups' failure but also analyzes what has gone wrong, and what led the woman who was heralded as "the next Steve Jobs" to face criminal charges and lose almost everything. ABC News chief business, technology, and economics correspondent Rebecca Jarvis, with producers Taylor Dunn and Victoria Thompson, will take you on a journey of a comprehensive investigation: with interviews with former employees, patients, investors, and those at the center of this story. Listen to "The Dropout" on any podcast platform.
Twenty Thousand Hertz
Do some sounds seem familiar to you? Maybe some of them are the ones you've heard in your childhood, and others accompany you through life in various places. Well, there are tons of sounds, and in this podcast, hosts talk about the most interesting sounds that we hear everywhere: from choral music to car engines, the McDonald's or Netflix intros, and way beyond. Listen to it if you are curious about how some sounds were created, what some sounds make us feel and stay in our memory forever and form interesting associations and more. Listen to "Twenty Thousand Hertz" on any podcast platform.
Eye on AI
In this podcast, the host, longtime New York Times correspondent Craig S. Smith interviews data scientists, IT professors, AI developers and other industry insiders, finding out how AI works in detail, what the global community needs to know about the technology, and generally, how it will influence our future. Seems like it's something we all should be aware of. Listen to it on any podcast platform.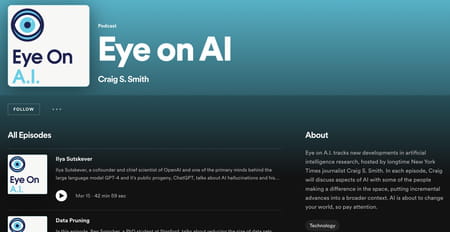 DeepMind: The Podcast
A broadcaster and a mathematician, Hannah Fry meets with scientists and visionaries to talk with them about Artificial Intelligence and the challenges it meets along the way. "I hope what people are going to get out of this series is a better understanding of artificial intelligence, and I hope they also get a great feeling for how exhilarating an endeavor and a journey we're on." - says Demis Hassabis, CEO and co-founder of DeepMind. For example, in one of the latest episodes, Hannah faces a recreation of her voice by the voice synthesizing system WaveNet that powers the Google Assistant and helps people with speech difficulties recover their voices. Listen to it on any podcast platform.
In Machines We Trust
Produced by MIT Technology Review, this podcast analyzes the impact of Artificial intelligence on our daily lives. Its host Jennifer Strong invites the inventors and founders of the top AI-powered technologies to find out how it works, how it influences our present and future, and the potential risks. Listen to 'In Machines We Trust' on Spotify.
Acquired
'Every company has a story' is the motto of the 'Acquired' podcast. Its hosts, angel investor David Rosenthal and Pioneer Square Labs cofounder Ben Gilbert talk about startups, business success stories, and young companies' challenges. Sometimes they invite guests from the tech world. An absolute must-listen for everyone interested in the tech industry. Listen to 'Acquired' on any platform.
Darknet Diaries
If you are a fan of everything happening on the "dark side" of the internet – Darknet – you will surely love the Darknet Diaries podcast. Its host and creator, Jack Rhysideryber, digs into the most thrilling cyber crimes, shadow government activity, hacktivism, etc. Guests are professionals from the digital world who sometimes share some cybersecurity lifehacks. You can listen to the Darknet Diaries podcast on Spotify, Apple Podcasts, Google Podcasts, and many more podcast platforms.
Engines of Our Ingenuity
Houston University professors produce a podcast with short episodes about everything in the world, including science, technology, space and nature. You can always learn something new about our world: the real one as well as the digital one. The podcast Engines of Our Ingenuity releases a new episode every day, and each episode lasts about 4 minutes, so it's the best way to start your day smart while brushing your teeth.
Recode Decode
The New York Times tech columnist and tech news website Recode co-founder Kara Swisher hosts Recode Decode podcast and interviews the most interesting figures from the technology field. Featured among her guests were Marc Zuckerberg, Elon Musk, Rose Marcario, and many more personalities leading the world of IT. Episodes come out every 2-3 days, so there is much to listen to and find inspiration in.
Reply All is a Fascinating detective podcast where its hosts, PJ Vogt and Alex Goldman, investigate different stories about the internet and its endless possibilities. It features countless weird and wonderful stories, including one by a man whose wife died, and he was haunted by clickbait with her face on it. If you like the "Black Mirror" series, you will probably adore Reply All podcast.
Voices from DARPA
DARPA is The Defense Advanced Research Projects Agency of the United States Department of Defense and is responsible for developing technologies for the US military. In each episode, there is a guest from one of DARPA's departments such as Biological Technologies, Defense Sciences, Information Innovation, Microsystems Technology, Strategic Technology, and Tactical Technology who answer questions that concern us all: space surveillance, new molecular tactics in developing the vaccine, genetics, robotics, data collection and much more. You can listen to Voices from Darpa on any podcast platform.
Analog(ue)
The Analog(ue) podcast is fully dedicated to mobile phones and how they influence us for the better and the worse. The hosts, Myke Hurley and Casey Liss talk about iPhones, Android phones, apps, tech details, and how all that changes their daily lives. A podcast that will remind you of a TV show or series because it's fun and informative at the same time.
Flash Forward
If you are curious about our extraordinary future, the Flash Forward podcast is made for you! Its host and producer, award-winning science journalist Rose Eveleth immerses us in complicated topics of futuristic robotics, medicine, cyber forensics, possible relocations to Mars, etc. As Flash Forward creators say: "The future is going to be weird, so let's get ready for it together." You can listen to the podcast on your preferred platform or its official website by clicking here.
IRL: Online Life Is Real Life
Made by Mozilla Firefox, the podcast IRL: Online Life Is Real Life was created to become a platform for discussing cybersecurity, privacy on the internet, web ethics, data protection, and even online bullying. Its host Manoush Zomorodi invites professionals from the tech world to discuss these serious topics and find the answers we are all looking for.
Triple Click
One of the best podcasts for video gamers is Triple Click. In it, three video game geeks, Kirk Hamilton, Maddy Myers, and Jason Schreier discuss new game releases and good old classics. If you want to stay tuned in the gaming world and listen to the opinions of like-minded people, subscribe and listen to it on any podcast platform.
Command Line Heroes
Command Line Heroes is a podcast for web developers, computer scientists, engineers, IT students and everyone interested in programming, coding and hacking. With it, you can discover many insights and even learn a bit of computing history from professionals in the field.
Roboism
Machine learning, AI, robots – podcast hosts Savannah Million and Alex Cox discuss all these topics and more on Roboism every week. Are robots going to take everyone's jobs? Do robots follow us and collect data? What are the most helpful robots, and how have they already become part of our everyday lives? If you are curious about all this, subscribe and discover the world of robots and artificial intelligence little by little.
Tech Swamp
Tech Swamp is a podcast for people working in the field of new technologies, apps, web development, and every area related to IT. The episodes come out once or twice a month, and the topics are often the most significant and controversial tech policy news, top headlines, and what it all means to field professionals.