Best tech gifts for Christmas: for any budget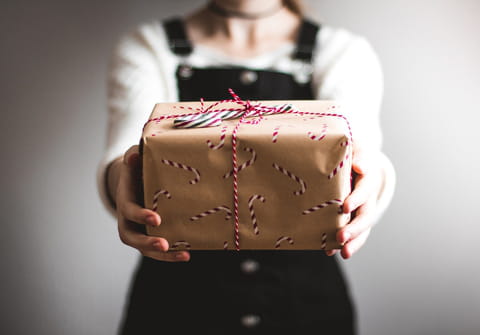 We have made a useful listing of what to choose as a gift for any budget: under $30, $50, and $100. Read on to find the best high-tech present for any occasion: birthday, Christmas, etc!
Under $30
This little device is capable to help you find your keys, wallet, or anything else that's likely to get lost from time to time. AirTags works with any Apple device via the FindMy network. This could be a great little gift for someone susceptible to losing things. Simply attach it to your keys, or put it in the wallet or cardholder. Also, you can get free personalized engravings. One device will cost you $29, and 4 AirTags – $99 on Apple website.
WaoWoo Weighted Blanket (from $18)
If your friend has sleeping troubles, get them a heavy blanket that will help to fall asleep faster and get a deeper sleep. This blanket is machine washable, it breathes and simulates the feeling of being hugged or held. You can find various sizes and weights at Walmart.
You can order it on the official website.
MoMA Touchscreen Mist Cleaner ($20)
An exciting solution to always keep your smartphone clean is to get a touchscreen mist cleaner from the MoMA store. This spray tube is filled with an alcohol-free cleaner that kills 99.9% of common household bacteria and it has a pretty design. It could be a nice gift for your hard-working friends. You can order it at MoMA design store.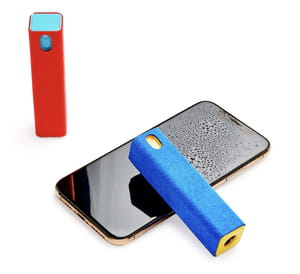 Lenovo Smart Clock Essential ($19.99)
The Lenovo Smart Clock is one of the essential tools for your smart home. You can set alarms, and timers for cooking, add items to your shopping list, make hands-free calls and so much more, thanks to the built-in Google Assistant. It also shows you the weather outside and provides a little source of light during the night, so you don't wake up your whole family. You can buy it at Walmart.
Under $50
This stylish, portable Bluetooth speaker might be very convenient for home parties and travels. It can work without recharging for up to 5 hours and you can even take it with you on holidays and when walking. It is waterproof, so it won't be damaged if you take it by the pool or beach. You can find it on Target.
iOttie Velox charging car mount ($50)
This MagSafe-compatible wireless charger can be mounted in the car easily. It has a strong magnet to hold your iPhone and has a USB-C cable and cigarette-lighter power adapter. A nice gift for someone who has been dreaming about a handy car mount and charger. You can find it on Amazon.
Stylophone S1 Pocket Synthesizer ($47)
This musical instrument could be a great and curious device for someone who has everything they need already but you'd like to surprise them. With this pocket-sized stylophone, you can play almost any song, from David Bowie to the White Stripes. Just tap and slide on the keys with the stylus and add some effects. You can buy it at the MoMa Design store.
Chromecast with Google TV ($42.70)
Do your close ones like to stay at home and watch movies, series, and TV shows? If so, take a look at the Chromecast with Google TV with up to 4K HDR. You can also choose the color of your Chromecast (blue, pink or white). You can order the Chromecast with Google TV at Walmart.
Under $100
Oblio Wireless Charging Station with UV Sanitizer ($79.90)
This two-in-one device is a real treasure. It charges your smartphone and, at the same time, cleans all the invisible germs on its screen with a UV light. Another plus is that it has a pretty minimalistic design that will not bother you. You can buy it on the Lexon website.
HP Sprocket Portable Printer ($79.99)
This stylish and handy HP portable printer might be a perfect gift for your photo enthusiasts friends. It is capable of printing 2.3-by-3.4-inch photos on water- and tear-resistant paper. With the HP Sprocket mobile app, you can edit your photos before printing. You can purchase the HP Sprocket Portable Printer at BestBuy.
PICOOC Bluetooth Smart Body Fat Scale ($56.99)
This smart scale will not only show you your weight but will analyze your body's health and will give you comprehensive statistics, such as body fat, muscle condition, bone, mass, water, BMI, BMR, and more. It connects to your cell phone, so you can follow your daily progress. This scale also has a minimalistic design, which is great if you want to give it to someone as a gift. You can find the PICOOC scale at Walmart.
Larq Bottle Pure Vis ($99)
During the last few years some of us became germaphobes, so to lower the anxiety and stress that some of your close ones might experience, get them the Larq self-sanitizing bottle. It is eco-friendly and safe since it has a germ-killing UV-C light in its cap that sanitizes the inside of the bottle. You can purchase the self-sanitizing bottle on the LARQ web store.