Epubor Ultimate is a versatile eBook management tool designed for easy conversion and organization of eBooks across various devices. Compatible with a range of e-readers, it provides a neutral and efficient solution for users of Kindle, Kobo, and other devices. It's worth trying it.
What is Epubor Ultimate?
Epubor Ultimate is your go-to solution for hassle-free eBook management. This user-friendly software effortlessly converts and manages your eBooks across different devices. Whether you are a Kindle enthusiast or a Kobo fan, Epubor Ultimate supports a wide range of e-readers, making it a versatile companion for your digital library. Experience the ultimate convenience in eBook management with Epubor Ultimate. Say goodbye to compatibility concerns and hello to a streamlined reading experience!
What are the key features of Epubor Ultimate?
Wide retailer support: Seamlessly convert eBooks from popular retailers like Amazon Kindle, Barnes & Noble Nook, Sony, Kobo, Google Play, ebooks.com, Lulu, Smashwords, Fictionwise, and more.
Versatile format compatibility: Easily handle a variety of input formats such as KFX, EPUB, PDF, AZW, AZW1, AZW3, AZW4, Mobi, PRC, TPZ, Topaz, TXT, and HTML. Choose your preferred output format from EPUB, Mobi, AZW3, TXT, and PDF.
Stay up-to-date: Epubor Ultimate now supports the latest Kindle for PC and Kindle for Mac versions, ensuring compatibility with Kindle books published in 2023.
Metadata magic: Correct those annoying title and author name typos, or ensure your book cover matches your preferred edition. Epubor Ultimate lets you tweak metadata effortlessly, giving your books the perfection they deserve.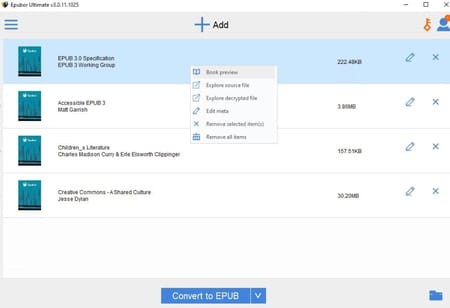 Smart device detection: Connect your e-reader and let Epubor Ultimate handle it. It automatically detects your device, loading all your downloaded books in a user-friendly display. Plus, it effortlessly loads books from e-reading apps on your computer.
DRM removal: Unshackle your eBooks with consistent DRM removal. Epubor Ultimate ensures a smooth and hassle-free experience, allowing you to enjoy content on any compatible device.

Broad E-Reader compatibility: Dive into your favorite reads effortlessly with support for popular e-readers like Kindle Paperwhite, Kindle Voyage, Kindle Oasis, and Kobo.

Seamless app integration: Enjoy the flexibility to read on various platforms with support for e-reading apps such as Kindle for PC/Mac, Adobe Digital Editions for PC/Mac, and Kobo for PC/Mac.
How to use Epubor Ultimate?
Epubor provides an extensive collection of guides of all kinds, ensuring you won't spend a second wondering how to perform this or that:
Is Epubor Ultimate free?
Here, we offer you the free demo of Epubor Ultimate. Consider purchasing the paid version if you want to get the most out of it.
Is Epubor Ultimate safe?
Yes, Epubor Ultimate is considered safe to use.