iPad vs reMarkable 2: which is best, for note taking
When considering a device for digital note-taking, the iPad Pro with its Apple Pencil may seem like an obvious choice. However, it is essential not to overlook the reMarkable 2 tablet, which comes at a fraction of the price and offers compelling features. In this article, to help you make an informed decision, we will compare these two tablets side by side.
Availability and Price
The iPad Pro M2, which was announced towards the end of 2022, starts at $799/£899/€1049 for the 11-inch model and $1099/£1249/€1469 for the 12.9-inch variant. These prices can increase significantly if you opt for more storage or cellular data in addition to Wi-Fi. Adding an Apple Pencil costs an additional £139, and a keyboard cover can range from £199 to £379, though there are cheaper third-party alternatives available. As a result, the cost of an iPad Pro can vary between £899 for the 11-inch 128GB model without any accessories and £2679 for the larger size with 2TB of storage, cellular data, and both the Apple Pencil and Magic Keyboard.
On the other hand, the reMarkable 2 was initially launched in 2020 at a price of $399/£399/€679, but currently, you can purchase a new tablet from reMarkable's website for £299 or opt for a refurbished model for £279. Additional accessories such as the Marker stylus or the Mark Plus with a built-in eraser cost extra, ranging from £59 to £109. Folio covers, including keyboard options, are available at prices ranging from £69 to £179. Considering all the accessories, the total cost of the reMarkable 2 can range from £299 for the tablet alone to £587 for the top-end stylus and keyboard cover.
Display and Design
The iPad Pro comes in two sizes: 11-inch and 12.9-inch, both surpassing the reMarkable 2's screen size. While the iPad Pro is not as slim as the reMarkable 2, with a thickness ranging from 5.9mm to 6.4mm, it compensates with a stunning LED Liquid Retina or Mini LED Liquid Retina XDR display. The 11-inch model boasts a resolution of 2388 x 1668, while the 12.9-inch variant offers a remarkable 2732 x 2048 resolution. These touchscreens provide full colour, backlighting, smooth refresh rates, and anti-reflective coatings. The 12.9-inch iPad Pro's screen, in particular, stands out as one of the best tablet displays available, thanks to the impressive Mini LED technology.
reMarkable claims that the reMarkable 2 is the "world's thinnest tablet" at just 4.7mm. It features a sleek and portable design, resembling an electronic notepad. The 10.3-inch monochrome E-ink display provides a paper-like writing experience, enhanced by its sharp 1872 x 1404 resolution and textured finish. The lack of backlighting may make it less suitable for dimly lit rooms, but its non-glare nature allows for comfortable outdoor use without eye strain. In terms of weight, the reMarkable 2 weighs 403g, considerably lighter than the iPad Pro, which ranges from 468g to 684g depending on the model.
Accessories
Both the reMarkable 2 and the iPad Pro offer compatibility with their respective styluses and can be safeguarded using folio covers, some of which may include keyboards. The Marker and Marker Plus styluses from reMarkable are primarily designed for quick note-taking and doodling purposes. In contrast, the 2nd Gen Apple Pencil, with its support for apps like Adobe Photoshop and Procreate, enables not only note-taking and sketching but also digital art creation and photo editing, leveraging the iPad Pro's vibrant colour screen.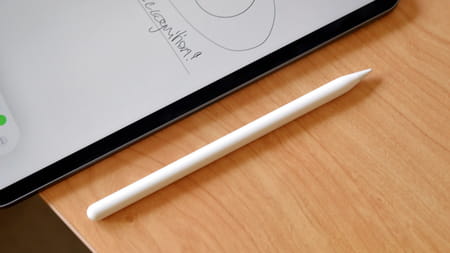 Features and Specs
The reMarkable 2 and the iPad Pro differ in their intended purposes. As mentioned earlier, the reMarkable 2 aims to replace traditional notebooks, offering a distraction-free environment for jotting down notes, adding to to-do lists, sketching diagrams, and doodling without the distractions of email or notifications. On the other hand, the iPad Pro caters to a wide range of activities, including note-taking, daily planning, photo and video editing, social media browsing, messaging, video calls, streaming media, and web browsing. Additionally, the iPad Pro boasts a stunning display, robust app support, and the powerful M2 processor.
Battery Life
Thanks to its E-ink display technology, the reMarkable 2 excels in battery life. With a 3000 mAh battery, it can last up to 14 days on a single charge. Charging is done via USB-C, albeit at a slower pace. Remarkably, our tests revealed that the reMarkable 2 could last up to 27 days, even with regular note-taking during weekdays, before reaching the 10% mark. This means you won't have to worry about charging the tablet daily or even weekly with typical usage. In comparison, the iPad Pro provides approximately 10 hours of use on a single charge. However, due to its ability to handle more resource-intensive tasks like video streaming and demanding applications, the battery life of the iPad Pro may not match that of the reMarkable 2.
reMarkable 2 vs iPad
So after comparing both the iPad and the reMarkable 2, in summary, if your primary focus is on digital note-taking, simplicity, and a paper-like experience, the Remarkable 2 may be the better choice. However, if you require a versatile device that supports a wide range of tasks, including note-taking, productivity, creativity, and multimedia consumption, the iPad offers a more comprehensive solution with its powerful hardware, extensive app ecosystem, and diverse functionality.
Any more iPad questions? Check out our forum!