RoboVPN is a VPN service that provides a fast connection, secure data encryption, and split tunneling, allowing you to stay anonymous online while breaking free from country-restricted content.
What are the key features of RoboVPN?
Unlock every content: As you can connect to many countries worldwide, you can access your favorite shows and movies and view content from anywhere in the world. No more country-restricted content, no more compromises.
Fast: With over 3200 servers in 16 countries all over the world, RoboVPN can boast a high server coverage. That way, it always automatically connects you to the fastest and most direct server nearest to your location. Moreover, it reduces the chances of crowding and supports high bandwidth.
Secure: All your data is fully encrypted, and RoboVPN protects you from potential hackers or third parties who try to track your activity online. Of course, your IP address is disguised, and RoboVPN also features a kill switch so that you never browse unprotected.
Split tunneling: Split tunneling is the ability to use a VPN service to protect your data while using your local or usual networks. It is pretty helpful as you may usually face issues when connecting to local networks while connected to your VPN, forcing you to disconnect temporarily and exposing you to risks. But RoboVPN allows you to take advantage of the best of these two worlds to ensure you always keep your data secure.
No log policy: RoboVPN does not log or record online activities that you conduct over a VPN connection in any way that can be tied back to you. In addition, while most servers may retain information by writing it into the hard drive, RoboVPN stores all the information in the RAM (Random Access Memory) or volatile memory, and all the information stored on the server is erased frequently so that hackers cannot access it.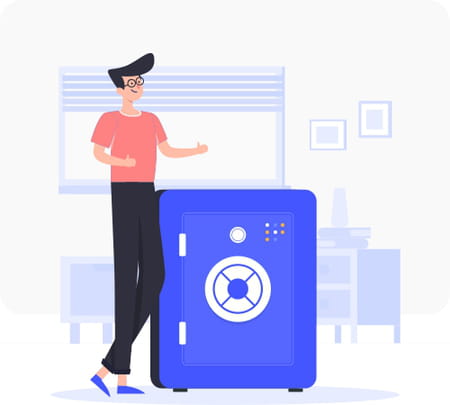 How to use RoboVPN?
Once launched, create an account and select a plan. Connect to whatever server you want and start enjoying content from all over the world while protecting your data.
Is it free?
RoboVPN offers several paid plans and a 30-day money-back guarantee policy.
Is it safe?
RoboVPN seems safe as they offer a reliable service and their privacy policy specifies they do not log or record your online activity. However, like with any other VPN service, you cannot have 100% anonymity because companies have to comply with local regulations ("Subject to the foregoing, we may share your information if we are required to do so by applicable law; to comply with our legal obligations; to comply with legal process; and to respond to valid law enforcement requests relating to a criminal investigation, or alleged or suspected illegal activity that may expose us, you, or any of our other users to legal liability. If we share your information for these purposes, we limit the information shared to what is legally necessary, and challenge information requests that we believe are unlawful, overbroad, or otherwise invalid.").