Dism++ is a great user interface utility for the Deployment Image Servicing and Management (DISM) command-line tool. Thanks to its simple interface, you will no longer make mistakes and be able to clean, enhance your computer, and even manage your driver or startup programs.
What is Dism++?
DISM++ is a utility solution for the Deployment Image Servicing and Management (DISM) command line tool used to prepare a Windows Preinstallation Environment or to service a Windows image.
As the command line interface can be error-prone and not really handy, DISM++ adds a graphical user interface to make your experience smoother and more secure.
What are the key features of Dism++?
User interface: The interface makes every feature simple to use and accessible, which is perfect for sensitive operations.
Utilities: This is where you can clean temporary files, create backups, and manage Windows apps launched at start-up. That's very handy to add more automation and save time.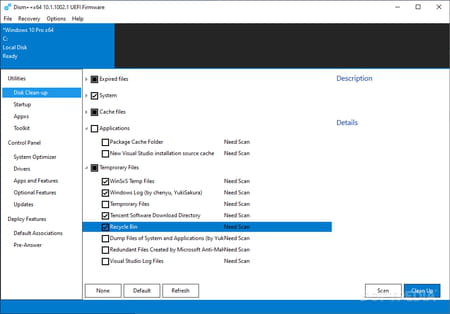 Control Panel: It allows you to tweak Windows features to optimize and tune your experiences, like your network, Windows updates, Windows Explorer, and other locations. Also, you can install all the necessary drivers and updates for Windows.
Deployment Features: You can import or export application association settings used by Windows.
Standalone: No installation is required, so you can carry it with you wherever you go.
How to use Dism++?
Double-click on the executable file, and Dism++ will start.
A window will open. You can see all the different features through the three main sections, Utilities, Control Panel, and Deployment Features.
Navigate between the sections, and click on the features to access them.
Is Dism++ free?
Yes, Dism++ is a free, open-source solution.
Is Dism++ safe?
Yes, Dism++ is considered safe.