Xbox 360 Controller Driver makes it possible to use your Xbox 360 controller on a PC or laptop. In this article, we discuss some of the app's key features, as well as some additional information.
What is Xbox 360 Controller Driver?
Xbox 360 Controller Driver is a simple driver that allows you to use the Xbox 360 controller on Windows PCs and thus, play video games with the controller rather than the keyboard. It was created by Microsoft.
What are the key features of Xbox 360 Controller Driver?
Here are some of the driver's main features:
No keyboard: Once you install the Xbox 360 controller, you won't need your keyboard to play - this can be especially useful for gamers who are new to PC gaming and aren't at ease with the keyboard controls.
Quick and easy: Connecting your controller is easy and simple, and it takes no time. Once the installation is done, you won't have to go through the same process every time.
New experience: Some games just aren't optimized for keyboard gaming and are better with a controller. Also, even if you are used to playing with a keyboard, trying the Xbox 360 controller on your PC can bring you a whole new experience to a given game.
© Unsplash
How does it work?
Simply plug in your hardware, install the driver, and your controller will automatically be detected by your PC. For Windows 8, 8.1, and 10, when you connect the Xbox 360 controller to your PC, the software will automatically install.
Once this is done, the software allows you to check the status of the Xbox 360 controller connected to your computer, simply by pressing the Guide button (the central green button, number 7 in the below image).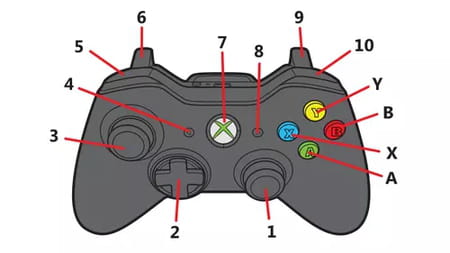 © Microsoft
Is it free?
You can download and install this driver for free.
Is it safe?
The driver seems as safe as any other Microsoft product.
Xbox Controller 360 alternatives for Windows 10
The main drawback of this software is that it is not compatible with Windows 10. But there is no need to worry, as this particular version of Windows offers built-in support for Xbox 360 (and also Xbox One) controllers. Microsoft has provided the following instructions for Windows 10 users:
Wired controllers: Connect the controller to a USB 2.0 or 3.0 port on your laptop or computer. Windows 10 will automatically install the corresponding drivers, which means that you don't have to download any additional software. As soon as you see a notification that the installation process is over, you can start using your controller.
Wireless controllers: Connect the Xbox Wireless Controller Receiver to your computer, install its software, and pair your wireless controller.