Orbit Downloader is a handy download manager designed to download multimedia content from websites like YouTube, Yahoo!, and more. Easy to use and supporting the most used protocols and web browsers, you may still find it helpful.
What are the key features of Orbit Downloader?
Interface: Although it feels a little bit outdated now, it offers a nice and clean interface that makes it easy to use. On the left panels, you will find the different file folders, including All, the downloads in progress, the finished downloads, and inactive ones. On the center panel, you will see all the downloads and details.
Handy: It can download embedded flash videos and multimedia content from sites like YouTube, Yahoo!, Pandora, Rapidshare, Myspace, Badongo, FileFront, Sendspace, and more.
Optimized: It only consumes a few resources, and thanks to the 'Get It' button, you can get videos directly.
Protocol support: It supports HTTP, FTP, HTTPS, RTSP, MMS and RTMP protocols.
Browser-friendly: It supports most popular browsers, like Firefox or Opera, Internet Explorer, and Maxthon.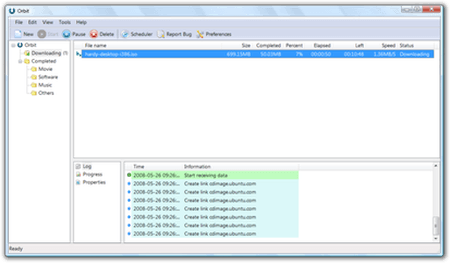 How to use Orbit Downloader?
You can use the Get It button to get video content directly. Alternatively, you can follow these steps:
Right-click the Orbit Downloader icon in the system tray at the bottom of the screen.
Click Grab++.
Open your web browser and go to the video you want to download.
Once selected, click Download to begin the downloading process.
Is it free?
Yes, it is free to install and use.
Is it safe?
On 21 August 2013, the WeLiveSecurity blog, published by the ESET security company, reported that since version 4.1.1.15, Orbit Downloader had included a botnet-like module that performs DDoS attacks without the user's knowledge or permission.