Checksoft Home & Business is a versatile and time-saving program that can handle bank account check creation, transaction history management, report generation, and more. And, of course, it will make you save money.
What is Checksoft Home & Business?
Checksoft Home & Business is a financial management software for personal or business use that can save you money by creating and printing your customized checks. In addition, it will save you time by managing your bank account pieces of data, your transactions, and even generating all kinds of reports.
What are the key features of Checksoft Home & Business?
Create checks: You can create your own personal or business checks from scratch using over 100 check templates. Select the template you want, enter your account data, and choose the customized check design you love.
Print: Once created, you can print blank or completed checks using Quicken and QuickBooks.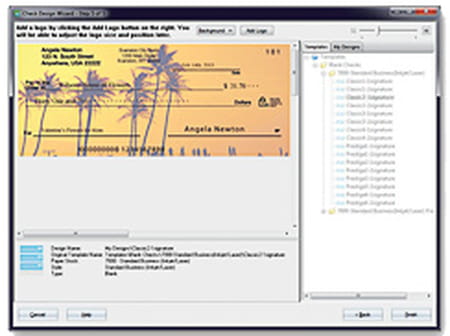 © Avanquest software
Manage your finances: You can set up checking savings, and credit card accounts, view balances, upcoming bills, outstanding checks, and more. The simple-to-use interface also allows you to enter and edit and find transactions, and categorize and sort your data to generate reports. As a result, you will finally have a clear view of your finances.
Sync and schedule: Thanks to the Reconciliation Wizard, it is super easy to reconcile your bank statements and track your transactions. Moreover, the Bill Scheduler will allow you to schedule your bills and payments to stay ahead of the curve.
Manage contacts: Checksoft Home & Business also allows you to manage your contacts and organize payees, vendors, and customers. That way, you control your business, stay organized, and ensure everything is paid on time.
© Avanquest software
Create reports: Thanks to all these pieces of data, Checksoft Home & Business can quickly generate many types of valuable reports, including Payments, Checks Printed, Expenses, and much more.
Save money: If you often run out of personal or business checks, have to wait several days before the bank issue new ones, and must pay expensive fees, then you will be pleased to know that Checksoft Home & Business will make you save lots of time and money.
How to use Checksoft Home & Business?
Once launched, you can directly start to pick one of the available check templates.
Fill in all the information, including your personal and bank info, and choose the font, the graphics (including your logo, the bank logo, etc.), and the layout.
Make sure everything is the way you like, and you can save the new model.
You can print them immediately if you also have access to the other program.
You can also consult the online knowledge base.
Is it free?
We provide a free demo version of the program, but you can purchase the paid version on the official website.
Is it safe?
Yes, it is a safe piece of software to use. But, as always, we recommend that you read the privacy policy.
Around the same subject
Checksoft home and business free download

Checksoft home and business

Check soft