Microsoft PowerToys is a groundbreaking set of utility tools that will make your life easier on Windows and boost your productivity in no time. Designed as separated and single-purpose tools, everyone will find something useful, like the stunning window manager, the vital Always on Top, the long-awaited PowerToys Awake, the Image Resize, and lots more.
What is Microsoft PowerToys?
Microsoft PowerToys is a set of utilities for Windows 10 and 11, empowering users to tune their Windows experience and reach greater productivity. Initially created for Windows 95, this reboot will completely change how you see Windows, making it more fun and intuitive.
What tools are included in Microsoft PowerToys?
Always on top: You can pin windows on top of other windows through a single and straightforward shortcut.
PowerToys Awake: It allows you to keep your computer awake without needing to tweak its power and sleep settings. It is pretty handy to ensure time-consuming tasks aren't halted by your OS.
Color Picker: This is a well-designed Color Picker utility featuring handy tools. Pick color easily, from anywhere, whenever you want.
FancyZones: PowerToys FancyZones is an efficient, performant, and practical windows manager that makes any windows user's life easier. Manage all your windows like a charm and keep everything organized.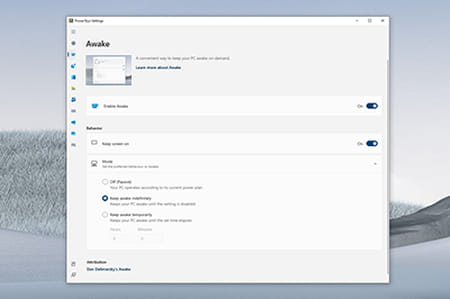 File Explorer add-ons: They enable Preview pane rendering in your File Explorer to display Markdown (.md), PDF file previews, and SVG icons (.svg).
File Locksmith: Using File Locksmith, you can easily check which files are used and what are the involved processes.
Hosts file editor: Thanks to this tool, it is simple to edit the Hosts file with domain names and IP addresses.
Image Resizer: You can quickly resize one or many images at once instantly.
Keyboard Manager: Customize your keyboard, remap your keys, and create your own shortcuts.
Mouse utilities: You can add functionality to your mouse, locate it with a spotlight focusing on your cursor, and greatly enhance your experience.
PowerRename: It allows you to perform bulk renaming on files. You can search files using regular expressions, filter file types, preview results, and undo changes.
Quick Accent: It offers a way to find and type accented characters quickly. This is really useful as you no longer depend on your keyboard configuration.
PowerToys Run: This is a dynamic app launcher from where you can search and launch any app instantly. It also supports plugins.
Screen Ruler: Screen Ruler lets you quickly measure pixels on your screen based on image edge detection.
Shortcut Guide: Windows key shortcut guide can show you all the available shortcuts or the current state of your desktop.
Text Extractor: It offers a convenient and simple solution to copy text from anywhere on your screen.
Video Conference Mute: Never experience uncomfortable moments and instantly mute both your microphone and camera using a single shortcut.
How to use Microsoft PowerToys?
Once downloaded and installed, you can instantly access all the different tools.
Open PowerToys Settings by double-clicking its System Tray icon, then you will find all the available tools on the left part of the settings window.
Some tools can be activated through shortcuts, some other needs to be activated. For example, you can consult our download articles on PowerToys Color Picker and PowerToys FancyZones.
If you need more help using one of the suite tools, consult the official Microsoft PowerToys page.
Is it free?
Microsoft PowerToys is open-source and free to use.
Is it safe?
This is open-source and edited by Microsoft for its proprietary operating system, so Microsoft PowerToys is safe.