EA SPORTS FC 24 invites you to experience The World's Game, delivering the most authentic football experience to date with HyperMotionV, Opta-optimized PlayStyles, and an upgraded Frostbite Engine by EA. Everything is improved, from player simulation to physics and graphics, and even more gameplay features are available.
What is EA SPORTS FC 24?
EA Sports FC 24, developed by EA Vancouver and EA Romania and published by EA Sports, serves as the premier entry in the EA Sports FC series. This soccer video game arrives following the termination of EA's collaboration with FIFA, which culminated with FIFA 23 and represents the 31st installment in the overarching EA Sports soccer gaming series.
Gameplay
Hypermotion V: Overall, it is clear the whole team has invested lots of energy in improving this version, making all the motions and animations more realistic and immersive. Regarding technical details, this new Hypermotion technology generation uses even more data than ever. Indeed, they have been captured and gathered via stadium cameras during over 180 top-tier matches, including the UEFA Champions League, UEFA Women's Champions League, Premier League, and LaLiga. It results in over 11,000 in-game animations compared to over 6,000 in FIFA 23.
Evolutions: Evolutions are part of the UT game mode, but they deserve their description as a groundbreaking gameplay RPG feature. In addition to the traditional UT mode, you can improve your card's base stats by completing challenges provided they meet variable criteria like Overall, Pace, and Rarity. To achieve that, you can complete sets of objectives broken down into levels.
PlayStyles: You can create and customize your own personal player's playstyle and shift through up to 32 abilities spread across six categories: Physical, Defending, Passing, Ball Control, Goalkeeping, and Shooting. This truly adds another layer of finely-tuned subtility as no one will control your player like you do, making your experience unique.
Passes and shots: The previous Precision system is replaced by settings you can turn on and off to control the direction of your shots and passes. Sure, you'll have to practice, but mastering these aspects of the game can make a difference when it comes to winning or losing.
Licenses: Despite the fact EA Sports and FIFA ended their long-term licensing agreement, the revamped franchise will maintain its licenses for over 19,000 players, upwards of 700 teams, beyond 100 stadiums, and more than 30 leagues. New additions to the licenses include Spain's Liga F and Germany's Frauen-Bundesliga.
Attention to detail: That's what's beautiful about details: you never notice them except when they are missing. For example, during the game, overlays display valuable in-game statistics like shot volume and player fatigue with background interview segments interspersed throughout the game.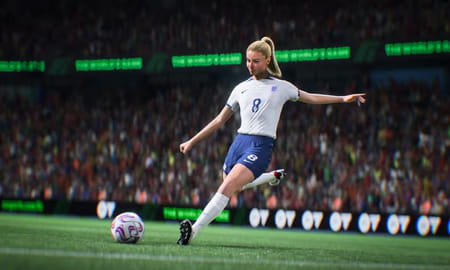 AcceleRATE 2.0: The AcceleRATE 2.0 system categorizes player movement into seven distinct archetypes, which is significantly more than what was available before. There are three fundamental Acceleration Types: "Controlled," "Explosive," and "Lengthy." The majority of players are classified under the "Controlled" type, demonstrating uniform and controlled acceleration. "Explosive" players, typically shorter and more agile, exhibit an intense initial acceleration burst before slowing down. Conversely, taller and more robust players, labeled as "Lengthy," initiate movement slower but excel over extended distances. To add even more realism, EA Sports FC 24 brings in four additional types that are different mixes of the fundamental types (Controlled Explosive, Mostly Explosive, Controlled Lengthy, and Mostly Lenghty).
Improved physics: AI True Flight Ball Physics is driven by artificial intelligence, analyzing hundreds of actual passes, shots, free-kicks, and crosses to calibrate ball movement. It ensures the ball dips, swerves, and soars similarly that it does when executed by elite football players in the real world.
Controller support: You can play EA SPORTS FC 24 on a PC using your Xbox or PlayStation controllers.
Graphics and sound
As the game features finer and more numerous animations and refined physics simulation, it also comes with enhanced graphics and sound. In a few words, it offers enhanced lighting, finer shadows, and more polished textures, making it visually and audibly more immersive.
Duration and game modes
Training Centre (New): The Training Centre, a new feature in EA Sports FC 24, provides an avenue to elevate your gameplay through matches, utilizing a chapter progression system that offers in-game tips and valuable resources.
Practice Arena: The Practice Arena allows you to refine your dribbling, shooting, and goalkeeping with a selected player and goalkeeper. What's new is that you can customize and traverse through different scenarios on the pitch, practicing and modifying them at will. Your last setup is saved for continued practice upon return.
Kick-Off: Kick-Off mode is your gateway to engage in matches swiftly, making it ideal for skill development or casual play. Engage in quick matches against friends or AI, choosing from any available team and a variety of sub-modes, such as Classic Match and House Rules, among others.
Ultimate Team: Embark on a journey to construct the most formidable teams possible to tackle various objectives and challenges in Ultimate Team mode. Acquire new players via the global market or purchasing packs, and explore the additional Evolutions feature for expansive content within the UT modes.
Career Mode: Live a comprehensive football career in Career Mode, stepping into the roles of either a manager, strategically utilizing the club's budget to craft the ultimate team, or a player, honing skills and aiming for major titles.
Clubs: Clubs, previously known as Pro Clubs, is an online mode where players can create an avatar, assume a position on the field, and join friends and online users in 11 vs. 11 matches. With progression comes XP and leveling up, and in FC 24, the Clubs mode now embraces the crossplay feature.
VOLTA FOOTBALL: Dive into the urban and futsal football world with VOLTA FOOTBALL, creating and improving your football character while engaging in single and multiplayer matches and a range of other modes like Arcade and Squads.
Skill Games: Skill Games mode offers a platform to both test and enhance your abilities by undertaking specialized challenges focusing on aspects like chop shots and dribbling. Compete and see where you stand on the leaderboards.
Seasons: Seasons offers both online and co-op experiences. Engage in co-op seasons with a friend against two others, or compete in online seasons, battling other online users within your division to accrue points, ascend through the ranks, and vie for the title.
Co-Op Seasons: Akin to Online Seasons, Co-Op Seasons enables you and a friend to compete in 2v2 ranked online to play against another pair from anywhere across the globe.
Tournaments: Exercise your freedom in Tournaments to formulate your own, dictating the type, rules, and teams, or opt for one of the 50 available real football tournaments. Lead teams to victory in competitions like the Women's International Cup, UEFA Champions League, or CONMEBOL Libertadores.
Online Friendlies: In Online Friendlies, invite a friend for a friendly online match, tracking results across five seasons to ultimately determine who claims the most points and the trophy at the end.
What do the reviews say?
EA SPORTS FC 24 has a Metacritic score of 76/100.
"EA SPORTS FC 24 is not a revolution in the football world, but an evolution of what we have seen in past FIFA seasons. A mammoth amount of content and a game structure that convinces, albeit with some flaws, are a good calling card for this "debut-non-debut", which promises to keep virtual footballers busy for a long time, be they potential coaches, hunters of stickers or street game enthusiasts." (The Games Machine)
Age rating
EA SPORTS FC 24 is rated PEGI 3.
Does EA FC 24 have crossplay?
EA FC 24 offers crossplay but restricts it to particular modes and keeps it within the same generation of platforms. Therefore, PlayStation 5, Xbox Series X|S, and PC gamers can engage with each other, while PlayStation 4 and Xbox One players can similarly interact within their respective platform generation.
When does EA SPORTS FC 24 come out?
EA SPORTS FC 24 was released on 29th September for PS5/PS4, Xbox Series X/S, Xbox One, Nintendo Switch, and PC.