Watch online the events and games of WePlay China expo 2023
WePlay, the largest gaming culture convention in China, showcases the latest and greatest in gaming across all platforms in Asia, as well as a wide variety of entertainment content and meetings with top professionals and streamers. Find out what's on display this year and how to watch the main events online.
When is the WePlay expo 2023?
With 666 million gamers spending an average of 445 yuan ($60) each on video games, China represents one of the largest video game markets in the world, according to Statista. Therefore, it is not surprising that more and more gaming companies from all over the world want to attend one of the largest gaming industry exhibitions in China, WePlay expo. The latest console, computer and mobile games, the China Game Awards, immersive themes, meetings with developers, spatial culture, fashion art, exclusive merchandising - this is not a complete list of all the events and topics that will be at the expo. In 2023, the expo will be held on November 18 and 19 at Shanghai World Expo Exhibition & Convention Center, China.
In 2021, due to the coronavirus epidemic, WePlay Expo went online, and about 300 games were shown, the total PV of the gaming website (gmhub) during the convention exceeded 100 thousand. Now the exhibition is taking place again in a physical format, but thanks to online streaming, it is expanding its audience not only in China, but also in many other countries.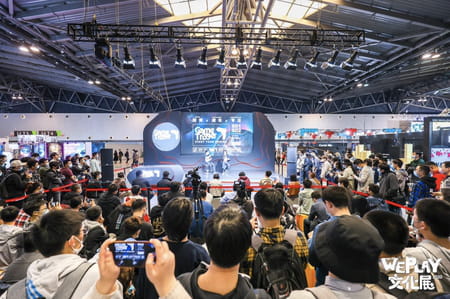 How to participate online in the WePlay expo 2023?
Just like last year, live broadcasts of the games, shows and gaming awards will be broadcast on the official expo channel on Steam.
indiePlay Awards and live shows at the WePlay expo
WePlay Expo is an event that covers a wide range of cultural experiences related to video games, including anime and comics, board games, traditional Chinese culture and science fiction. This is also a meeting for industry professionals, where gaming trendsetters exchange experiences in a B2B format. Interviews with guests, speed runs, interaction between the public and stars, live music and much more! As in past years, the annual indiePlay Awards selects the most outstanding games from Chinese developers.
Since 2020, the expo features games created by university students. This year's student work program was created in collaboration with UGDAP (University Game Development Alliance Plus).
WePlay expo 2023 guests
Every year at the WePlay expo, representatives of many professions involved in the gaming industry will hold conferences and meet with fans: producers, game creators, actors, artists, musicians. This year among the convention guests we will meet "Final Fantasy" producer Sakaguchi Hironobu, "It Takes Two" producer Josef Fares, "Silent Hill" game and film producer Akira Yamaoka, "Dead by Daylight" producer Mathieu Cote, "Castlevania" illustrator Ayami Kojima, "Detroit: Become Human" actor Bryan Dechart, "AI:The Somnium Files" scenarist Kotaro Uchikoshi, "Eiyuden Chronicle: Hundred Heroes" producer Yoshitaka Murayama and many others.