New films and shows on Apple TV+ right now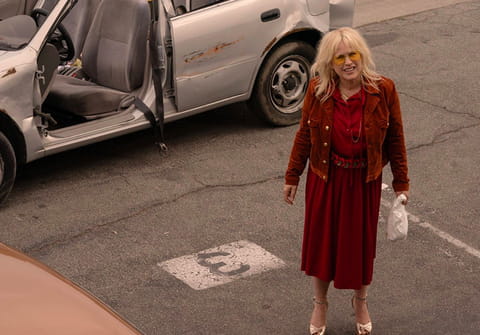 For those who have a subscription to Apple TV Plus, as well as for those who are subscribed to the Apple One service, the Cupertino corporation premieres new films and series every month, competing with streaming giants Netflix, Amazon Prime or HBO Max. Here you will find the current May 2023 Apple TV+ premiers.
Silo, Season 1
Release Date: May 5
This 10-episode series by Graham Yost, also known as the creator of Band of Brothers, is another dramatic dystopia, a genre that's been buzzing around since The Last of Us. There are only no more than ten thousand people left on our planet who live in a deep bunker city, the origin of which is shrouded in the darkness of mystery. One day, a mysterious murder occurs, which as a result, will lead the main character, engineer Juliet (Rebecca Ferguson), to unravel the terrible secrets.
Director: Graham Yost
Starring: Rebecca Ferguson, Harriet Walter, David Oyelowo.
Still: A Michael J. Fox Movie
Release Date: May 12
In May, Apple TV will premiere a documentary about the cult sci-fi Back to the Future trilogy star Michael Fox. Yes, yes, that charming guy who drove an awesome DeLorean car and was rewriting the future! In a series of candid interviews, the 61-year-old Fox talks about how he discovered he had Parkinson's disease and how he continued to act in films nonetheless. This is a very life-affirming film that removes a lot of prejudices about Parkinson's disease. In this film, its director Davis Guggenheim (It might get loud, Waiting for "Superman", Inside Bill's Brain: Decoding Bill Gates) also uses Fox's autobiographical books, family film footage, the actor's archives and old interviews.
Director: Davis Guggenheim
City on Fire, Season 1
Release Date: May 12
A mysterious murder in Central Park, behind which is the city real estate business, the secrets of wealthy families and New York bohemians. Based on the novel by Garth Risk Holberg, this new crime thriller consists of 8 episodes and will be shown until mid-June.
Creators: Josh Schwartz and Stephanie Savage.
Directors: Jesse Peretz, Haifaa al-Mansour.
Starring: Jemima Kirke, Wyatt Oleff, Nico Tartorella, Chase Sui Wonders.
High Desert, Season 1
Release Date: May 17
This eight-episode black comedy makes people talk about itself because it has an excellent cast and its eminent director, Jay Roach (Austin Powers, Meet the Parents, Recount). Events revolve around the unlucky Peggy (Patricia Arquette), whose mother's death makes her reconsider her life and get off drug addiction. She decides to start all over again ... turning into a private investigator. Soon she finds an equally unfortunate employer, the owner of the detective agency Bruce (Brad Garrett). Peggy to search for the stolen Picasso and face the double of the deceased mother and other crazy cases. The brilliant cast of High Desert is complemented by Matt Dillon, playing Peggy's ex, and Rupert Friend, in the role of a charlatan shaman. "There's just a lot of love in this show and a lot of twists and turns", said Patricia Arquette.
Director: Jay Roach.
Starring: Patricia Arquette, Matt Dillon, Rupert Friend, Bernadette Peters, Brad Garett.
Stillwater, season 3
Release Date: May 19
In the new season of this animated series, based on the books by Jon J Muth, your little ones will be able to follow the adventures of the siblings Karl, Addy, and Michael and their friend, a cute and wise panda named Stillwater.
Voices: James Sie, Judah Mackey, Eva Ariel Binder, Tucker Chandler.
Platonic, Season 1
Release Date: May 24
After working together on Neighbors, Rose Byrne and Seth Rogen are back together, this time in a ten-episode sitcom about two former friends who fall out long ago and decide to make up as wise middle age approaches. You can probably guess what all this will lead to! Check it out on Apple TV+.
Directors/creators: Nick Stoller, Francesca Delbanco.
Starring: Rose Byrne, Seth Rogen.
AROUND THE SAME SUBJECT