Best Christmas movies of all time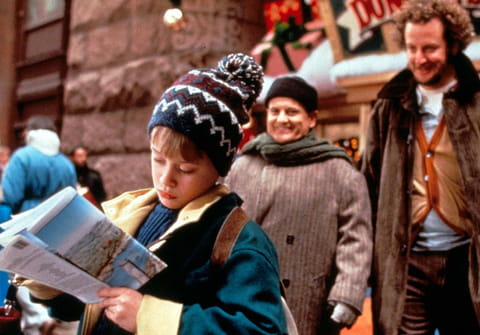 Сhristmas and New Year are just around the corner, so it's time for some festive mood and relaxation. That's why we selected the best Christmas movies of all time: from classics like "It's a Wonderful Life" and "Home Alone" to "Holidate'' and a slasher "Black Christmas." Watch these movies on the top streaming platforms, such as Netflix, Amazon Prime, Disney +, HBO Max, Hulu, and others.
A Boy Called Christmas (2021)
A magical fairytale about a boy who goes on an adventure to find Father Christmas in the fabled village of Elfhelm. His talking pet mouse and a reindeer Blitzen accompany him on this long, dangerous trip. This is the story that the aunt (Maggie Smith) is telling to her nephews, and while they are listening to it, they find happy, sad, and extraordinary insights. A good family watch during holidays.
You can stream 'A Boy Called Christmas' on Netflix.
Home Alone (1990)
A large American family is going on vacation and forgets its youngest son Kevin at home. A small but ingenious boy is left home alone at Christmas and finally gets to rest from annoying relatives. He learns how to cook for himself, do the laundry, buy groceries, and do other adulthood stuff. In the meantime, two hapless thieves are planning to rob the house. A hilarious and timeless family comedy for the Christmas mood.
You can stream 'Home Alone' on Disney + or Amazon Prime.
Harry Potter
Get some holiday spirit from 'Harry Potter' movies: you can start with the first film – 'Harry Potter and the Sorcerer's Stone.' Hogwart's cozy feast with all the treats and magic will cheer everyone up. And, as always, true friendship and love always win.
You can stream 'Harry Potter' movies on HBO Max.
Holidate (2020)
A holiday Netflix movie 'Holidate' tells the story of a young woman Sloane, whose her family constantly judges for not having a boyfriend, and Jackson, who's dating a girl he's not very much in love with. They meet when returning received gifts in the store. Suddenly, they decide to spend New Year's Eve together, where the story starts. The movie stars Emma Roberts, Luke Bracey, Jake Manley, Jessica Capshaw, Andrew Bachelor, Frances Fisher, Manish Dayal, and Kristin Chenoweth.
You can watch 'Holidate' on Netflix.
Black Christmas (2019)
A remake of the well-known series of films of the same name, the 2019 'Black Christmas' is one of the top horror movies to watch before Christmas. A classic slasher with a masked psychopath killing people, sororities and fraternities, and high school students and a lot of suspense. All this is happening right before Christmas, of course.
You can watch 'Black Christmas' on Amazon Prime, HBO Max, Hulu or Google Play.
The Family Stone (2005)
This is a good comedy movie about a united family that is hostile to outsiders. One of the brothers (Dermot Mulroney) brings home his girlfriend (Sarah Jessica Parker) to meet with the family and propose to her. Suddenly, the whole visit turns into a complete disaster, with a happy ending though. The cast also stars Claire Danes, Rachel McAdams, Luke Wilson, Diane Keaton, and others.
Watch 'The Family Stone' on Apple TV and Amazon Prime.
The Nutcracker Prince (1990)
The all-time classic is the old Warner Bros. Pictures cartoon 'The Nutcracker Prince', based on the fairytale The Nutcracker and The Mouse Kind written by E.T.A. Hoffman. On a beautiful Christmas Eve, a young girl Clara receives a gift from her uncle - a nutcracker toy. And then, you know the fairy story. Pretty decorations, cool old-fashioned animation, and a splendid melody of P.I. Tchaikovsky created for the Nutcracker ballet – is a perfect combination for a Christmassy mood just before the holidays.
You can watch it on YouTube.
It's a Wonderful Life (1946)
'It's a Wonderful Life' is one of the most optimistic, life-loving, and eternal movies. Frank Capra created it in 1946. The film tells the story of George Bailey (Jimmy Stewart), who sees his work and family as a significant burden and is on the verge of suicide. Suddenly, he's got visited by an angel who shows him how beautiful his life is. A great and timeless black-and-white movie, especially for people who are exhausted after this merciless year.
You can watch this movie on Amazon Prime.
Love Actually (2003)
An all-time classic, 'Love Actually' follows the very different lives of 8 Londoners just before Christmas. The Prime Minister, his spontaneous assistant, a widower with his son who's in love with a girl leaving for the US, blushing coworkers trying to get together, the sick brother and a family man tempted by a young secretary. All this and a great cast, and you get a perfect holiday season movie.
You can stream 'Love Actually' on Amazon Prime, Google Play.
Polar Express (2004)
A young boy takes a train to the North Pole to see all the wonders he believes in. A beautiful animation film directed by Robert Zemekis, starring Tom Hanks, Nona Gaye, and Peter Scolari.
Watch 'Polar Express' on Amazon Prime, Apple TV+.
The Princess Switch: Switched Again (2020)
An original Netflix movie about two ladies who switched lives: a princess became an ordinary girl, and the girl became a princess. This is the second movie following the first one called 'Princess Switch', released in 2018. It's a simple romantic comedy to watch and relax after a busy day: thrones, princesses, Christmas markets, and all other attributes of the holiday season are included.
You can stream the movie on Netflix.
The Holiday (2006)
A nice romantic Christmas movie – 'The Holiday' – tells the story of two women: a journalist Iris Simpkins, and Amanda Woods, who owns a successful advertising company in South California. They find each other through an application to exchange houses,, and on holidays, both decide to move to the other side of the world and escape all the problems. A universally acclaimed cast: Jude Law, Kate Winslet, Jack Black, and Cameron Diaz, plus beautiful holiday decorations, some snow in England, and some sun in California and here is the best watch for a lazy weekend.
You can watch 'The Holiday' on Amazon Prime or Google Play.
Blackbird (2020)
A very soppy and touching movie starring Susan Sarandon (the star of Stepmom movie), Kate Winslet, Mia Wasikowska, Lindsay Duncan, Rainn Wilson, Bex Taylor-Klaus, and Sam Neill. It's a story about a terminally ill woman who assembles her beloved family to spend her last holidays altogether. It's a remake of the Danish movie Silent Heart that gives a good feeling about the concept of the family and the possibility of spending holidays together, even though it's a susceptible subject for everyone.
You can watch 'Blackbird' on Amazon Prime.
Miracle on 34th Street (1994)
A good old movie about Santa Claus with Richard Attenborough as the main character. It is the story of a little girl called Susan, who doesn't believe in Santa Claus but still, like all other children, makes a list of gifts she dreams of: a little brother, a loving dad and a new house for their family. Miraculously she meets Kris Kringle (Santa Claus) in Cole's Department Store and realizes that her cherished dreams and hopes of so many other children are sure to come true.
You can watch the movie on Amazon Prime and Disney +.
Carol (2015)
New York, 1950s, decorated department stores, beautiful hotels, and stylish settings. Two women: a young saleswoman Teresa (Rooney Mara) and a mature well-dressed Carol (Cate Blanchett) meet each other. It's an exquisite holiday-inspired drama to watch when feeling a little bit blue. The movie was nominated for a Palm d'Or at the Cannes film festival and got 6 Oscar nominations.
You can watch 'Carol' on Amazon Prime and Google Play.
Little Women (2019)
One of last year's major movies – the remake of a classic 'Little Women' of 1994 (and 7th Little Women film) based on the novel by American writer Louisa May Alcott about 4 March sisters – Meg, Jo, Beth, and Amy living in New England during the Civil war of the 1860s. They pass through their lives from childhood to womanhood, they deal with their problems and try to be better people each day, even though life is tough sometimes, especially for women in the XIX century. That's a really great and cozy movie for winter days. Another advantage is the brilliant actor cast: Saoirse Ronan, Emma Watson, Florence Pugh, Eliza Scanlen, Laura Dern, Timothée Chalamet, Meryl Streep, Tracy Letts, Bob Odenkirk, James Norton, Louis Garrel, and Chris Cooper.
You can watch 'Little Women' on Amazon Prime, Hulu or Starz.
How the Grinch Stole the Christmas (2000)
A legendary movie about the Grinch, who was bullied as a child and therefore hated Christmas. However, when he meets six-year-old Cindy Lou Who, who believes that all the Christmas fuss is too much about gifts, not personal relationships, he opens up and tells the child his tragic story. Cindy nominates the Grinch to be the town's "Holiday Cheermeister", and when he actually starts to have some fun, the story begins.
You can stream the movie on Amazon Prime and Netflix.