Air pollution: causes, effects, solutions, AQI
Pollution affects the whole planet, causing diseases and premature deaths all around the world. Even if you live in a seemingly green city, it still might not be 100% ecologically safe. We can try to lower the pollution we produce but in the meantime also protect ourselves and avoid polluted areas as much as we can. In this article, you will learn more about air pollution, as well as some tips on how to protect ourselves and how to reduce the pollution we produce.
What do you need to know about air pollution?
It might seem like a very local problem at first sight. However, air pollution is a disastrous issue concerning all Earth's inhabitants. According to World Health Organization, the combined effects of household air pollution and ambient air pollution causes 6.7 million premature deaths annually worldwide. More than 80% of people living in big cities and urban areas are exposed to poor air quality, and low-income cities' populations are the most impacted. Here are some key facts about air pollution:
Air pollution consists of chemicals, particulates, and biological materials. The most common components are nitrogen, carbon monoxide, carbon dioxide, dust, sulfur, and ash.
Air pollution is not only a result of factory and industry emissions. It is also caused by forest fires, volcanic eruptions, and agriculture.
Air pollution severely affects health, particularly airways, lungs and heart. Air pollution increases the risks of many serious diseases, such as ischaemic heart diseases, strokes, lower respiratory infections, chronic obstructive pulmonary diseases (COPD), lung cancers, asthma, cataracts and more. According to British Medical Journal, pregnant women living in high-traffic areas are more likely to have children with impaired lung function than those living in less polluted areas.
According to IQAir, among the 20 most polluted countries today there are Chad, Iraq, Pakistan, Bahrain, Bangladesh, Burkina Faso, Kuwait, India, Egypt, Tajikistan, UAE, Sudan, Rwanda, Qatar, Saudi Arabia, Nepal, Uganda, Nigeria, Bosnia Herzegovina, Uzbekistan. China, Indonesia, South Africa, Turkey, Mexico, Greece and others are among the world's top 50 most polluted countries. And there are not so many countries that meet WHO air guidelines; however, some do: Finland, Estonia, New Zealand, Puerto Rico, Australia, Grenada, New Caledonia, Iceland, Bonaire St Eustatius, Bermuda, U.S. Virgin Islands, French Polynesia, and Guam.
Experts say that keeping track of air quality in your environment can help. Despite all the alarming facts, air pollution is not always measured. Luckily, many gadgets nowadays can monitor air condition daily at home and others can purify your air.
What is AQI?
Air Quality Index (AQI) is the main index that shows how clean or polluted the air in your area is. It measures the major air pollutants: ground-level ozone, particle pollution, carbon monoxide, sulfur dioxide, and nitrogen dioxide. The index is measured on the scale of 0 to 500, where 0 to 50 AQI is considered good air quality and it means there is little or no health risk in the air, and 300 to 500 AQI is hazardous, which means that it's very dangerous. AQI is shown on air monitors and mobile apps for your local area to give you an idea on how dangerous it is outside on this particular time of the day. For starters, you can get an AQI app, and then get a home air monitor and the "pro" version – an air purifier to ensure that you are breathing clean air at your home or office.
What are the best AQI apps?
There are plenty of mobile apps that can show you the air pollution levels in your area. Many phone weather apps, like the iPhone Weather, has an AQI indicator inbuilt. However, we recommend you also use IQAir AirVisual that is one of the most trusted and comprehensive AQI apps. It track pollution levels in 80 countries and gives quite precise information and forecasting about pollution levels in your area. It also gives you explicit health advice depending on the pollution level. Bonus: it's ad-free. You can download it for iOS and Android. The company also makes an air monitor that you can use at home to compare the pollution levels indoors and outdoors. Alternative trustworthy apps with the same functionalities are AirCare and Plume Labs.
What are the best air monitors?
Apart from the IQAir air monitor, there are plenty of more affordable other options. These are our top picks:
Atmotube Pro Portable
This Atmotube air monitor is a handy option for travel and home use thanks to its size and light weight. You can clip it to your backpack or your belt and wear it with you. It measures extremely fine particles with a diameter of less than 1 microns (PM1, PM2.5, PM10), Volatile organic compounds (VOCs), temperature, humidity and barometric pressure. It links to the Atmotube app so you can always be aware of the air situation around you. You can buy it for $160 on its official website.
Temtop M100
This air monitor is a good option if you want a monitor that'll stay at home and look like a part of high tech decoration. It monitors all general air pollution substances, including PM2.5 and PM10 particles, as well as HCHO, TVOC, CO2. It also gives you a graph on air condition changes during the week and day hours, as well as general forecast, temperature and humidity infos. Wiith it, you can trace when the air is the cleanest during the day and when it's the best time to do yoga or any other sport activities. You can buy it on Temtop official website for $190.
Temtop M2000 2nd Generation
This air monitor is one of the best and the most precise ones. It tests air for a variety of pollutants, such as CO2, HCHO (formaldehyde), PM2.5/PM10 particles, temperature, humidity and is widely used in private and public spaces. It has an audible alarm that switches on when the pollution levels are too high. It is a good option both for professional and personal use. You can buy it on the official website for $150.
What are the top air purifiers?
An air purifier might come in handy to clean the air at home and filter dust, allergens, and microparticles. Most air purifiers can remove 99.97% of airborne particles with a size of 0.3 microns thanks to high-efficiency particulate air HEPA filters. Often, air purifiers can handle the air of one middle-sized room. However, there are models that can purify the whole apartment. Here are our top picks.
Honeywell Home Allergen Plus 300 XL
Honeywell 300 XL air purifier can clean up to 465 square feet place and is almost silent and flexible: you can move it around your flat and use it while you sleep. It uses HEPA filters that are considered efficient by The US Department of Energy. It also has a timer setting that comes in really handy. You can buy it for $250 at Best Buy.
Blueair Blue Pure 211 Plus Auto
This cute air purifier with HEPA filters is perfect for a tiny studio or room (up to 190 square feet). It comes in different colors, so it will definitely fit your interior. It also offers 360-degree filtration. You can buy it at Target for $140.
Coway Airmega AP-1512HH
The Coway air purifier can successfully purify the air in a place of 1560 square feet, so it's practical for a large apartment or a house. Thanks to its mid-century modernist design, it will be a cute addition to your interior. It also has lots of extra features, such as real-time air quality monitoring, Wi-Fi capability and more. You can get it for $650 on Amazon.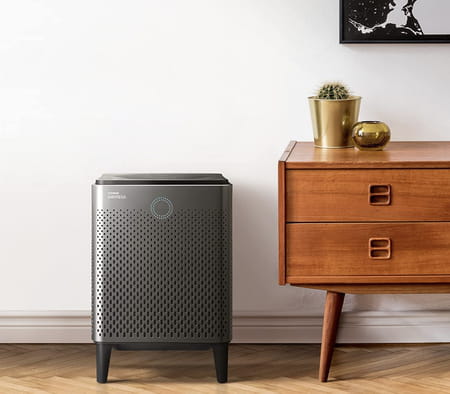 How can you protect yourself and the planet?
There are many ways how you can protect yourself from poor air quality and make a change:
Check your local area's daily air pollution forecast and avoid exercising outdoors when pollution levels are high.
Avoid high-traffic areas and try not to live close to those.
Reduce energy consumption at home to lower air pollution and save money as well.
Try to walk and bike more instead of driving. Public transportation is also a good alternative.
Don't burn wood or trash since they are the major sources of participle pollution.
Don't smoke indoors and try to avoid passive smoking.
Get an air monitor for home use and follow the updates about the air condition at home.
Use air purifiers to get clean air at home.
Learn more about air pollution, and try to make a change by contributing and participating in clean air associations and campaigns, such as Healthy Air Campaign, BreatheLife Campaign, Beat Pollution program, and others.