Even if some of the major players were not physically present, the 2022 edition of the Consumer Electronics Show in Las Vegas remained an opportunity to preview the main technological innovations of the coming year. CES 2022 remains a primarily digital affair this year. This article will explore some of the highlights from this years event.
Since its creation in the late 1960s, CES has continued to grow in size to become the unmissable global high-tech event. The winter edition of the Consumer Electronics Show, which is traditionally held in January in Las Vegas, has become the showcase where all the upcoming tech of the year are exhibited. The players of the tech world scramble to preview their upcoming novelties, whether electronic products, digital services or even concepts. Builders, publishers, creators of start-ups, resellers, media and - sometimes - politicians rush here not to miss out on any upcoming innovations. Although CES isn't only about consumer electronics, but also about bringing together all kinds of fields ranging from 5G to artificial intelligence, including connected objects, health, sport, robotics, 3D printing, drones, security and even transport.
However, whilst the 2019 edition was a great success by bringing together nearly 4,400 exhibitors from some 110 countries, things have turned sour due to the Covid-19 pandemic, to the point that the show was held remotely in 2021 for the first time in its history. 2022 should have marked the big return of CES in standard version, but the progress of the Omicron variant has changed the situation a few days before the opening. To the point that several major players like Google, Microsoft, Amazon, Meta (ex-Facebook), Twitter, Pinterest and Lenovo gave up at the last minute, with many being satisfied with a "virtual" presence. Despite the serial disaffection which raised fears of an outright cancellation of the event - as was the case in 2021 for the Mobile World Congress, the famous Barcelona trade fair dedicated to telecommunication and mobility - the organizers maintained the demonstration. But by shortening its duration by one day. In fact, CES 2022 is being held from January 5 to 7, with some 2,200 confirmed exhibitors. And the appropriate sanitary measures, so as to welcome visitors in good conditions.
As always, CES constitutes a privileged framework for identifying the main market trends. For the actors, it is above all an opportunity to exhibit their products, technologies and innovations, and to make international announcements, especially at major conferences. Some, like Samsung and LG, did not wait for the official opening to unveil new products, just to take full advantage of the resonance chamber that constitutes this show, which is widely covered by the press. Here is a small selection of announcements, which will grow naturally over the days and hours. Note that you can find all the product launches on a dedicated page of the official CES website.
LG OLED: bigger and brighter TVs
A major specialist in OLED- LG supplies panels for all the other brands - LG is expanding its range of televisions with two major new products. First, the manufacturer introduces an improved version of its technology, called OLED EX, which promises maximum brightness even that of the OLED Evo presented in 2021, with a gain of up to 30% in some cases. To achieve this, the Korean acted both on the material level, by using deuterium in its panels, and on the software level, by exploiting a new algorithm for a more precise pixel management. Another anecdotal advantage of the OLED EX is the even thinner screen borders, which have been reduced to 4 mm, to practically eliminate the frame and gain in elegance. At the same time as this technological development, LG is extending its family of OLED Evo TVs with the C2 and G2 models, available in sizes ranging from 42 to 97 inches, and, above all, equipped with a new version of the A9 in-house processor, whose artificial intelligence (AI) significantly improves the processing and the quality of the image, in particular for upscaling 4K or 8K from SD, HD or Full HD content. Support for video games - a great specialty of LG TVs - is also improved with a Game Optimizer mode giving access to specific parameters (VRR, ALLN, 4K 120 Hz, etc.) and to presets adapted to different types of games. In addition, all new LG televisions benefit from a new version of WebOS, the home interface, which now allows the creation of six user profiles and which has an Ambient mode, allowing you to display an animation, artistic work, a personal photo, or simply the time and weather as a screensaver.
Samsung Eco: a TV remote control that recharges by radio waves
Along with the presentation of its new screens, Samsung created a surprise by unveiling a very special remote control, named Eco. Like the model released in 2021, the newcomer has a built-in battery instead of traditional batteries. This accumulator can be recharged at the same time by USB, via a USB-C socket, like many mobile devices, but also via solar collectors, which, according to the manufacturer, can work as well with the sun as with the ambient light. Above all, and this is the great innovation, this remote control can draw its energy from radio waves - therefore electromagnetic waves - in particular from those emitted by Wi-Fi routers and other Internet boxes which now equip all households. If this principle, which has been dreaming for years, is not sufficient to charge greedy devices such as smartphones, it would seem suitable for accessories requiring very little energy such as remote controls. Admittedly, the savings achieved by this "passive" method may seem negligible on an individual scale - especially since the batteries often last more than a year - but for Samsung, who project an ecological approach, this innovation would avoid the regular disposal of millions of batteries every year across the planet. The Korean manufacturer even indicates that it has explored other avenues, for example by seeking to recover the kinetic energy created when we shake the remote control.
Withings Body Scan: a scale connected with ECG
Well known for its smart scales, the French manufacturer Withings has unveiled a new model, the Body Scan. Much more sophisticated than its previous ones, it presents itself as a "connected health station", capable of weighing - with an accuracy of 50 g - but also of performing electrocardiograms (ECG) using electrodes by displaying the results on its LCD screen or on the associated application. According to its manufacturer, it would even be able to detect cases of atrial fibrillation, a cardiac arrhythmia responsible for a third of cerebrovascular accidents (CVA) and certain peripheral neuropathies. The Body Scan also has a retractable handle fitted with sensors capable of analyzing and mapping the body composition (muscle mass, fat mass, bone mass, water) by segments (trunk, arms and legs). The Body Scan will in principle be marketed in the second half of 2022 at a price of around 200 dollars.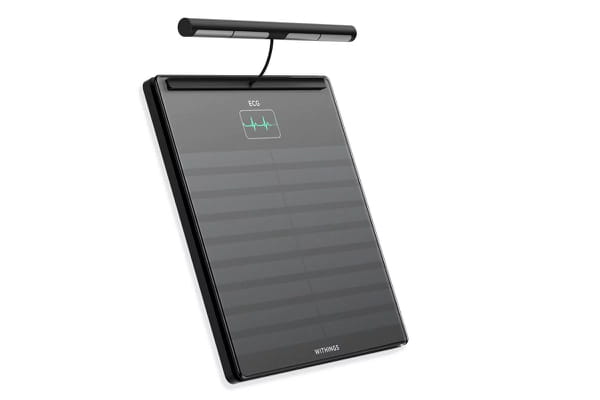 Sony Bravia XR: very high-end mini-Led TVs
If Sony has lost its status as an innovator in the field of images, the Japanese manufacturer is a former master in the art of optimizing existing technologies by making the most of certain components. This is particularly the case in the world of televisions, with the long-awaited introduction of two mini-Led models (or Mini LED, depending on the manufacturer) in its Bravia family: the Z9J, the brand's flagship 8K, available in two sizes, 75 and 85 inches and the X95K, "limited" to 4K and available in 65, 75 and 85 inches. Concentrating all the brand's know-how in image processing, these new, very high-end TVs use a process called XR Backlight Master Drive to precisely control the backlighting of each mini-LED and a Cognitive XR processor responsible for calibrating colors and brightness. Remember that the main advantage of mini-Led backlighting technology is that it offers very deep contrasts with an LCD panel, like OLED, while maintaining very high brightness, without fear of the phenomenon of "burn in" which may occur with prolonged display of still images in OLED. In addition, Sony claims to have worked carefully to mitigate the two defects of LED LCD panel screens, namely the variations in contrast depending on the viewing angles and the appearance of a halo in certain light areas (the famous blooming effect).
Dell XPS Plus: a resolutely premium ultraportable PC
Dell has completely revised the design of its famous high-end ultraportable, the XPS. Equipped with a 13-inch screen with ultra-thin borders, its new flagship model, the XPS 13 Plus, thus benefits from a chassis entirely in aluminium alloy with very clean lines, with an "invisible" touchpad on the palm rest because it is fully integrated. A keyboard with enlarged and narrowed keys, and a multifunction touch strip replacing the traditional function keys, like the famous TouchBar of the old Apple MacBooks. As light as the previous model (1.2 kg), this ultra-thin model embeds an Intel Alder Lake processor (12th generation) which, according to Dell, should be able to operate at maximum capacity thanks to an improved and silent ventilation system.
Samsung Odyssey Ark: a giant curved screen unique in its kind
Among its many announcements at CES, Samsung presented an extraordinary monitor, the Odyssey Ark. At 55 inches diagonally - the equivalent of a large TV - this 4K-definition computer display isn't just curved, like other models: it can swivel to switch to vertical and tilting, so as to adapt to all situations, whether for playing or for working. In vertical mode, it literally envelops the user, much like in an airplane cockpit, while being able to display multiple areas thanks to multi-view options. It is difficult to say if this atypical screen will find its audience once marketed, but Samsung's initiative is certainly worth noting.
AMD Ryzen 6000 Mobile: new processors for laptops
While awaiting the arrival at the end of the year of a new generation of processors in Zen 4 technology, AMD presented its new models of chips for laptops, the Ryzen of the 6000 series. This new family of CPU-GPU - processors with integrated graphics circuit - is based on an architecture called Rembrandt - after Renoir for the Ryzen 4000 Mobile and Cézanne for the Ryzen 5000 Mobile - which benefits from an improved engraving in 6 nm, promising a greater transistor density and lower power consumption - with energy savings ranging from 15 to 40% depending on the application according to AMD. If the CPU part evolves only slightly, taking advantage above all of the burning optimizations, the GPU part benefits from a significant evolution by adopting the Radeon RDNA2 "engine", the same as that used in high-end graphics cards. 'AMD… and in the latest generation game consoles like Sony's PS5. Enough to achieve very high performance in video games, as AMD pointed out by presenting the results of comparative tests with competing chips from Intel and Nvidia. The difference is noticeable compared to the Vega GPU integrated in the current generation Ryzen, with an average gain of 100%, i.e. doubled performance.
Other advantages of the Ryzen 6000: they manage DDR5 type RAM, much faster than current DDR4 - but also much more expensive… Wi-Fi 6E, and USB 4, the latest version of the USB standard, which is based on Intel's Thunderbolt 3 protocol, and which achieves a maximum transfer rate of 40 Gbit/s while remaining compatible with previous standards (USB 1, 2 and 3, DisplayPort, etc.). Finally, the Ryzen 6000 are the first processors integrating Pluto, a new security system from Microsoft integrated into the chips and interfacing with TPM and Bitlocker and intended to protect both local data on the computer and communications with the outside.
The Ryzen 6000 family already has 10 models, with up to 8 cores and 16 CPU threads and 12 GPU cores and a maximum frequency of up to 5 GHz for the most powerful, the Ryzen 9 6980HX and 6980HS. But it is especially the Ryzen 7 6800U that we should find in many laptops, to replace the current excellent 5800U in the mid-range. The first Ryzen 6000 will appear in February in PCs from Acer, Dell, HP, Lenovo but also Alienware and Razer.
Asus ZenBook 17 Fold OLED: a foldable large-screen laptop
After smartphones, computers are moving to the folding screen. Asus has thus presented the prototype of a folding screen laptop PC which should be marketed in the second half of 2022, the ZenBook 17 Fold OLED. Equipped with a 17.3-inch foldable and tactile OLED panel in 4: 3 format (definition of 2560 x 1920 pixels), this model with an astonishing design would not take up more space than a 12-inch ultraportable when folded. Completely unfolded, it can be used as a large touchscreen tablet or placed as an external screen with Asus providing a Bluetooth keyboard with a touchpad. It can also be opened like a regular laptop, but has two 12.5-inch 3: 2 screens with a resolution of 1920 x 1280 pixels each, with the keyboard placed in front. A clever concept, also offered by Lenovo on its X1 Fold. For the rest, the ZenBook 17 Fold OLED displays a nice technical sheet with a latest generation Intel processor (Core i7-1250U), 16 GB of Ram (in DDR5), 1 TB of SSD storage (in PCIe 4.0), two sockets Thunderbolt 4, an audio jack (3.5mm jack), Wi-Fi 6E, Bluetooth 5.2 and a 75 Wh battery (battery life not specified). No price has yet been communicated.
Nvidia GeForce RTX: full of new graphics cards
Nvidia remains a very popular brand among gamers - even if some of its products are used in more "professional" settings -, each of its graphics circuits generating endless debates and comparisons among fans of 3D rendering and FPS - images per second. In this time of scarcity when the smallest card in the recent RTX 3000 family is snapped up at a high price as soon as it appears on the shelves, and in order not to leave too much room for Intel and AMD in this very competitive market, the American designer presented several models extending his star series.
At the entry level for fixed PCs, the GeForce RTX 3050 uses the Ampere architecture of the family, but in a lighter version, to remain accessible - we should find cards equipped with this new circuit for a price around 200 dollars at the end. The main objective of this model is to encourage users of GTX generation cards to take the step towards RTX to take advantage in particular of the famous real-time ray tracing and DLSS (Deep Learning Super Sampling), the in-house technology making it possible to improve the display thanks to artificial intelligence. With modest performance gains, it promises 60 frames per second in Full HD in most of the flagship games of the moment, with all graphics options activated. At the other end of the range, Nvidia has prepared the GeForce RTX 3090 Ti, a power monster with 24 GB of GDDR6X memory at 2625 MHz and developing no less than 40 TFLOPS for shaders, 78 TFLOPS for Ray Tracing and 320 TFLOPS for AI - experts will appreciate.
Nvidia has not forgotten the portable world, however, by announcing two new GPUs: the GeForce RTX 3070 Ti and 3080 Ti, which both benefit from improved technologies, such as the GPU Optimizer, Rapid Core Scaling and Battery Boost which allow to increase performance by optimizing the use of the cores and to save the battery, therefore the autonomy. According to Nvidia, new laptops from Alienware, Asus, MSI and Razer already equipped with GeForce RTX 3080 Ti and 3070 Ti are on average seven times faster for 3D rendering than the latest MacBook Pro 16 with its chip. M1 Max. A nice feat that experts will appreciate, especially since these computers are not limited to games by also accelerating heavy processing in more than dozens of creative applications (photo, video, 3D models, etc.).
Samsung The Freestyle: a compact, portable and smart video projector
Samsung took advantage of CES to present The Freestyle, a particularly clever miniature video projector. Cylindrical in shape, compact (15.6 cm high x 9.3 cm diameter only) and light (830 g), the device promises to transform any space into a projection room in the blink of an eye. eye thanks to its support that can rotate up to 180 degrees, which allows it to project images on any surface - wall, table, floor, even ceiling, to watch a movie or a series lying in bed! And without complicated settings: The FreeStyle benefits from automatic systems for focusing and keystone correction. No complicated connection either: it has a single micro-HDMI input for an external device, but can receive streaming audio-video content and duplicate the screen of an Android or iOS mobile without any wires thanks to its Wi-Fi and Bluetooth modules. It can even be controlled remotely by voice command via a smart assistant like Bixby or Alexa! Last but not least, as it accepts to operate on an external battery with its USB-C socket, it can be taken anywhere, even far from an electrical source, especially since it incorporates speakers supposed to broadcast sound at 360 degrees. Admittedly, it is satisfied with a Full HD definition - no 4K therefore - and a low light - 230 lumens approximately - but given its versatility, it is sufficient for a number of situations, especially since it can project an image 100 inches diagonally, or more than 2.5 m anyway. The FreeStyle will be available for pre-order at the end of January for a price of around 900 dollars, with deliveries scheduled from February 17th.