CES 2023: date, highlights, best products
Despite the absence of some major brands, the Consumer Electronics Show (CES) in Las Vegas remains an opportunity to discover the main technological innovations of the year. Below we present a selection of the main announcements from the 2023 edition.
What is the Consumer Electronics Show (CES)?
Since its creation in the late 1960s, CES has continued to grow in size to become the unmissable global high-tech event. The winter edition of the Consumer Electronics Show, which is traditionally held in January in Las Vegas, has become the showcase where all the upcoming tech of the year are exhibited. The players of the tech world scramble to preview their upcoming novelties, whether electronic products, digital services or even concepts. Builders, publishers, creators of start-ups, resellers, media and - sometimes - politicians rush here not to miss out on any upcoming innovations. Although CES isn't only about consumer electronics, but also about bringing together all kinds of fields ranging from 5G to artificial intelligence, including connected objects, health, sport, robotics, 3D printing, drones, security and even transport.
As always, CES constitutes a privileged framework for identifying the main market trends. For the actors, it is above all an opportunity to exhibit their products, technologies and innovations, and to make international announcements, especially at major conferences. Some, like Samsung and LG, did not wait for the official opening to unveil new products, just to take full advantage of the resonance chamber that constitutes this show, which is widely covered by the press. Here is a small selection of announcements, which will grow naturally over the days and hours. Note that you can find all the product launches on a dedicated page of the official CES website.
When is CES 2023?
The last two years have been quite difficult for CES due to the Covid-19 pandemic, to the point that the show was held remotely in 2021 for the first time in its history. Although 2022 was supposed to mark the return of CES in its standard version, the advance of the Omicron variant changed the situation a few days before the inauguration and several important players, such as Google, Microsoft, Amazon, Meta (ex-Facebook), Twitter, Pinterest and Lenovo all dropped out at the last minute, with many settling for a "virtual" presence. Despite the situation, the organizers went ahead with the event by shortening it by one day, only that it lasted one day less than planned. Thus, CES 2022 was held from January 5 to 7, with some 2,200 exhibitors, following the relevant sanitary measures to receive visitors in optimal conditions.
Everything was back to "normal" for the 2023 edition, the fair was open to the public from January 5th to January 8th, a more typical show length - remembering that January 3rd and 4th were reserved to the media, which allowed journalists and other communication experts to cover the event without being impeded by the crowds of visitors. This year the tickets for the big fair were not be sold out: while the 2019 edition was a great success, with almost 4,400 exhibitors from some 110 countries, this time around there were only 3,100 exhibitors from 170 countries.
Once again, not all of the major tech brands were in attendance, even virtually. This is the case of Apple, in particular, which prefers to make its announcements during its own events, the famous Keynotes, very characteristic of the Apple brand. These absences will not prevent the publication of press releases in parallel, to take advantage of the commotion of the event.
How to watch the CES 2023 conferences live?
Like any large trade fair, CES is an opportunity for market players to present their new products and innovations. And despite the sometimes surprising absence of some big brands, most of the major players, like AMD or Nvidia, will speak at the conferences. Some of them are reserved for a select audience, which will obviously be present on the spot, but others will be broadcast online in parallel, and will be accessible to everyone. This is the case of the Nvidia GeForce Beyond conference, which was held this Tuesday, January 3 at 4:00 p.m. in the UK and was broadcast live on YouTube. During the event, Nvidia introduced its new RTX 40XX GPUs for laptops and announced the arrival of the new Geforce Now Ultimate subscription plan.
What is the latest in monitor and screen tech?
Samsung: giant monitors and a foldable and rollable screen prototype
As is often the case, it was the Korean display giants who were the first to show their products, specifically Samsung (especially with its Samsung Display division) and LG. When it comes to monitors, Samsung has introduced new extra-wide, giant computer monitors. Its Odyssey range has been enriched with several new curved models in XXL format. The first is the Odyssey Neo G9, which has a 57-inch Mini Led panel, a 1000R curvature and a definition of 7680 x 2160 pixels (32:9 ratio), the equivalent of two UHD-4K screens side by side. the other. It features an industry-first DisplayPort 2.1 interface that lets you transfer data at approximately twice the speed of conventional DisplayPort 1.4. It also boasts a 240Hz frame rate, making it ideal for gaming.
Another standout model is the Odyssey OLED G9, slightly smaller at "only" 49 inches. It has an OLED panel that promises excellent image quality, especially thanks to perfect blacks without illuminated or backlit pixels. Less curved (1800R), it also offers a lower definition (5120 x 1440 pixels) but still in 32:9 format. Above all, it promises a report speed of just 0.1 ms with a maximum frequency of 240 Hz, which again makes it very suitable for gaming, especially since it supports adaptive-sync technologies such as AMD FreeSync Premium. It doubles as a digital hub, with DisplayPort and HDMI 2.1, and USB-C ports, including one that supplies up to 65W of power to charge devices.
These are admittedly impressive although not revolutionary behemoth monitors. What really caught our eye was the Flex Hybrid, a flexible, slide-out hybrid display introduced by Samsung Display. At the moment it is not a marketable model, since it is simply a demonstration prototype intended to show an innovative concept. In this case, the Flex Hybrid uses a flexible panel with OLED technology that can go from a 10.5-inch format with a 4:3 ratio to a 12.4-inch format with a 16:10 ratio when unrolled and stretched to the touch. maximum. Samsung hasn't revealed any other technical specifications, and it's not yet clear which products would use this type of screen, but we can envision its use in foldable and expandable laptops and tablets, as well as in-car devices.
Lastly, Samsung has also evolved with its hybrid QD-OLED technology, used in its recent high-end TVs. And in the new S95C model, available in three sizes (55, 65 and 77 inches), the Korean has found a solution to push the limits of brightness even further, since its new panels reach a maximum peak of more than 2,000 nits. (cd/m2), that is, even more than the new LG Oled! An impressive value to be used especially in very bright rooms and with the HDR mode, to increase the dynamic range of the images.
LG Display: brighter 240 Hz OLED monitors for gamers
Before the conference on January 5th, LG Display, a subsidiary of LG Electronics, had already presented several novelties for 2023, in particular around OLED. The Korean company has a perfect command of this display technology, which continues to improve over the years, while supplying panels to other major manufacturers, both for televisions and computers.
Thanks to a new process called Meta, the manufacturer claims that it is capable of reaching peaks of 2100 nits (cd/m 2 ) in its new range of high-end televisions, which will include 55, 65 and 77-inch 4K models and 8K models. 77 and 88 inches, with the promise of extending it to other families later. To achieve this record, the Meta system combines two techniques: the Micro Lens Array (MLA), an array of microlenses – for an impressive total of 42.4 billion microlenses – that maximizes the light output of the panel, and the Meta Booster, a brightness enhancement algorithm. All this is accompanied by wider viewing angles – around 30% – and greater energy efficiency, with a 20% reduction in electrical consumption.
On the other hand, LG Display has also introduced new OLED panels for monitors for gamers: a 27-inch (QHD definition of 2560 x 1440 pixels) and a 45-inch one (UWQHD definition of 3440 x 1440 pixels). In addition to the infinite contrast and the very short response time –0.03 ms– linked to OLED technology, these are characterized by their 240 Hz refresh rate: a very high rate, suitable for action games that chain a large number of images. per second –FPS–, but not for video, which is content with a much lower bit rate, especially for movies. These panels will begin to be seen very soon in monitors from specialized brands, such as Asus, Corsair or LG, at prices above 1000$.
LG: 100% wireless connectivity for an exceptional TV
Just before CES, the Korean manufacturer announced the renewal of its range of televisions with the A3, B3, C3, G3 and Z3 models. A surprise had been reserved for the Las Vegas show, by revealing the arrival of a new model to its flagship range: the M3.
This first model has a giant OLED panel with a diagonal of 97 inches (246 cm) and the latest: all the electronics are in a separate box that sends the data to the TV wirelessly. The other Korean, Samsung, already has a box with all the electronics and connectors for the TV that is separated from the screen -the One Connect- but that must be connected to the device by means of a cable.
Here, however, only one electrical cable is necessary to power this giant screen, leaving plenty of time to stick it to the wall leaving the minimum space, like a painting. Everything is transmitted wirelessly, using LG's proprietary system from a box called Zero Connect. 4K 120Hz images and audio arrive without lag or quality degradation. According to the manufacturer, it is even possible to play with Next Gen consoles.
The box must still remain within a radius of less than 10 meters from the television (which leaves room). Available for the moment in a single size (97 inches), the M3 should later be available in less imposing formats such as 77 or 83 inches. The availability of this new M3 and its price have not been announced, which in all probability should exceed 30,000$ since the 97-inch LG G2 (without Zero Connect box) is already listed at 25,000$.
Displace: a completely autonomous OLED TV
American startup Displace has unveiled a good-sized OLED TV that can be hung anywhere without having to worry about trailing cables. This television has a comfortable diagonal of 55 inches for a total weight of 9 kg. Its particularity: it does not need a power cable to work. Its frame not only contains the 4K OLED panel, but also four removable and hot-swappable batteries, which, according to its designers, allows it to last up to a month at a rate of six hours of daily use.
To hold on, the Displace has two self-suction suction cups on the back. Allows you to combine two or four displays to create a 110-inch (279 cm) diagonal image. There's still a glitch: if this TV takes advantage of a WiFi 6E connection to enjoy content from the Web and streaming platforms, you'll still need cables to connect devices (BluRay player, game console, etc.). So far, the startup has produced a hundred units of this model for a price of $3,000.
What news does CES 2023 bring in computing?
Asus: Zenbook Pro, premium laptops inflated with the latest technologies
As usual, Asus hasn't waited to integrate the latest technologies available on the market into its products and insists on always staying ahead, even if it sometimes means taking chances with innovative ideas.
This has been done with the Zenbook Pro series, very high-end -or premium- laptops that serve as a technological showcase with two new models. The most luxurious, the Zenbook Pro 16X OLED (UX7602BZ) benefits from a 16-inch OLED touchscreen compatible with HDR in 16:10 with 3.2K definition and a 120Hz refresh rate. Above all, it has a Core i9 processor -13905H of 13th generation – which has just been presented by Intel – and a GeForce RTX 40XX graphics circuit – also recently presented by Nvidia. In other words, a state-of-the-art "twin engine" capable of running all kinds of demanding applications, including games that are very demanding on graphical resources.
Other features of this luxury laptop include LPDDR5X RAM – up to 32 GB –, PCIe 4.0 x4 storage – up to 2 TB –, a floating RGB White backlit keyboard, a large touchpad with numeric keypad, Thunderbolt 4 ports (40 Gbit/s) and HDMI 2.1, four microphones, six Harman Kardon speakers, and a 96 Wh battery.
A very good piece of equipment, with a correspondingly high price: the Asus Zenbook Pro 16X OLED, which will be available during the third quarter of 2023, will in fact be sold starting at 5,000$.
The other model in the series, the Zenbook Pro 14 OLED (UX6404), is less ambitious and more accessible, with a wiser technical sheet: 14.5-inch Oled screen in 16:10 with a definition of 2.8K at 120 Hz Intel Core i9 -CPU 13900H, Nvidia GeForce RTX 3050 GPU, 32 GB of Ram, 1 TB of storage, 70 Wh battery and a price from "only" 3,000$. Of course, we are talking about technology showcases, not entry-level PCs.
Lenovo: a bit of luxury
As in each edition of CES, Lenovo presents a large number of new products: laptops, tablets, smartphones, monitors... But if all these devices are of technical interest -and ecological, increasingly improving its sustainability policy- a The model immediately attracts attention among this anthology: the Yoga AIO 9i in its 2023 version. This all-in-one PC surprises with its particularly daring and refined design and its features.
Its large 31.5-inch 4K screen seems entirely dedicated to viewing. This block, which obviously includes the components and sockets, has actually been transported on a round support that acts as a foot, thus avoiding the passage of cables to the slab. And it is a kind of arm in the shape of a giant golden clip that connects the two elements in a very aesthetic way. Certainly, the equipment of this desktop looks quite classic, with 13th generation Intel Core processors (Core i7-13700H or Core i9-13900H), an Nvidia graphics circuit (not specified), up to 32 GB of RAM and 1 TB of SSD storage, USB ports, etc. And all for an affordable cost, since Lenovo mentions a base price of $800 (before taxes).
What new gadgets were announced at CES 2023?
Baracoda: a solution to transform any watch into a connected bracelet
For all those who want to wear a good watch on their wrist and still measure their physical activity and monitor their health, the French company Baracoda, who since 2014 has been producing connected objects such as toothbrushes, mirrors and scales, has just announced a new device: the B-Heart comes in the form of a metal or leather bracelet, with a classic look, to incorporate into your favorite watch (three sizes are offered from 18 to 22 mm, corresponding watchmaking standards). Inside the attached loop, there is a small box full of sensors and electronic components that will collect data such as heart rate, number of steps taken, quality of sleep, etc. With no display, the B-Heart simply sends all this data to an app to install on your smartphone.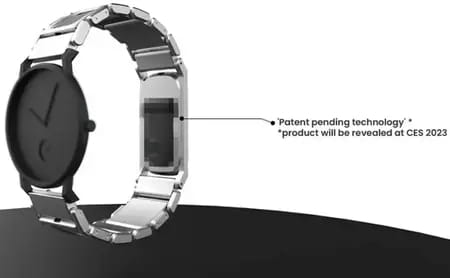 As for autonomy, the B-Heart does not have a plug to recharge it: the battery is none other than the user. Frequent arm movements allow the device to be powered (as with automatic watches), but also body heat and even ambient light. Everything is based on an internal technology called BMotion. The bracelet should retail for between $100 and $300 depending on the material chosen. A release date has not yet been announced.
Nanoleaf: Ambilight-style lighting for everyone
Ambilight is a technology from Philips Laboratories. This system, present in many of its televisions, allows the light and colors that are displayed to be spread on the four edges of the screen on the wall in front of which the television is placed. This results in a very nice effect that reinforces the immersion in the image. To democratize this technology, Nanoleaf, which has been designing connected and modular lighting for many years, has just presented the Nanoleaf 4D at CES.
This kit consists of a camera to be placed on top of the screen (with a small support included) or more discreetly at the base of the screen, as well as an LED strip to be fixed on the back of the television. The camera captures the displayed colors and transmits them to the LEDs placed on the back to spread the corresponding colors on the wall. Nanoleaf also plans to extend the connection to other Nanoleaf products for even more sustained immersion. The Nanoleaf 4D kit is expected to launch from Q2 2023 in two different sizes compatible with 55- to 85-inch TVs with a starting price set at around $100.
Withings: At home urine analysis
French company Withings, known for its connected scales, watches and other thermometers, is taking advantage of CES in Las Vegas to push health analytics a little further. The manufacturer has just introduced the U-Scan, a small box to place in the toilet to analyze urine. The analysis of urine can now be performed daily in total privacy, in order to obtain information to control hydration, nutrition, and menstrual cycles. The device, which will be attached to the toilet bowl like a disinfectant block, according to Withings, has been developed in collaboration with urologists, gynecologists and nephrologists.
It incorporates sensors capable of detecting streams of urine and even distinguishing users. It also contains a cartridge made up of several capsules that contain the chemical reagents necessary for the analyzes that are automatically replenished after each use. Each cartridge has a shelf life of three months, according to Withings. Once the analysis is done, the data is transmitted via the Wi-Fi network to the Maison Heatlh Mate app, which already manages a lot of health data collected by the brand's devices and other objects connected to it. The U-Scan will be available in the second quarter of 2023 at a price of 499$. It will be possible to opt for a subscription formula to automatically receive new cartridges.
Samsung: High Tech Baking
"Can I smell something burning?" Usually, when we ask ourselves this question, it is already too late. With the Bespoke AI Oven, Samsung offers a rather original solution: this connected oven has a camera placed inside. Thanks to artificial intelligence, the machine is able to recognize, in its European version, 106 different dishes and determine if a dish is overcooked. It then alerts the user to prevent a disaster.
The door does not have a handle, it is motorized in order to be opened without risk. In addition, the internal camera allows you to record and even broadcast live on social networks the images of what is boiling in the oven. This model also has a 7-inch screen to access all its controls and synchronizes with the manufacturer's SmartThings application (which manages all its connected objects) to activate, for example, remote heating or display the image captured by the camera on the mobile screen. The oven can also be associated with the Samsung Health application (dedicated to health) to create recipes according to your diet. The Bespoke AI Oven is expected to be available next fall.
On the cold side, Samsung also announced a 4-door family fridge that packs a 32-inch FHD display vertically on one side. This connected fridge is capable of streaming Youtube and TikTok videos, ordering groceries online on Amazon, or even displaying cooking recipes.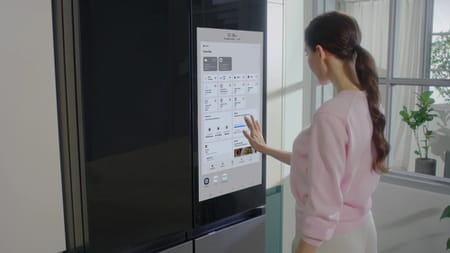 Acer: a pedal power desk bike
Electricity rates are skyrocketing and all solutions are good for saving money, including this office bike announced by Acer. The concept of standing or exercising at your desk while you work isn't new, but the manufacturer takes it a step further: the energy you expend while pedaling is converted to electricity and used to power a laptop or charge a phone. smartphone or tablet.
The eKinekt BD3 looks like an exercise bike but has a wide seat and a small backrest. At the top of the handlebar there is a tray where you can place what you need to work (laptop, smartphone, notepad, etc.). The machine is equipped with two USB-A ports and two USB-C ports for connecting devices. According to the manufacturer, one hour of pedaling at 60 pedaling revolutions per minute (a fairly calm pace), delivers a power of 75 W.
The eKinekt BD3 can also be transformed into a more traditional exercise bike: the plate attached to the top of the handlebars slides forward, and a sport mode allows you to apply more resistance to pedaling. Acer also offers an app to track progress. The eKinekt BD3 will be available in early summer for around 999$.
TCL: glasses with Micro-Led screens for augmented reality
We remember the Google Glass presented ten years ago by the American giant and which, at the time, had suffered much criticism, especially with regard to respect for privacy. During this CES 2023 in Las Vegas, it was the turn of the Chinese TCL to return to this concept with its RayNeo X2.
These are glasses with a very thick frame and coated with electronics. Designed for augmented reality, the binoculars also have very thick lenses since they are equipped with Micro-Led screens (an area that the manufacturer dominates with its televisions) in order to superimpose virtual content onto reality. Thus, the glasses can be used to translate a conversation with a foreign language-speaking interlocutor on the fly and display subtitles. The RayNeo X2 are also equipped with a GPS module that allows them to display a map and guidance system on the screen, for example, and with a photo module to capture snapshots (even in night mode) and videos. The temples also hide small speakers to discreetly enjoy your music. A Bluetooth connection completes the picture to maintain the link with the smartphone and show, why not, the messages received on the Micro-Led screens.
TCL will start distributing these glasses to developers in the first quarter of this year. The manufacturer is also counting on them to find new uses for this device, although it has announced that it has launched into augmented reality game design. TCL has yet to announce a release date or price for this new toy.
HTC: Vive XR Elite, VR headset
The day after the announcement of TCL with its RayNeo X2 augmented reality glasses, it is the turn of HTC, one of the main players in the world of VR (virtual reality), to present itself with its mixed reality helmet model, the Vive XR Elite. The device can be used to view augmented reality, superimposing virtual images on top of real images, and for virtual reality, immersing the user in a 100% virtual environment. It is placed on the Meta Quest Pro helmet introduced by Meta last October.
The device weighs only 625 grams (with battery) and offers many configurations to better adapt to the user's vision, by allowing control of pupillary space, but also to correct myopia for each eye (from 0 to -6 diopters). In front of our eyes, we benefit from two screens with a definition of 2K each with a refresh rate of 90 Hz. It offers a field of vision of 110 degrees but above all a passthrough vision (view of the real environment) in color as in the Quest Professional It adopts four cameras and a depth sensor to better determine the positioning of objects in real space. The Vive XR Elite is powered by a Qualcomm Snapdragon XR2 Gen SoC (just like the Quest 2) and supports dual controllers in case you don't want to just use your hands. The Vive Elite XR is already available for pre-sale at 1,400$ and will be delivered at the end of February.
What new gaming tech was announced?
Asus: the Raikiri Pro controller with OLED front display
Controllers are essential peripherals for playing video games, whether on console or PC, and their choice has a decisive impact on gamer performance.
The Asus Raikiri Pro, from the ROG (Republic of Gamers) range, is a controller for PC and Xbox players, both Xbox One and Series X and S, equipped with a 1.3-inch non-touch OLED screen that displays remaining battery life, microphone status (on or off), animations and customizable messages via the internal Armory Crate software. And what is most important: the name of the custom profile used. In fact, the software allows you to configure the Raikiri Pro from A to Z to your liking: sensitivity of the sticks, adjustment of the parameters of the OLED screen, reassignment of the keys... The different profiles can be saved and the Buttons located on the front, just above the screen, allow you to switch from one to the other.
Otherwise, the Raikiri Pro looks like a classic Xbox controller, with two analog sticks, a directional pad, and four action buttons. At the rear, there are four triggers supported by two paddles and two buttons. The other innovative point is that it can be connected to the console or PC via cable (USB-C), but also via radio waves (2.4 GHz) and bluetooth, but only on PC.
Razer: a gaming chair with surround sound
Razer has several concepts in its closet and took advantage of CES 2023 to present a new one: a gaming chair cushion with speakers that produce 7.1 surround sound. Called Project Carol, the manufacturer describes it as "the world's first head cushion with near-field and haptic surround sound." Simply put, its goal is to bring more immersion to the player. To achieve such a result, Razer relies on proprietary HyperSense technology, typically found in its gaming headsets, which converts in-game sounds into haptic feedback to "feel" the game. Detects the frequencies of game sound, to transform it into haptic effects" through "vibrotactile signals" in real time. The pad connects to the PC via a 2.4GHz wireless connection and has eight hours of battery life. battery.It is designed to fit all gaming chairs thanks to the elastic and adjustable straps.
Alienware: a Concept Nyx controller for cloud gaming
We continue with the new controllers with the Concept Nyx, an accessory dedicated to cloud gaming, whose foundations had already been laid at CES 2022. Developed by Alienware, Dell's gaming department, it should allow gamers from the same household play simultaneously and access your game libraries on all your devices, even when you switch screens during gameplay. As it is still just a concept, its final design and features may differ a bit. At the moment, the controller consists of lots of colored LEDs, the usual four action buttons on the right, two symmetrical analog sticks, four triggers on the back, and instead of the directional pad, what Dell calls a Omnipad, remains a mystery for now.
Small novelty: a fingerprint reader is located under the main button to allow the user to instantly access their favorite games. There's also a scroll wheel at the bottom of the panel for easy navigation and tool switching, as well as a touchpad for instant access to custom commands.
JBL: Quantum 910 headset for consoles with spatial sound and head tracking
Following the success of its Quantum range of headsets on PC, JBL is attacking consoles with the Quantum 910, a dedicated gaming headset for Xbox and PlayStation. They are available in several models, the Quantum 910X and the 910P, one for each type of console. Please note that the Xbox model may work with PlayStations, but the Sony model will not work on Xbox. Nintendo Switch and PC are also compatible with both models. Quantum 910 has an active noise reduction function and a dual system of 2.4 GHz Wi-Fi and Bluetooth connection: this is the DualSource function. To avoid latency, JBL also provides a small USB adapter. Gaming headsets take advantage of 360-degree audio, which surrounds the user and makes gaming more immersive, with head tracking. And unlike the wired PC model, there's no need for an app to initiate head tracking and reorient it in the event the built-in gyroscope drifts off its center point. Quantum 910 also benefits from a boom mic that can be turned up to automatically mute the sound and promises 37 hours of battery life. The headphones will be released in March 2023 for 300$.
Nvidia: artificial intelligence to improve YouTube videos
Alongside the highly anticipated introduction of its RTX 40XX series graphics processing units (GPUs) for laptops, Nvidia announced some amazing technology at its keynote. Called 4K RTX Video Super Resolution, the feature uses artificial intelligence (AI)-assisted upscaling to improve the rendering of blurry or low-definition videos on YouTube in Chrome and Edge web browsers. In the online demo you can see that the result is spectacular. However, to take advantage of it you will need a computer equipped with an RTX 30XX or 40XX GPU, a requirement that is not available to everyone.
What news does CES 2023 bring in processors (CPU)?
Intel: 13th generation Core processors for laptops and low-cost CPUs
In the world of processors, Intel has unsurprisingly introduced mobile versions of its 13th generation processors (known as Raptor Lake) derived from desktop PC CPUs that went on sale a few months ago. And the American giant did not do things by halves, as it presented several dozen references with the HX, H, P and U series, in addition to renewing its entry range with the N series: a way to gain ground and compete with AMD, which wins market shares in all segments with its famous Ryzen.
At the top end of the range are now the Core HX, power monsters derived directly from desktop PC models, with plenty of cores and a "thermal wrap" adapted to laptops, that is, a consumption and a reduced heat dissipation. The Core i9-13900HX, the jewel of this new family, will have no less than 24 cores with 32 threads —8 high performance and 16 low consumption—, a 36 MB L3 cache and runs at a maximum turbo speed of 5.6 GHz, all with a base power consumption of 55 W (and a maximum of 157 W that will require an optimized cooling system). This CPU is likely to be used especially in gaming laptops.
The other series were reserved for classic computers, especially the H, P and U references. There is no evolution for these models that have the Raptor Lake hybrid architecture, with a mixture of high-performance cores (P-type with two threads each) and low consumption cores (type E, efficiency). In fact, the gain in performance will be obtained above all from the increase in the operating frequency.
However, it is worth mentioning that Intel also thought of those with a lower budget when presenting its N series, which is found in cheap computers (less than 400 euros) and comes to replace Pentium and Celeron processors, families already in disuse. To achieve this, Intel lightened its processors by integrating only low-power cores (type E), limited to one thread.