Clubhouse stands as a pioneer of social audio platforms where people can talk and share content in a new way. Join the club and go online anytime to chat with the people you follow, or hop in as a listener and hear what others are talking about.
What is Clubhouse?
Clubhouse is a social audio application where users can communicate in audio chat rooms on various topics and it is now used by millions of people worldwide. It offers a safe and well-designed environment to let people create their clubs and rooms, manage conversations, and build communities in a brand new way.
What are the key features of Clubhouse?
Explore: You will discover all kinds of conversations in millions of audio rooms on every topic, including lifestyle, fashion, meditation, finance, movies, news, social, or all of them at once. Of course, there are infinite rooms and possibilities, but you can also choose to start your own one.
Clubs: Clubs are user communities where people usually discuss common interests. You can either join existing ones or create your own, manage rules and conversations, and build your community. Each group is composed of three user categories: Members who can create private rooms and invite users into the club, Leaders who have member privileges and the ability to create and schedule club-branded open rooms, and Admins who have full privileges.
Rooms: Real-time virtual rooms are places where users can communicate with each other via audio, and Clubhouse also features spatial audio to create a richer experience. There are several types of rooms depending on the privacy level, including open rooms that can be joined by anyone on the app, social rooms where only the room's moderator follower can join it (if the moderator invites them), closed rooms where only invited people can join, and rooms under clubs. Each room has a topic describing it.
Profile: You will be able to build your profile and bio, personalize your profile photo to share who you are, and meet new people.
Share: No matter what kind of room you're in, you will be able to share with your friends and family or meet new people. Either listen in or share your thoughts with people and don't worry as collisions of people talking simultaneously are very rare.
Connect: Like other social media, you will be able to follow and be followed by people depending on your taste. That's pretty useful as it will allow you to notify or be notified when new clubs or rooms are created by people you follow.
Cross-media: You can connect third-party social media like Instagram and Twitter so that they are automatically linked to your bio, which is a true asset to making your communities grow.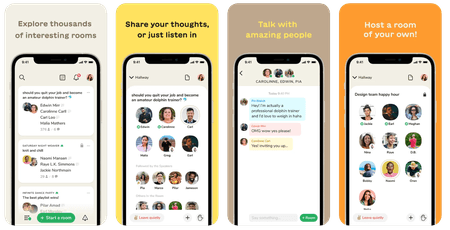 How to use Clubhouse?
Once Clubhouse is launched, you will be prompted to pick topics of interest and eventually follow existing users that may match your interests.
Then, you can start building your profile and connect your Twitter and Instagram accounts.
Go to the homepage to start exploring.
Go to the explore page to quickly find other users, clubs and rooms.
You are good to start a club, a room, join existing ones and share with millions of people worldwide.
How to install Clubhouse on your PC?
We provide you with both the Clubhouse APK file and the BlueStacks emulator that will allow you to run the application on your PC:
Download and unzip the file containing both the Clubhouse APK and the BlueStacks emulator files.
Follow the installation instructions you will find with the application file.
Is it free?
Yes, Clubhouse is free.
Is it safe?
Clubhouse has no history of data leaks or malware and collects less data than its competitors. Moreover, they claim to have focused on users' security. You can consult Clubhouse's privacy policy on the official website.