Angry Birds Epic is a free-to-play RPG video game in the Angry Birds series. This time, you will fight in turn-based combats, combining your birds' unique abilities and classes to defeat all those pigs and bosses.
Plot
You will be sent on a tremendous adventure across the frosty mountains, deep dungeons, and tropical beaches of Piggy Island to get your precious eggs back.
Throughout your adventures, you will collect and craft a huge arsenal of weapons, and use wild, powerful magic to defeat epic pig bosses and their minions and level up to skyrocket your power.
Gameplay
Battle: You will fight hordes of enemies in epic turn-based battles. Choose up to three birds for each battle, and face your enemies. In order to defeat them, you can either swipe from a bird to an enemy or use a secondary skill on your bird or an ally. Battles may be regular, composed of waves of enemies, or boss fights.
The map: On the map, you have an aerial view of Piggy Island, where you can play different levels, get objects at shops, or harvest items.
Classes: As an RPG, you can play heroic knights, helpful druids, and mighty wizards to team up for the perfect powerful mix. Fight after fight, you will level up and master your birds to defeat anything on your path.
Equipment: You can also complete equipment sets (some of them are rare) that will drastically increase your power and make you unleash devastating effects in battle.
Boost: The more your birds attack or take damage, the more the Rage Chili bar fills up. Once fully loaded, apply it to one of your birds and use their Rage ability.
Score: Winning is vital, but performing well is also essential. At the end of each combat, you will earn up to three stars indicating the amount of resources you receive as a reward. Resources are very important as they allow you to craft various items.
Crafting: When not on the battlefield, you can craft all kinds of weapons, potions, off-hand and consumable items. Crafting uses different resources and in-game currency tokens dropped by treasure chests or defeated pigs. When you craft or brew something, its quantity (Potions), damage (Weapons), or health (off-hand items) is increased by a number from zero to three stars.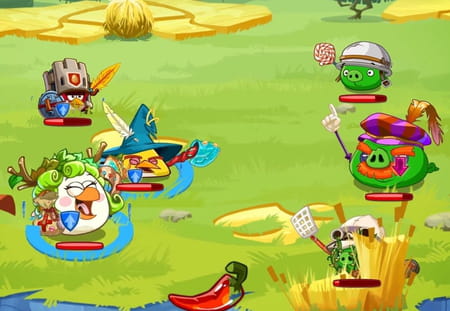 Graphics and sound
Angry Birds Epic features the iconic graphics from the Angry Birds series throughout your adventures across tropical beaches, deep dungeons, and more. Visual and audio effects manage to offer a satisfying experience.
Duration and game modes
Angry Birds Epic features single-player and multiplayer game modes. It will last around 14 hours if you focus on the main story, but it can last up to about 23 hours if you want to discover everything.
What do the reviews say?
Angry Birds Epic has a Metacritic score of 70/100.
"Engaging and characterized by an immediate gameplay, this title has surprised us positively. Those players who were expecting a renewal of the series will find Angry Birds Epic an interesting game." (SpazioGames)
Age rating
Angry Birds Epic is rated for Everyone.