Windows Movie Maker, the official video editor developed by Microsoft, was one of the best video editing programs in Windows's early days. Even though it was officially discontinued, it still provides an easy-to-use interface where you can create and edit your videos and clips as you like and create stunning content.
What is Windows Movie Maker?
Windows Movie Maker is a discontinued video editing program developed by Microsoft that was part of the Windows operating system until 2017. Although it was replaced by Video Editor, the software still provides good video and audio editing features so you can create your clips and videos in a simple and reliable environment.
What are the key features of Windows Movie Maker?
Simple interface: Whether you have a video editing background or not, you will quickly learn all the features Windows Movie Maker offers. Thanks to its simple interface, you can achieve everything quickly.
Create: Once your video is imported, you can access many tools to achieve what you want. For example, you can split your video into various segments, trim the parts you don't want, adjust the audio levels on specific parts, add texts, effects and filters, and create smooth and personalized transitions throughout your video. And once you think it's good, you can still preview the final product before exporting it.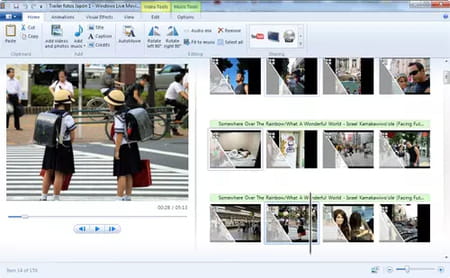 © Microsoft
Export and share: As it can take advantage of hardware acceleration, the exporting and encoding processes are sped up. In addition, you can directly share your content on all the social media platforms you want, like YouTube or Vimeo.
Huge format support: Windows Movie Maker supports almost all the formats you need so that you can import and export content seamlessly, including AIF, AIFC, ASF, MP2, MP3 and MPA for audio, BMP, DIB, EMF, GIF, JPE, JPEG, JPG, PNG and TIF for images, and ASF, AVI, M1V, MP2, MP2V, MPE, MPEG, MPG, WM and WMV for videos.
How to install and use Windows Movie Maker?
Installation
If you install it on Windows 10, an error message may prompt at the end of the installation process, but don't worry, as it's a false positive and everything will work fine. We provide you with the Windows Essentials 2012 pack that includes several applications. The installation process can be summarized as follows:
Execute the installation file.
During installation, make sure to select Windows Movie Maker as the application to install.
Once finished, you can launch Windows Movie Maker.
Use
Once launched, you can import your video and start editing it.

The top of the interface is where you will find the Ribbon, basically the place where all the tools (such as transitions, effects and captions) are located.

On the left side, you have the Preview tool, where you can view the playback of your project.

On the right side, you find the storyboard, where you can manage all the different clips and arrange them the way you want.

When you're done creating your video, export it in the format you want and you're done.
Is it free?
Yes, it is a free program.
Is it safe?
It is safe. No malware has been detected so far in the version we provide you here.
need more help with windows movie maker? check out our forum!