Wyze is an app designed to let you manage all your Wyze smart home products and wireless cameras. It has many different uses depending on your needs, from simple monitoring to home ambiance tuning.
What are the key features of the Wyze App?
Watch and monitor: You can watch over your loved ones and your goods using entry and motion sensors and the Wyze Home Monitoring service. You can also use one of their multi-purpose indoor or outdoor cameras (wired and wireless models are available) to do many different things, such as keeping an eye on your baby, capturing evidence and storing it on an SD card, detecting motion, receiving real-time alerts, and more. As you can manage all of your devices from your app, you can easily turn them on and off, filter if you want to detect people or motion, etc.
Automate: Wyze also allows you to automate repetitive or boring tasks to let you spend more time doing what you love. Thanks to the Wyze Lock, Wyze Thermostat, and Wyze Robot Vacuum, you can easily auto-unlock your front door, auto-water the garden, and auto-vacuum the floor. That's pretty handy.
Pimp your ambiance: Using Wyze's bulbs, plugs, and lamps, you can switch up your ambiance with over 16 million colors. In addition, you can add focused illumination with the Wyze Floor Lamp or convert your existing lamps, light fixtures, and small appliances into smart devices.
Combine and extend: But it doesn't stop there, as you can also combine and extend the features of your Wyze devices by linking them up with Alexa, Echo, or Google Home devices. And the cherry on top, you can even experiment by building your own devices and making them communicate through the IFTTT web service.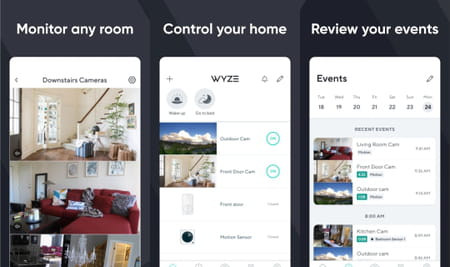 How to use the Wyze App?
Once the app is downloaded and installed and the proper devices are received, you can start registering an account or directly signing up on the app. To do that, enter your email address, set a password, and follow the on-screen instructions. Then, connect your device to your 2.4GHz WiFi network. Once done, tap on the + sign, then on Add Device to set up your first devices. If you need help, you can get more information on the official website.
How to install the Wyze App on your PC?
We provide you with both the Wyze APK file and the BlueStacks emulator that will allow you to run the application on your PC:
Download and unzip the file containing both the Wyze APK and the BlueStacks emulator files.
Follow the installation instructions you will find in the application file.
Is it free?
Yes, the app itself is free to use, but you must pay for the different devices or subscription plans depending on the features or products you want to use.
Is it safe?
Wyze has some security issues in its records, as they only recently patched a big security flaw they detected years ago (allowing hackers to gain unauthorized access to your security cameras), so it's up to you to decide if you still want to use their service. Also, you should always take a look at their privacy policy.