Hiren's BootCD is a versatile toolset you can use to fix many types of issues related to your OS or hardware. Simple to use and portable, it offers an excellent recovery environment.
What is Hiren's BootCD PE?
Hiren's BootCD PE is a complete suite of various utility tools you will boot on if you want to fix many kinds of issues, detect malware, fix boot problems, recover data, identify hardware malfunctions, and more. Free and legal, it's an excellent toolbox you should get and be ready to use the day something goes wrong with your computer.
What are the key features of Hiren's BootCD PE?
Toolbox: Hiren's BootCD PE is a collection of utility programs you can use in various scenarios when fixing issues related to your operating system, including data recovery, defragmentation, partition tools, security, Windows recovery, antivirus, and lots more tools.
Recover: It features a dedicated Lazesoft Windows Recovery program designed to correct Windows OS boot issues, and a straightforward interface to quickly resolve almost all problems and prevent you from reinstalling your Windows. Additionally, it features many different data recovery tools to ensure you won't lose essential pieces of data.
© Hiren's BootCD PE
Security: It provides lots of different tools depending on your security issues, including tools to format your disk at a low level, antivirus, and software license key finders (in case you lost your products' license keys or your session password). You can choose among several programs for each of these categories to ensure you achieve what you want.
Diagnose: It is always helpful to scan all your disks and partitions in case one of them is obfuscated or corrupted. Don't worry, as many different diagnostic and hard disk tools are available, including GSmartControl, HDDScan, HDTune, Test Disk, and more.
Benchmark: In case you experience unexpected latency, it is handy to be able to identify what is the cause precisely.
System: Many system tools are available for various purposes, including the famous Dependency Walker, Registry Backup, Regshot, SysInternals Suite, or PowerShell Core.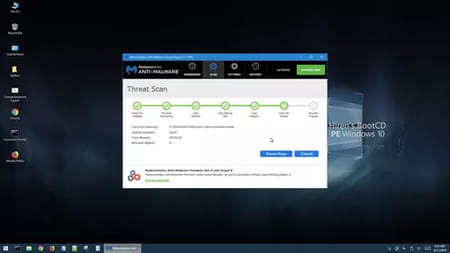 © Hiren's BootCD PE
Network: Of course, you also have plenty of network-related tools if you want to connect to a remote computer, browse the web and download content, and install Windows network settings.
Portable: Designed to be an alternative when your computer cannot boot on your usual operating system, you can carry Hiren's BootCD PE with you on a USB stick or a CD/DVD.
How to install and use Hiren's BootCD PE?
Installation
First, you must format a CD or USB stick with the ISO file to boot from Hiren's BootCD PE. The process of creating a bootable USB stick from Hiren's BootCD is straightforward:
Download the Hiren BootCD PE ISO file from this page and the ISO2USB executable file.
Run the ISO2USB.exe file and select the formatted USB drive you want to use. Click Process.
Use
Make sure your BIOS is configured to try to boot on USB or CD media before booting on the installed OS.
Plug your USB key or insert your CD, and reboot your computer to boot on Hiren's BootCD PE.
Depending on what you want to achieve, run one of the appropriate tools.
Is it free?
Yes, Hiren's BootCD PE is free to use.
Is it safe?
Yes, it is safe. So far, no malware has been detected in this program.
Is it legal?
Yes, Hiren's BootCD PE is totally legal as it embeds trial or free versions of programs it offers.