Honkai Impact 3rd is a free-to-play 3D-action role-playing game developed and published by miHoYo. Throughout your journey in this anime world, you will experience epic fights with powerful weapons and combos for the salvation of mankind.
Plot
The events of Honkai Impact 3rd take place in a fictitious place as an alternative version of our planet. Unfortunately, this world has been subjected to the devastating effects caused by the Honkai, a phenomenon that tries to stop the development of civilization. The goal of the Valkyries is to put an end to this upcoming disaster, fighting against all kinds of enemies and preventing humans from being corrupted and converted.
Gameplay
Combat: The game shines through its combat system as you can hone your skills to perform large combat and move sets combinations. You will fight to prevent the end of humanity using different attacking, defending, or evading techniques, and you can perform changes, use special weapon skills, and even passive strategies.
Arsenal: Valkyries can equip one type of weapon, including blade (katana), dual pistols, two-handed (greatsword), cross, heavy (cannon), fists (gauntlet), lance, scythe, chakram, and bow. Once a weapon is acquired, you can upgrade it to boost its attributes and make it even more powerful.
Stigmata: Valkyries can equip three Stigmatas to increase attack, defense, critical chance, and other attributes. Stigmata are split into three categories, including bottom, middle, and top, corresponding to the types of attack (auxiliary, defense, and attack). Of course, Stigmata can also be upgraded throughout your journey.
The Captain of the Hyperion: You command a mighty army of Valkyries and can choose missions, stages, and paths to follow. Every step counts to end the Honkai, so think well before you act.
Create a powerful army: Valkyries will fight relentlessly, so they need to form a good team. Choose the right weapons for each of them and manage the stigmata they will use to defeat the Honkai.
Comfort is important: You will find a section dedicated to the comfort and well-being of the Valkyries. Hence, you can decorate their bedroom and get even more Stigmata items.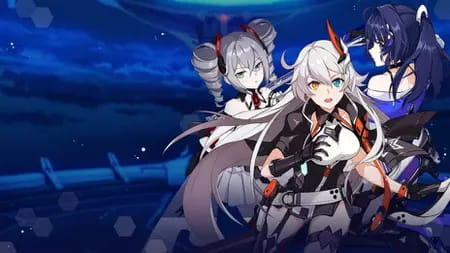 Graphics and sound
The game features high-quality graphics depicting vibrant atmospheres worldwide and during combat. Moreover, the lighting technique and animations are finely tuned and make the experience immersive. The game OST is a piece of beauty.
Duration and game modes
Honkai Impact 3rd offers single-player and multiplayer game modes that will last over 80 hours at least.
Single-player
Story: This is the campaign mode consisting of stages with scenes of dialogues, cutscenes, and full-motion videos.
Chronicles: A series of short side stories exploring the backstories of Valkyries and other aspects of the world.
Open World: You can explore several huge open fields to gather materials and complete various challenge tasks.
Multiplayer
Co-op Raid: Players team up to progress through stages and earn legendary weapons.
Memorial Arena: Players compete against bosses for the highest score across the server.
Abyss: Players try to progress as far as possible through several battles and compete for high scores against others in a group
What do the reviews say?
Honkai Impact 3rd has been rated Mostly Positive by over 6000 players on Steam.
Age rating
Honkai Impact 3rd has been rated PEGI 12.