DsHidMini is a modern solution for your beloved DualShock 3 and DualShock 4 controllers. Crafted as a sleek successor to ScpToolkit, this universal driver boasts extensive compatibility with today's games, emulators, and features Xbox Controller emulation, all while being optimized for Windows 10/11. Rediscover your gaming adventures with a touch of modernity and discover what DsHidMini has to offer.
What is DsHidMini?
DsHidMini is a comprehensive driver for the cherished DualShock 3 and DualShock 4 controllers from Sony's PlayStation 3 and PlayStation 4. Designed as a contemporary alternative to the now-discontinued ScpToolkit, it is feature-packed while remaining streamlined, ensuring extensive compatibility with current games, utilities, and emulators. It's optimized for the newest Windows 10/11 versions.
What are the key features of DsHidMini?
Devices emulation: The core strength of DsHidMini is that it supports DualShock 3/DualShock 4 emulation (for compatibility with DS4Windows) and Xbox Controller emulation through XInput. In addition, it is capable of emulating Sony sixaxis.sys (both wired and wireless) and split/multi-device emulation (to overcome DirectInput axis limits).
Configuration: It exposes all controls, including pressure-sensitive buttons, through a simple and clean interface. Regarding the rumble motors, they are exposed as Force Feedback effects for optimal game compatibility.
Bluetooth: It also provides Bluetooth support if used in conjunction with BthPS3 and can automatically pair the controller to Windows Bluetooth. Moreover, it features Bluetooth Quick Disconnect and Automatic Disconnect after an idle timeout to conserve battery.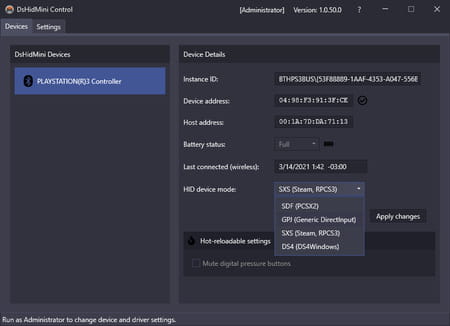 Cross-compatibility: It has been designed to support many different emulators for maximum compatibility, including PCSX2 PlayStation 2 emulator, RPCS3 PlayStation 3 emulator, DS4Windows, RetroArch emulation platform, x360ce for XInput emulation, Dolphin Emulator, and DuckStation (PlayStation 1, aka. PSX emulator).
Battery level: The battery charge level is clearly indicated through custom LED states, and charging will cycle through states 1 to 4.
Updates: DsHidMini is actively maintained to provide the best services so that you will get full compatibility with Windows 11 and high-end features.
How to install and use DsHidMini?
Once you have downloaded the DsHidMini solution we provide you at the top of this page, we strongly suggest that you follow the dedicated comprehensive installation guide.
Regarding learning how to configure and use DsHidMini, you should review these finely-crafted articles:
You will also find many demo videos on the Nefarius' Project Documentation.
Is DsHidMini free?
Yes, DsHidMini is entirely free and open-source.
Is DsHidMini safe?
DsHidMini is considered safe to use and regularly maintained.