Steam Achievement Manager is a safe and reliable solution you can use to unlock or reset any achievements related to your Steam's games. Lightweight, 100% functional, and open-source, it is your best ally if you want to shape your gaming experience or just show off.
What is Steam Achievement Manager?
Steam Achievement Manager (SAM) is a third-party tool that allows you to unlock or reset Steam achievements for games you own on the Steam platform. It also provides functionalities for consulting statistics associated with those achievements.
What are the key features of Steam Achievement Manager?
Simple interface: Steam Achievement Manager offers an intuitive and easy-to-use interface to set up and manage your achievements. Access your game library and unlock and remove achievements with ease.
Unlock achievements: You can unlock any game in your Steam library with a single click. That's convenient if you want to get 100% completion without grinding the game, if you missed an important event that you cannot redo without restarting from the start, or to show off.
Reset achievements: You can also reset achievements if you prefer to leave the game untouched or not change the difficulty or other aspects related to achievements. It's also great if you want to restart the game from scratch and live the original experience again.
Manage achievements: Organize and manage your achievements in a user-friendly interface, keep track of your progress, and let your best achievements speak for you. Customize your player profile and share it with friends and the Steam community.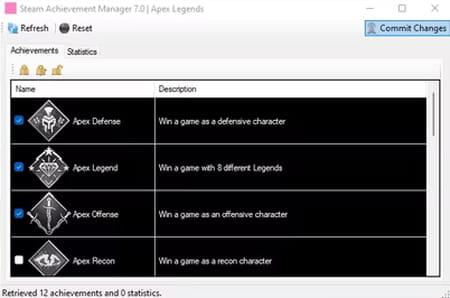 Statistics: You can also consult statistics related to your games.
From anywhere: Steam Achievement Manager is available on multiple platforms, including Windows, of course.
How to use Steam Achievement Manager?
Download and unzip the Steam Achievement Manager file we provide you. Click the executable file to launch it.
As it boots, it will automatically scan your Steam library and list all your games and achievements.
If you don't see one of your games, you can head over to the SteamDB page and search for it. Copy and paste the AppID into the field next to Add Game. Click on it, and Steam Achievement Manager will retrieve the game.
Click on any game from the list to display its achievements.
Click on the checkboxes of every achievement you want to modify, and then either unlock them or reset them by clicking on one of the lock buttons. Finally, click on Commit Changes.
If Steam is running, you should see the pop-ups appear.
Is Steam Achievement Manager free?
Yes, Steam Achievement Manager is 100% free to use.
Is Steam Achievement Manager safe?
Yes, Steam Achievement Manager is safe to use. Still, changing a game's achievements may affect your gaming experience and Steam profile's reputation, so use it wisely. Finally, ensure you always follow Steam's terms of service.