Gaming keyboard: and mouse, without number pad, mini
In this article, we look at a selection of gaming keyboards so that you can decide which one best suits your gaming experience needs.
What gaming keyboard and mouse to choose?
Keyboard recommendations:
Corsair K100 RGB Optical: this keyboard has great key responses that are adapted to most hand sizes. Also, it comes with a USB pass-through and RGB backlights. It has dedicated media controls and produces nice tactile clicks. However, keep in mind that it's quite big.
Mountain Everest Max: with a USB 3.2 Gen1, you can choose to have the complete version or the basic kit. Every key supports RGB backlights and, speaking of, it comes with ABS keycaps. With this fully modular keyboard, you will also get dedicated media controls.
SteelSeries Apex Pro: with an OmniPoint adjustable switch, this keyboard has 16.8 million color RGB backlights. This per key actuation allows amazing customization and it's a hybrid between a linear and tactile switch. It has an OLED smart display If you are looking for a robust feature set, then this model is just for you.
Razer Huntsman Elite: with almost instant actuation, this keyboards family comes with an optomechanical switch. You also get a full suite of dedicated media controls, a detachable magnetic wrist-rest, and a stylish design. However, there is no USB passthrough or macro keys.
Logitech G915 Lightspeed: a huge advantage of this wireless keyboard is its battery life that is more than great! It comes with a Logitech GL low profile switch and RGB LED backlights. Smart media controls include a volume wheel and keys are very responsive! However, there is no wrist-rest and passthrough.
HyperX Alloy Elite RGB: You get RGB backlights, a USB passthrough, and dedicated media controls. The wrist-rest is detachable, so this model fits everyone. It is also quite robust and affordable, which makes it great for gamers on a budget.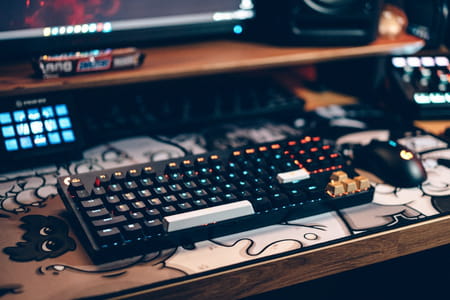 Mouse recommendations:
What is the best gaming keyboard without a number pad?
If you are looking for a keyboard without a number pad - called TenKeyLess (TKL) keyboard - then check out the best out there at the moment:
Mountain Everest Max: As mentioned above, you can get the full kit or just the TKL version of this keyboard - either way, it's one of the best models out there.
G.Skill KM360: This affordable model has integrated media controls and bright white LED backlights. You'll get the classic Cherry MX Red linear switch. There is no wrist-rest but the model is reliable and rather robust.
Kinesis Freestyle Edge RGB (split TKL): As its design suggests, this model is highly customizable and offers the possibility to store up to 9 user profiles. The idea behind the ergonomy of this keyboard is to set it at shoulder width for those who experience shoulder pain (or to put another accessory such as a stick).
Roccat Vulcan TKL Pro: This model's Titan optical switches are accurate (and fast) and it has customizable RGB backlights. The keys are programmable and the keyboard is very comfortable.
Razer Huntsman Tournament Edition: Although this model has fewer features than other keyboards, its fast performance makes it up for that. The cable is removable, which means that you can use it wired as wireless.
Logitech G915 TKL Lightspeed: With gorgeous RGB backlights, you'll get great tactile feedback. This model is also very accurate and some keys are also programmable.
What is the best gaming keyboard mini?
If you want to opt for a mini gaming keyboard, here are our two recommendations:
Corsair K65 Mini: With a polling rate of 8,000Hz with very responsive keystrokes, this model is perfect for those who don't have much desk space. The keys are also highly customizable and the overall experience is very satisfying.
HyperX Alloy Origins 60: This model comes with (mechanical) HyperX Red switches that are very responsive. Also, the keyboard supports backlighting and offers great performance. In addition, this model is rather affordable.
Razer Huntsman Mini: This model offers a 1,000Hz polling rate and 100 million keystrokes for the most optimal experience. The keyboard supports RGB backlighting and has programmable keys.
What is the best gaming keyboard for under $500?
If you are looking for a good gaming keyboard under $500, then you can check every suggestion from the lists above - they are all under $500 and prices vary between $49 and $279.
What is the best gaming keyboard (60 percent)?
If you are searching for a gaming keyboard with a 60% layout, then check the Best gaming keyboards mini - they are all with a 60% layout.
What is the best wireless keyboard?
Logitech G915 Lightspeed: We've already talked about this one earlier in the article, so scroll up for more details!
Corsair K63 Wireless: A comfortable TKL keyboard that supports backlighting, however, the battery life is less than optimal.
Logitech G613: A full-size keyboard with great battery life. You also get media controls and dedicated macros.
Mechanical or membrane?
Mechanical keyboards have a specific system consisting of switches. Switches allow the keys to be activated even if they have not been fully pressed, this being one of the main differences compared to membrane keyboards. Thanks to this system, the keys are precise and offer a fast response and durability. Plus, they have an anti-ghosting system (detection of keys pressed simultaneously without causing problems) and are easier to clean and repair. There are different types of switches, which we will see later in the section: Types of Switches.
Membrane keyboards do not have this mechanism but are formed by a thin layer of silicone that separates the key from the electrical circuit responsible for sending the command to the computer. In this case, for it to work, it is necessary to press the key down so that the membrane makes contact with the surface of the circuit and closes it. The advantages of these keyboards over the mechanical ones are that they are more ergonomic, less noisy, thinner, and cheaper.
A midway option is a semi-mechanical keyboard. These feature the membrane system but the feel is similar to that of a mechanical keyboard.
What types of switches are there?
There are several types of switches and each of them has its features and is characterized by color. Several brands are developing this technology. And while Cherry MX used to be the only one, now brands such as Razer, Logitech, and Kailh have joined the market.
All the switches' keyboards share the same basic characteristics regarding the brands, so once we understand what each of them implies, we can figure out any model and choose.
Mechanism
Linear: The arrival at the actuation point (when the keystroke has been recognized by the computer) is not recognized by the user.
Double click: They make the first sound when the key is pressed and a second sound when the command has been recognized. The user will notice this both acoustically and physically on the keyboard.
Rapid rise: These are characterized by a very sensitive tactile sensation when the actuation point has been reached.
Maximum travel: They all feature a similar trip, which consists of the maximum distance the key can travel from the time it is pressed.
Keystroke recognition: Equivalent to the required distance the switch has to travel to reach the actuation point. Again, in the case of Cherry MX, equal in all of them and equivalent to half the maximum travel.
Force of pulsation: This is the force required to be exerted on the key for it to actuate. It is usually indicated as the required weight in grams.
Loudness: The sound emitted by the keys when pressed. The model that emits more noise is the blue Cherry MX, while the one that emits less is the black Cherry MX.
Use: For which users it is intended according to the task they are going to perform with the keyboard. A '+' indicates those for which it is recommended and a '-' indicates those for which it is not.
On the official Cherry MX website you can see all the models and also test the sound of the key switches. You can also access the pages of other brands: Razer, Kailh, and Logitech.
Our recommendations
Occasional gamer and occasional typing: If this is your case, we recommend a membrane keyboard. It is enough for infrequent keyboard use. It is also the most pocket-friendly.
Regular gamer and occasional typing: Here we recommend a mechanical keyboard. If you spend hours playing video games, your priority will be the speed and precision of the keys.
Occasional gamer and frequent typing: In this case, the priority is comfort and avoiding typing fatigue. For this reason, we recommend a membrane keyboard and, if you like the characteristic sound of mechanical keyboards, a semi-mechanical keyboard.
What Is backlighting used for?
In addition to the aesthetic function, it offers the possibility of detecting and displaying the keys correctly in low-light environments. Another advantage is that the lettering of the letters will never wear off, as they are marked by internal light emission. RGB (Red Green Blue) illumination allows more colors to be obtained from the combination of these three. The vast majority of keyboards with this feature allow customization of the LEDs.
Our recommendation
We recommend getting a keyboard with backlighting because if at some point it bothers you, in most models it can be disabled. This way, if we ever need extra light, we won't have to worry about it. As we have mentioned, we will not have any problems with the wear of the letters on the keyboard either.
Which keyboard layout should I choose?
There are a large number of keyboard layouts that affect the size, number, and layout of the keys, number pad, etc. To distinguish them from each other, manufacturers usually use a percentage as a notation:
100% or Full Size: This is the most complete keyboard with 105 keys in ISO format. It is divided into four zones separated by spaces.
1800 Compact: Same number of keys as the previous one but a much more compact format with fewer divisions.
80% or TKL: They do not have the extra numeric keypad located to the right of the surface in the previous ones. They are so-called because they are approximately 80% of the size of the Full-Size keyboard.
75%: They are similar to the previous ones but the layout of the keys varies slightly to reduce their size. They also retain the upper area of the full keyboard.
60%: Eliminate the upper area and the right numeric keypad.
40%: Eliminate all numeric keys and have only basic keys.
Ten Key or Numeric keypad: Only have numeric keys and some with special functions.
Our recommendations
Here it is mainly the use that the user is going to give it, so each one must assess which keys are essential for the performance of their activities, as well as the space available to place the keyboard.
For the use of video games, we recommend the 100% format, since more keys will be available to execute the different commands. However, if you have limited space for the keyboard and mouse, the 1800 Compact may be the best option.
We recommend taking into account that, from the 75% format and below, it may take some time to get used to the layout of the keys, as it is not usually the usual one.
With wrist rest and lifting temples?
Wrist rests are accessories designed to support our arms and wrists while using the keyboard. They are usually covered by a fabric surface and have pads that make them more ergonomic. They vary in materials, sizes, thicknesses and some have magnets to attach them to the keyboard or a non-slip gel surface.
The elevation pins modify the tilt of the keyboard. There are three main types of tilt:
Neutral: The first row of the keyboard (closest to the user) is at the same height as the last row (furthest from the user).
Positive: The last row is higher than the first row.
Negative: The first row of the keyboard is higher than the last row.
Our recommendation
As for the wrist rest, we recommend mainly those made of materials that do not cause perspiration and that have a non-slip surface.
We recommend adapting the size to the size of the keyboard. For example, if the keyboard to be used is in 100% format, we recommend that it be approximately 47 cm. and for those who are going to use the 80% format, the ideal is 35 cm.
As far as the elevation pins are concerned, it should be noted that most people think that the positive inclination is the most advisable to have a correct position on the wrists, but this placement is the most used because it is the one that facilitates the reading of the keys. However, experts advise having the wrist aligned with the forearm or even tilted downwards, with the help of the negative tilt.
General gaming keyboard shopping advice?
If you want to buy a mechanical gaming keyboard, we recommend the Corsair and HyperX brands. Through their websites, you can access their extensive catalogs of keyboards that have different switches and features. Corsair also has several models of wireless mechanical keyboards.
When looking for something pocket-friendly, take a look at Mars Gaming keyboards. For typing, ergonomic membrane keyboards from Microsoft and Logitech are good choices.
If you finally opt for a wireless membrane keyboard with Bluetooth, the Logitech K380 keyboard is a good choice.
Looking for more gaming info? Check out our forum!