Element is a modern and secure environment if you want an instant-messaging service offering decentralization, security at the core, and voice and video calls. But it can also seamlessly merge and sync all your messaging apps in one place. Built for personal and professional use, you will undoubtedly find what you are looking for using Element.
What is Element?
Element is a famous open-source instant-messaging client started in 2016 which implements the Matrix protocol. However, unlike other instant-messaging services, Element is not ruled by any particular organization and relies on a decentralized network to offer a secure, end-to-end encrypted, and independent solution with all the features you can expect from modern messaging services. Also, it stands as an aggregator able to synchronize all your different messaging services in one place.
What are the key features of Element?
Instant messaging: Instantly send and receive text messages with all the other users, share files and videos, and freely express yourself thanks to emojis, stickers, or voice messages. Creating threads is particularly useful to keep your different conversations easy to read and organized.
Voice and video calls: You can organize video or voice calls with your friends or collaborators through a single link and get a full-featured video-call environment with dynamic layouts (you can arrange the participants the way you want or let Element Call steer based on who's currently speaking), screen sharing option, and the ability to select your input camera and microphone. Oh, and you can start a call with anyone, whether they have an account or not, share your link, and you are good to go.
Federate: Nowadays, people usually use several communication apps, whether because of legacy, different habits, or if you are an organization because different teams have chosen different solutions. Hence, it can become tedious or hard to maintain synchronizing information across your people or teams. Hopefully, as Element implements the Matrix protocol, you can now join other people even if they are using a different messaging app through bridges and find all your conversation in a single app. More simplicity, more flexibility.
Rooms and Spaces: Rooms are groups of people where you can directly communicate, and Spaces are groups or sub-groups you populate with Rooms. Those two main concepts help you ensure all your communications are well-organized and increase efficiency. For personal use, you can see Rooms as dedicated places with some friends and Spaces as topics. For professional use, Spaces can be specific departments of your organization, and Rooms would be teams inside of them. Of course, you have complete control over Room and Space settings, like encryption, private/public characteristics, and more.
Secure: By default, Element implements end-to-end encryption for instant messaging, video calls, and file sharing so that no one except you can consult your data. Also, thanks to cross-signed device verification, you can ensure other persons are who they pretend to be and start or continue a conversation.
Decentralized: You are part of a decentralized network, which means you retain full sovereignty of your data (no third-party access to them), and it prevents data mining or routine surveillance. Also, as the network is composed of independent servers, there is no single point of failure, and censorship can not be applied at the service level. Depending on your needs, you can choose on-premise or cloud deployment.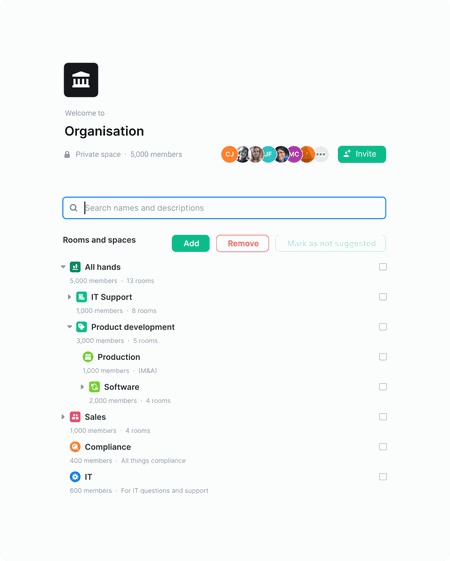 Configurable: Admins can quickly deploy Element for their specific needs. They have complete control over Room and Space settings, can configure border gateways, deploy cross-domain solutions to link separated networks securely, have access to a range of support and service levels agreements (SLAs), and can easily guard against imposters by verifying and revoking accesses.
Interface: You will get a smooth and frictionless user experience as the interfaces have been designed with simplicity in mind.
Trusted: Element is already used by many actors working in Utilities, Defense, Government, Healthcare, Education, and more.
How to use Element?
Once installed, you need to sign in or create an account using your own username or your GitHub, Google, Facebook, GitLab, or Apple account. An email address is also mandatory to recover your account if you forget your password.
Then, you can start adding people from your Home Space and join existing new rooms.
Then, you can add more Spaces and Rooms, either private or public, and start communicating with all your contacts, friends, or collaborators.
You can consult the official help center and join the Element rooms for more help.
Is it free?
For personal use, Element is free. Still, with the paid Element One package, you can bridge all your WhatsApp, Signal, and Telegram accounts in one hosted place and join all your different conversations from a unique app. For organizations or professional use, you can choose one of the paid options depending on your needs among Element or Element Enterprise.
Is it safe?
Element is considered safe as it has no data leaks or corruption history. Besides, it is an open-source software solution that implements the Matrix protocol and features end-to-end encryption and cross-signed device verification by default. You can consult the privacy policy for more information.