Omegle is a video chat application for communicating with complete strangers. It offers private rooms to connect with millions of people around the world.
What is Omegle?
Omegle is a free online chat website created by Leif K-Brooks in 2009 and designed to make people socialize without registering an account. It randomly picks people and pairs them in one-on-one video or text chat sessions, which is pretty simple but crazily efficient to make you meet tons of new people very fast. What is truly fun with Omegle is that you never know who you will meet next, so it is always fun to let you be surprised.
What are the key features of Omegle?
Talk to strangers: Bringing people together (and anonymously) is Omegle's main point. The app offers users the possibility to meet strangers and learn amazing stories.

Text: What is good about Omegle is that people are free to use text messages only without showing their faces.

Video chat: Besides the previous feature, Omegle supports video chats - this is great for better knowing the people you meet.

Dorm chat: This feature is available only to those who have a .edu email and allows students to talk together.
How to use Omegle?
On your mobile phone, open Omegle and grant the app the necessary permissions. You can connect to the app through your Facebook or Google account. Before you can start chatting, you'll need to include your name, age, and gender. You can then add a profile picture and confirm that you allow using the camera, microphone, and location. You can then set other chat details, such as language, receive notifications, and validate who you want to talk to (men, women, or everyone). You can also search for people and enable the video call mode depending on your interests.
When the configuration is complete, the search engine will find your contacts. If you like the person, click the V button; if you don't want him or her, click the X button to start a new chat with another person.
How to get unbanned from Omegle?
This is pretty simple because Omegle identifies users based on their IP address. Don't waste your time contacting Omegle and asking them to unban you, as they won't. Although hopefully, you have plenty of options, they almost all rely on changing your IP address:
Wait. Depending on the nature of your acts and how many times you have been banned in the past, just waiting is usually the more moral thing to do.
Connect to Omegle from a VPN service.
Hotspot to your phone or any other device.
Consider using the Tor Browser to connect to Omegle.
Connect to Omegle from any other network, like another Wi-Fi hotspot.
Check if your ISP uses a static or dynamic IP address. If it is static, then you cannot change it at this level, if it is dynamic, then you can reboot your router (it may take hours before your ISP assigns you another IP address).
How to install Omegle on your iPhone?
Go to the official website from your device and then follow the instructions below: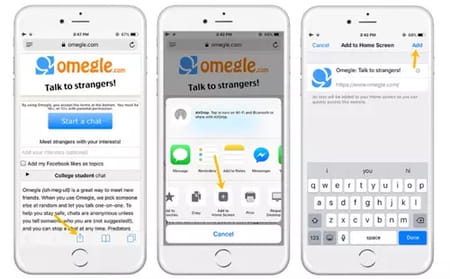 How to install Omegle on your PC?
To use Omegle on your PC, you have two options:
Use the online version on the official Omegle website.

Use an Android emulator, such as BlueStacks.
Is Omegle free?
You can download and use this app for free.
Is Omegle safe?
Before installing Omegle, we recommend reading the official Privacy policy. Please note that the policy states that it records "a timestamp, as well as IP address, ID cookie, and similar information for you and your chat partner."
Is Omegle dangerous? Regarding safety and namely child safety, the Omegle chat has been subject to controversy after an investigation by the BBC. Since 2013, Omegle has used a monitored video chat to monitor misbehavior (potentially harmful content, nudity, or sexual content). However, this feature seems to be only partially effective.