There are numerous tools for editing pictures. ACDSee Photo Editor is one of the best ones thanks to its user-friendly interface and various tools that help you to edit your pictures, whether you are a professional or an amateur.
What are the key features of ACDSee Photo Editor?
Image editing: just like any other editing tool, ACDSee Photo Editor enables you to crop, rotate, resize and add effects to your photos. It enables you to combine your photos and add elements from your digital scrapbooking supplies.
Photo correction: once you have imported your picture to the interface of the application, you can choose tools that can remove red eyes, dodge, burn, smudge, and sharpen them. Besides, users are also given the choice to change the color and contrast, liquify portraits, and handle any geometric imperfection.
Templates: ACDSee Photo Editor is packed with a number of templates that have been designed by famous designers: Andrea Gold, Maggie Lamarre, and Vicki Stegall. You can pick the one that pleases you and use it for your photo album.
Text: you can also add text to photos. Users can select their preset text path (Spiral, Curlicue, Star, Leaf, Heart, Bracket, etc.) to complete the project in a matter of minutes and create text layers for various posters, postcards, etc.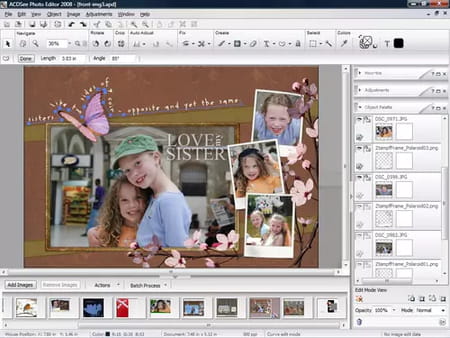 Is it free?
This is a free trial version. After it expires, you can purchase the full license for $29.95.