How to create new folder on Android
The Samsung Galaxy Tab is one of the most popular Android-based tablets. In this article, we explain to you how to to create folders and organize apps and files in your folders.
How to create a folder on Samsung Galaxy Tab?
To create a folder, go to My Files in Applications on the Home screen > Internal Storage.
In your preferred directory, tap the three-dots menu (…) in the top-right corner and select Add new folder.
Enter the name of the folder and click Done.
How to manage folders on Samsung Galaxy Tab?
Go to My Files > Internal Storage.
Select the category between Images, Videos, Audio, Documents, Downloads, or Installation files.
Tap and hold the folders of your choice that you'd like to move, copy, share or delete by using the bottom menu buttons (Copy, Move, Share or Delete).
If you want to move your folders, select the destination (internal storage, SD card, cloud storage, etc.) and tap Move here or Copy here.
How to organize apps in folders?
Folders are useful not only for storing files, but also for organizing applications on the desktop. You can create your own folders to make it easier to organize your apps. To save two apps in a folder:
On the home screen, touch and hold one of these apps. You can also swipe up to open the Apps screen and then select an app.
Drag an app on top of another app and drop it. Both applications will be in the same folder.
Click Folder Name and enter an appropriate name for the folder. Click Done.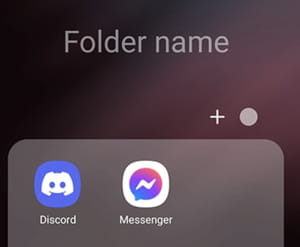 To add more apps to a folder, click Add (plus sign) or drag them to the folder.
Need more help with your Android tablet? Check out our Forum!