Luminar AI is a groundbreaking image editor fully powered by artificial intelligence. It lets you import your images and have the AI scan them to provide modifications based on all kinds of tools. In just a few clicks, it allows you to seamlessly replace the sky and reflections, add objects, shape your body and face, adjust the image's tone, and lots more. Seriously, you must give it a try, as it is perfect for non-professional users.
What is Luminar AI?
Luminar AI is a universal photo editing application part of the Luminar suite developed by Skylum. It also stands as a plugin you can combine with Adobe software and Apple products. Luminar AI is the first image editor entirely powered by Artificial Intelligence (AI) that can thoroughly analyze your images and photos to make image editing easy and accessible while bringing stunning results. Reinventing the whole image edition standards, it is perfect for beginners and advanced users.
What are the key features of Luminar AI?
Interface: Luminar AI offers a modern and very polished interface. Basically, it is divided into four primary workspaces, including Catalog (the collections of all the images you added, edited, and put to trash), Edit (all the different editing tools grouped into four panels, including Essentials, Creative, Professional, and Portraits), Templates (AI-powered presets that automatically scan and analyze the content of the photos and suggest the best edits), and Export (all the saving options).
AI and Templates: Luminar AI technology is based on two major concepts, the AI algorithms and templates. Once you open an image in Luminar AI, the AI automatically processes it, detects all the different kinds of objects (human, sky, sea, reflections, backgrounds, etc.), and internally stores them separately to allow you to use all the different tools. Templates are designed to suggest global sets of modifications based on the type and content of your image. As a result, it can save hours of fiddling around with sliders and achieve gorgeous results. Note that even if you apply the same preset to different images, Luminar AI adapts the Templates settings to give unique and convincing results.
Sky: The Sky tool is designed to work with flat, blown-out skies. As the AI identifies the sky's beginning and end and its reflection on water surfaces, it can seamlessly replace the whole sky and adapt the reflections to produce a stunning result.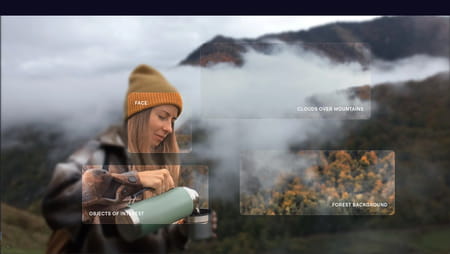 Augmented Sky: Using the Augmented Sky feature, you can add diverse objects and elements to your images, like birds, clouds, mountains, and lots more. It also provides sliders to set up the amount, the warmth, the relight, and the location.
Composition: Thanks to element recognition, Composition can suggest the best way to crop your photos following the famous rule of thirds. Also, you can manually crop it, adjust the ratio, and the perspective, rotate and flip your image, and perform 3D transformations (vertical, horizontal, and change aspect).
Portrait Bokeh: As the different elements are detected and sorted based on their type and depth, Luminar AI lets you gradually blur the various aspects of the background correctly based on their distance from the model. Also, you can alter the depth of field, brightness, and background temperature.
Structure: It can add details by applying texture to your photos. Of course, as it recognizes the different elements, it won't apply textures to people but only to objects, grass, rocks, water, etc.
Accent: It performs all the usual modifications to achieve a dozen controls automatically and substitutes traditional settings like highlights, shadows, contrast, tone, saturation, exposure, details, and more. As a result, you get more naturally highlighted photos with boosted colors.
Mood: Very handy to instantly change the whole color scheme of a photo.
Color Harmony: Color Harmony allows you to control color precisely and correct color tones through several tools, like Brilliance, Warmth, Split Color Warmth, Color Balance, and Color Contrast.
Supercontrast: You can precisely adjust tonal contrasts and balance, which is super helpful for high-contrast scenes. You can change various settings manually, including HIghlights Contrast, Highlights Balance, Midtones Contrast, Midtones Balance, Shadows Contrast, and Shadows Balance.
Iris: It can totally modify the eyes of the subjects to make them richer and more expressive. It can change the shape, size, brightness, and color and improve the iris' texture.
Skin: Using it, you can control the texture and smoothness of the skin to create fine portraits.
Body and Face: The Body tool lets you adjust and sculpt the body and abdomen size, making them slimmer if you want. Using the Face tool, you can tweak various settings about the face, the eyes, and the mouth.
How to use Luminar AI?
Open an image.
Click on Templates at the top of the window.
You will find all the Templates Luminar AI installed on the right sidebar. Next, select and open one of the collections.
As the collection opens, you can click on the Template you want to apply edits. The edits are temporary, click on Edit at the bar and adjust the Template to fits your needs.
Is it free?
We offer you the full-featured 7-day trial version. If you want to use Luminar AI with no limits, you can purchase one of the different licenses.
Is Luminar AI better than Adobe Lightroom?
If you are a beginner and want to perform simple yet AI-advanced modifications, then you should use Luminar AI. On the other hand, if you want to have more control, use various editing tools, and be able to organize all your photos, then take a look at Adobe Lightroom. But it does not stop there, as Luminar AI also comes as a plugin version (if you purchase it) you can use together with Adobe Lightroom Classic (from version 6), Adobe Photoshop (from version CS5), and Photos for macOS.