Photo Stamp Remover helps you to improve your images via various editing tools, such as suppressing undesired details like text or watermarks and filling the blank space among other tools.
What are the key features of Photo Stamp Remover?
Suppressing: Photo Stamp Remover helps you to get rid of undesired items in your pictures. It may be shooting dates, logos, or even text. For that, you just have to indicate the item to delete and the software manages to do so.
Filling: Photo Stamp Remover uses smart recovering technology to fill the blank spaces left by erased items with the surrounding texture so that the spot freshly filled will perfectly merge with the rest of your picture.
Batch Processing: Photo Stamp Remover supports batch processing to save your time. This is really useful when you have to deal with multiple files and folders: you do not have to load them one by one.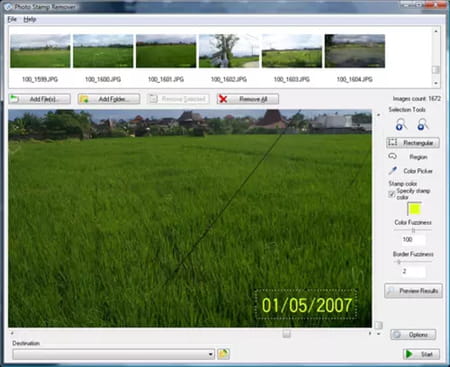 © Photo Stamp Remover
Is it free?
This is a free trial version of the software. After it expires, you can purchase the full license for $29.99.