Google Maps is perhaps the most indispensable app available today. Navigate where you want to go from practically anywhere in the world. Google Maps provides navigation for over 220 countries and territories and countless businesses are listed and located within the app.
What is Google Maps?
Google Maps is a mapping and consumer web-based platform created by Google, offering route planning for traveling, real-time traffic conditions, street views, and more. It is used by hundreds of millions of people each month and the services has been embedded in millions of websites.
What are the key features of Google Maps?
Route planning: You can easily plan your route from your current location to your destination and get several possible routes depending on lots of factors including your travel modes such as driving, transit, walking, cycling, and flights. You will be able to find almost always your way no matter where you are, no matter where you go as Google Maps covers hundreds of countries.
Find places: Wondering where some types of places like bakeries or restaurants are nearby? No worries, you just need to type the type of place or business you are looking for and Google Maps will list all of them close to you. The cherry on top, for some restaurants you can even order delivery right from Google Maps.
Live View: Using your phone's camera, the Live View feature allows you to keep your bearings and find your way around. The service will tell you the way in real-time from your camera view and ease the whole process, it really adds something. They are also planning to release Live View in location sharing.
Real-time information: Thanks to all the users and the data Google Maps can process, you are able to consult the information in real-time, including traffic, road closures, accidents, etc. You can also consult the traffic conditions in the future based on the day-to-day data, that way, you will be able to see when roads or buses are overcrowded and adapt your schedule to get the best conditions possible.
Navigate offline: To make sure you can always get access to all the available maps and information, you can download maps and use them even when you're offline. That's the kind of feature you love when you have no internet.
Share location: You can share your location with other people either in real-time or at a fixed location so that you can meet people easily.
How to use Google Maps?
Once Google Maps is installed, you can directly type your destination.
Then enter your location manually or enable your geolocation so that Maps can locate you in real-time.
Start your journey, order something, or share your location with other people.
How to install Google Maps on your PC and Mac?
Once you click on the download button at the top of this page, you need to sign in with your Google account, and you will notice an icon on the right side of the address bar. Click on it to install the Google Maps progressive web app, and the Google Maps app will appear in your taskbar or app dock.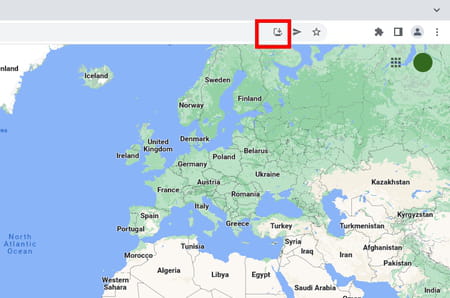 Is it free?
It is 100% free if you use Google Maps for your personal usage, but if you need to use the Google Maps API, you will have to pay for it.
Is it safe?
Google Maps is a safe tool to use, but like all Google's services, you should check the privacy policy to know how your data is used.