NoteBook FanControl is an app you should try if you're looking for a simple yet functional solution to tweak your laptop fan's speed. It offers a simple interface, making it easy to use and letting you manage your fan as you want.
What is NoteBook FanControl?
NoteBook FanControl is an all-in-one solution to dynamically tweak your laptop's fan speed. It offers a single main feature, but it does it efficiently and supports a wide range of manufacturers.
What are the key features of NoteBook FanControl?
Fan speed: Easily and dynamically tweak your fan speed through an efficient slider.
Temperature: It even shows you the CPU temperature to know whether your configuration is efficient or not.
High compatibility: NoteBook FanControl provides an extensive catalog of supported notebook brands, including Acer, Asus, Dell, HP, Packard Bell, Lenovo, Sony, and more.
Configurable: You may find it helpful to set up different configuration profiles adapted to different scenarios upfront and choose the one you prefer later.
Automate: Once set up, you can configure it to run automatically upon startup. Besides, you can close the window safely, and the app will still run in the background.
Interface: NoteBook FanControl focuses on what's important: simplicity. Hence, it offers a functional interface, not modern, though, but it doesn't matter here.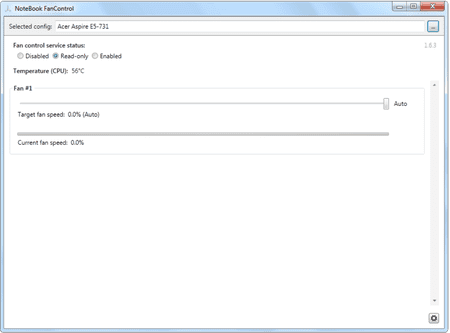 How to use NoteBook FanControl?
First, you must choose one of the available configurations provided by default.
Then, you can turn the fan control service on or off and tweak the fan speed using the toolbar.
Is NoteBook FanControl free?
Yes, NoteBook FanControl is free to use.
Is NoteBook FanControl safe?
NoteBook FanControl is a safe-to-use open-source solution.