Lively Wallpaper will bring your desktop to life through gorgeous animated desktop wallpapers. Modern and easy to use, you can now set GIFs, videos, webpages, shaders, and more as your desktop wallpaper and screensaver.
What is Lively Wallpaper?
A nice-looking and personalized wallpaper is always pleasant to see when you start your PC. It is part of your PC style and is important to create a comfortable environment.
Lively Wallpaper is a free, open-source desktop wallpaper manager. It combines high customization, flexibility through all supported formats and possibilities, and performance, making it a very well-crafted solution for modern desktop environments.
What are the key features of Lively Wallpaper?
Interface: It is propelled through a modern and beautiful interface, making it super pleasant to use without sacrificing flexibility and features.
Videos and GIFs: Yes, it is capable of turning videos and GIFs into wallpapers. An incredible feature is its ability to customize videos with filters, and it can handle integer scalers for sharp images. Various video formats are supported, such as MP4, MKV, WebM, AVI, MOV, and more.
Webpages: It is able to run WebGL, JavaScript, or almost anything working on Chrome so that you can load HTML files or web URLs as wallpapers. Oh, and it supports Audio Reactive Wallpapers.
Shaders: Shaders are pieces of code run on your graphics card, allowing almost limitless customizations and all kinds of crazy effects. Lively Wallpaper can run GLSL shaders in the browser and even supports Shadertoy.com URLs as wallpaper.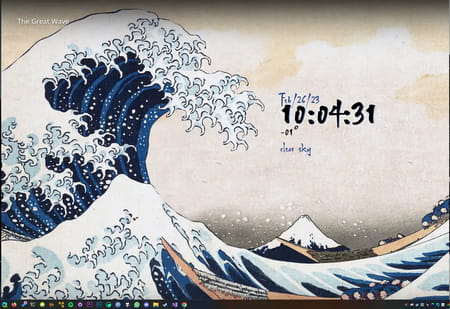 Games and applications: Lively Wallpaper can set any application able to render its own GUI windows as a wallpaper, and it can also handle games made using Unity and Godot engine.
Screensavers: You can set currently running wallpapers as fullscreen screensavers.
Automation: Lively can be controlled with command line arguments from the terminal and be paired with all kinds of third-party scripting software like AutoHotkey or else. That is really useful to add it to any pipeline or set up advanced behaviors.
Performance: It is able to automatically pause when running fullscreen applications or games, hence not consuming valuable CPU and GPU resources your computer needs. Of course, this behavior can be thoroughly customized, depending on your preferences, and you can only pause playback per display.
Multiple monitors: It provides full multiple monitor support so a single wallpaper can be seamlessly stretched across all your screens. You can also apply different wallpapers to all the monitors or duplicate them, it is fully customizable. HiDPI and Ultrawide resolutions are supported.
API: As a developer, you can take advantage of the powerful set of APIs to create interactive wallpapers, get system information, audio graph, music information, and more.
How to use Lively Wallpaper?
Explore
Once installed, you can browse the different sections from the left panel.
Browse the library to test the various wallpapers Lively Wallpaper comes with dynamically.
Add wallpapers
To add your own wallpaper, simply drag&drop the file or the web page into Lively Wallpaper, and an edit box will open to start the conversion process.
Alternatively, if you want to use content coming from the internet, you can go to the Source section and put your YouTube, Vimeo, or URL. Also, to use a file on your PC, click on Browse and select it. To finish, click on OK, and you are done and can then select it whenever you want.
Websites into wallpapers
Click the Add Wallpaper button at the top.
Paste your website URL, and click the arrow button.
Almost all websites with live visuals or information can be used as a gorgeous background, like AresLuna to add a giant analog clock on your desktop, Windy.com for a live weather map, tour the world with Drive and Listen, and more.
Customizations
Right-click on a wallpaper and select Customize to adjust many settings like color, lighting, and many other details.
For multiple monitor management, click on Active Wallpapers at the top, and ensure Selected Screen Only is highlighted.
Is Lively Wallpaper free?
Yes, Lively Wallpaper is completely free to use.
Is Lively Wallpaper safe?
Lively Wallpaper is safe to use and open-source.