Apex Legends is a battle royale game that was developed by Respawn Entertainment and published by Electronic Arts. Apex Legends was initially released in February 2019 and the story is set in the same universe as Titanfall and Titanfall 2. This article is dedicated to the PC version and we discuss some of the game's key features, as well as some additional information.
Gameplay
Here are some of Apex Legends' main features:
Gameplay: an online multiplayer battle royale game. Players have the possibility to form teams of up to 20 three-person squads or 30 two-person duos. Teams land on an island after the jumpmaster (one of the players in each team) decides to skydive out of an aircraft. Next, each squad has to search for weapons, armor, and equipment with the ultimate goal to defeat other teams. As time passes, the map shrinks, thus pushing players to keep moving in order to avoid getting out of it. Equipped with a Ping system players can send information to their teams (directions, strategies, etc.) through the push of a button, without having to communicate verbally.

Apex Legends Characters: Charaters are called Legends. There are 16 characters in total, each of which has different abilities and style. Some of them are based on character in Titanfall. A Legend can't be present twice in a team.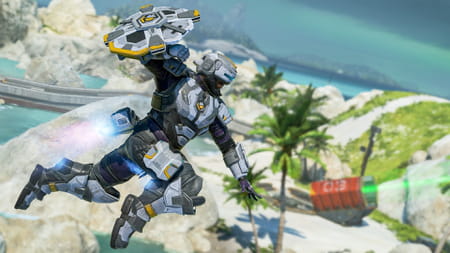 Organization: Apex Legends has a season content, as well as limited-time events.

Apex Legends Tournament: How to join an Apex Legends tournament? You can check the game's ongoing and upcoming tournaments. In order to participate, you have to register for the Apex Legends Global Series (ALGS).
Age rating
Apex Legends has a PEGI rating of 16.
Is Apex Legends free?
This games is free-to-play, meaning you can download it and play it without paying - however, it contains in-app purchases such as microtransactions and loot boxes that can be bought with real money and in-game currency.
Is Apex Legends cross-platform?
Apex Legends is a cross-platform game.
What are the minimum system requirements for Apex Legends?
Operating System: Windows 7 (64bit) or later.

Processor: AMD FX 4350 (or equivalent), Intel Core i3 6300 (or equivalent), Ryzen 5 CPU (or equivalent)

Memory: at least 6GB RAM.

Graphics: AMD Radeon™ HD 7730, NVIDIA GeForce® GT 640, AMD Radeon™ R9 290, NVIDIA GeForce® GTX 970.

Disk Space: at least 56 GB available space + around 3.8GB for 1 localized language.