Call of Duty: Warzone 2.0 is a thrilling free-to-play battle royale shooter game that brings battles to the next level. Experience an all-new battlefield with new weapons, vehicles, and a bigger map. Fight through intense close-quarters combat, or go full-on tactical with long-range engagements. Unleash chaos on the battlefield and outlast your enemies to be the last one standing.
Gameplay
New map: Compared to Call of Duty: Warzone, Al Mazrah is now the brand-new Battle Royale map for Warzone 2, and it has been specifically built to get the most out of Split Circle and Gulag 2.0. But it doesn't stop there, as it is a huge expanse with tons of places and spots to explore, offering unique gameplay possibilities.
Aquatic combat: A much bigger part of Al Mazrah is water, so water combats, swimming, and boats are very important in some places.
Split circles: Call of Duty: Warzone 2.0 brings more variations to the Circle Collapse system, another key aspect in battle royale games that forces players to face off as the playing area shrinks. This time, the circle may sometime split into up to 3 smaller circles, which can eventually merge again, meaning it will result in more close-quarters combats (SMGs are a must-have). Also, you can try to engage enemies in different circles using long-range weapons like snipers.
New Gulag 2.0: This is a signature move of Warzone, which has been improved in this second title. Upon death, you are sent to the "Gulag" and fight against other players for a chance at respawning on the map. This time, Gulag features 2v2 matches, and sometimes an AI combatant called The Jailer is included, whom players can hunt down to acquire a key and escape.
New vehicles: You will find all sorts of vehicles to spice up the gameplay and shift the balance of power across the battlefield, including ATVs, UTVs (off-road super trucks), Hatchbacks (classic civilian vehicles), SUVs, GMC Hummer EVs, Cargo Trucks (industrial vehicles), Light Helos (light helicopter), RHIBs (tactical boats), and Armoured Patrol Boat.
Proximity chat: This is the kind of feature that brings immersiveness to the next level. In a nutshell, it allows players to chat at volume levels depending on their distance. If the other player is close, you will hear them more, but if they are far away, then the volume will adapt to sound more distant.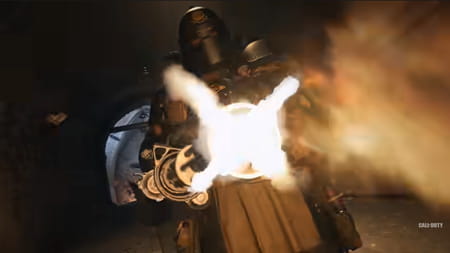 Third-person mode: You can switch from the first-person to the third-person perspective. Even though the gameplay remains the same, except that you can see round corners.
Seasonal content: Seasons are sets of periods of time with unique content, like new vehicles and new weapons, and cosmetic items, but also more refreshing content.
Graphics and sound
Call of Duty: Warzone 2.0 features beautiful modern graphics offering immersive solo and multiplayer experiences through handsome war-torn environments. In addition, all the realistic audio feedback and the proximity chat system make Call of Duty: Warzone 2.0 fights very satisfying.
Duration and game modes
Call of Duty: Warzone 2.0 offers solo and multiplayer game modes. The campaign takes about 5-6 hours to finish.
Campaign: Even though it was not in the game at launch, you can now jump into the solo campaign in Al Mazrah, composed of 17 missions.
Battle Royale: All 152 players compete on a shrinking map and fight for their life to be the last one standing and winning the match. You can play it solo or as part of a duo, trio, or quad.
DMZ: Solo or as part of a team, you won't have to fight this time to be the last one standing. Instead, operators need to loot, exfiltrate, and survive to earn rewards. If you die or cannot exfil from a match, you will lose all your items in your inventory (except your Insured Weapon).
What do the reviews say?
Call of Duty: Warzone 2.0 has a Metacritic score of 80/00 but a User Score of 2.2/10.
"No need to go overboard: Warzone 2.0 is an excellent sequel that builds on the very good foundations of its predecessor. Above all, this is not a simple update. The new battle royale opts for a more tactical and "realistic" approach to loot, playing perfectly in concert with other new features (proximity chat, areas with several circles, bases guarded by AI, etc.). As a result, the experience is renewed and still very effective, thanks to a great game engine and top-notch shooting sensations. Finally, we just have a few reservations about artificial intelligence, which should be reviewed, especially given its new importance in games, and for the famous DMZ mode, which still lacks a lot of challenges at the moment. For the rest, it's free and it's an excellent game. Let's go!" (Jeuxvideo.com)
Age rating
Call of Duty: Warzone 2.0 has no official PEGI rating, but you can consider it suitable only for a mature audience.