The best pet gadgets of 2023
For those who like to indulge and spoil their pets, or perhaps just want to keep an eye on what they're up to, technology can make the job easier with alternative and useful gadgets that can come in handy for pet owners. From pet trackers with GPS location to automatic feeders, we share our selection of apps to take care of your best friend.
Whistle Health & GPS Tracker
This is an impressive pet gadget that allows you to track the location and monitor the health of your paw friend. Weighing less than 1 ounce, the Whistle Health & GPS Tracker is a tiny device that can easily be mounted to any collar. Thanks to this tracker you are always on top of your dog's whereabouts. Whether it's a sneaky escape from your yard or a stroll with your dogwalker, you will always have access to your pet's exact location. The tracker allows you to define designated safe places and GPS updates are available every 15 seconds.
By installing the Whistle app for iPhone and Android, you can monitor all kinds of health, nutrition, and activity statistics. The device tracks your dog's sleeping, eating, drinking, scratching, licking, and more. You are also able to set customized fitness goals based on your pet's breed, age, and weight. After doing so, the Whistle Health & GPS Tracker will provide accurate statistics regarding calories burned, minutes active, distance travelled, etc. Whenever you feel that there may be a potential health issue, you can use Whistle's Ask a Vet feature to connect with a licensed vet via chat, email, call, or video.
You can acquire the Whistle Health & GPS Tracker on the official Whistle page for $129. Bear in mind that the device will not work without paying for a $99/year Whistle subscription plan.
Neabot Neakasa P1 Pro
When you love your pets, brushing and grooming them is the perfect way to show your affection, and make your pets love you even more! The Neakasa P1 by Neobot is a 5-in-1 professional grooming kit that won't break the bank. Perhaps the greatest advantage of the Neakasa P1 as compared to traditional home grooming tools, is its built-in vacuum function, which instantly captures 99% of all pet hair, dust, mites, and allergens. You can finally say goodbye to those piles of fur spreading all over the house!
Another thing we love about the Neakasa P1 Pro is its low vacuum noise. At eco mode it delivers as little as 52dB, allowing you to let your dog or cat relax, and provide a comfortable and stress-free grooming experience. The device can also be used to cut your pet's fur, as it comes with an electrical clipper with a stainless-steel fixed blade and ceramic moving blades. In the box you will find 3mm, 6mm, 12mm, 18mm, and 24mm clipping combs.
Last, but certainly not least, the Neakasa P1 Pro also helps you to keep your house free of pet hairs. You can use the cleaning brush and nozzle head to effortlessly clean your sofa, carpet, clothes, keyboards, and more.
The Neakasa P1 Pro is available on Amazon for $159.99.
WOPET 7L Automatic Cat and Dog Feeder
All of us agree that it is a blessing to have pets. Nonetheless, every so often things can get a bit complicated when you must leave your cat or dog alone in the house. For instance, when you have a long day at work, or when you plan to visit a place where pets are not allowed. The WOPET 7L Automatic Cat and Dog Feeder offers the perfect solution for those types of situations.
This is a 7-liter capacity automatic feeder, which allows you to remotely set times to feed your pet. By hooking up the device to your WiFi network, and by installing the app on your smartphone, you can provide between 1 and 6 meals a day depending on your pet's needs. This way, you can comfortably keep your cat or dog healthy and happy when you are not at home.
Another feature we are thrilled about is the integrated HD camera and microphone, allowing you to monitor and communicate with your pet while you are away. You can even take pictures and share your favorite moment on social media. Moreover, the device allows you to record customized messages that you can automatically broadcast. So now you can call your cat or dog when his food is ready!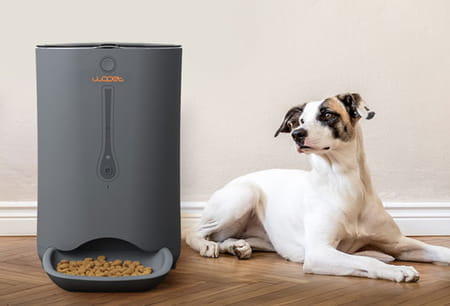 The WOPET 7L Automatic Cat and Dog Feeder works with 3 pieces of D batteries (not included). Alternatively, it can be powered via the included power adapter. Batteries are always a good idea though, as they will allow your pets to be fed even when there is a power outage.
The feeder is available in white and grey, and you can find it on Amazon from $129.99.
Wickedbone Smart Dog Toy
Looking like a gadget taken straight from a science-fiction movie, the Wickedbone is an interactive bone-shaped toy that can keep your dogs, and even cats, entertained all day. Programmed to attract your pet's attention, the Wickedbone doesn't require manual operation. You can remotely control the bone using the joystick in the Wickedbone app, or choose between a broad range of automatic play modes.
The Wickedbone is a truly intelligent toy. When your dog runs, the bone will run after him. When your dog chases the bone, it will try to turn around and run away from your dog. Wickedbone continuously teases your dog, and it behaves in different ways depending on your dog's reaction, and the way he bites the bone.
Featuring an FDA food-grade polycarbonate body, the Wickedbone is a fully safe and durable device. Its detachable protection cover and tires are easy to take off and can be conventionally cleaned within a couple of minutes. The Wickedbone comes equipped with a Micro USB charging cable, and 1 hour of charging will provide enough juice for up to 4 hours of play time.
The Wickedbone is available in white and white/blue for $59.99 on Amazon.
PetSafe ScoopFree Smart Self-Cleaning Litter Box
A clean litter box will have multiple advantages for your feline friend. On one hand it helps your cat's hygiene, whereas on the other hand it is important to keep the animal interested in using it as his preferred bathroom spot. That said, keeping a litter box fresh and clean can be quite a hassle. Fortunately, thanks to today's technology, there is such thing as a self-cleaning litter box.
The PetSafe ScoopFree Smart Self-Cleaning Litter Box is designed to keep your cat's litter box clean for multiple weeks, with not scooping or refilling required. The cleaning process starts 20 minutes after your cat leaves the box, and it automatically sweeps the waste into the built-in trap, assuring a free and odor free environment for your cat. Instead of traditional clay litter, PetSafe makes use of a lightly scented and blue-colored crystal litter. Besides being 99% dust-free, this type of litter is capable of absorbing and dehydrating your cat's waste.
By connecting the PetSafe ScoopFree Smart Self-Cleaning Litter Box to the My PetSafe app, you will be able to monitor your cat's litter box activity to detect any irregularities that may cause possible health issues. You can also activate the scoop at any given moment, even when your cat hasn't used the box.
The PetSafe ScoopFree Smart Self-Cleaning Litter Box is available in an open and a covered (front-entry) version. The box is for sale on Petsafe for between $239.95 (open version) and $299.95. A set of 2 pre-portioned bags of crystal litter refill sells for $24.95.