The best phones in 2023: smartphones, Android, iPhone
Which new phone models will be released in 2023? Which ones are the most anticipated? Check out our guide with the top phones of this year, including Samsung Galaxy S22 Ultra, Google Pixel 7 Pro and more!
What are the 2023 smartphone market predictions?
The year 2023 is predicted to be a tough one for the tech industry, as the economic climate continues to face high levels of inflation and rising interest rates. As a result of the crisis, industry expert Strategy Analytics expects for global smartphone shipments to decline 5% during 2023. The market for foldable phones, however, is expecting to see considerable growth. With multiple manufacturers gearing up to release foldable handsets, industry experts have nicknamed 2023 to be the year of the foldable phone.
What are the best high-end phones for 2023?
Samsung Galaxy S22 Ultra
The Galaxy S22 Ultra is the ultimate version of Samsung's Galaxy S22 flagship model. There's many things we love about this handset, but its 6.8-inch Dynamic AMOLED display is what stands out the most. The display delivers outstanding color saturation. Moreover, thanks to its brightness, the screen is perfectly viewable outdoors. As you may expect from a high-end Samsung phone, the materials used are spot on as well. The phone boasts an Armor Aluminium frame and a Gorilla Glass Victus+ front. Another interesting feature is the built-in S Pen.
Photo enthusiasts won't be disappointed with the Samsung Galaxy S22 Ultra. The phone's primary module uses a 108 MP sensor, backed up by a 12 MP ultrawide lens, as well as two 10 MP telephoto cameras. The Galaxy S 22 Ultra is capable of recording 8K video footage at 24 frames per second and 4K videos up to 60 frames per second.
Under the hood of the Samsung Galaxy S22 Ultra we find the Qualcomm Snapdragon 8 Gen 1 chip, 8 GB or 12 GB RAM memory, and between 128 GB and 512 GB internal storage.
Prices for the Samsung Galaxy S22 Ultra start at around $999 for the 128 GB version on Amazon.
Pros
One of the best displays on the market
Integrated S Pen
Fast processor
Cons
No microSD card slot
128 GB internal storage version only comes with 8 GB RAM
OnePlus 10 Pro
The Chinese brand OnePlus has proven to be an excellent smartphone manufacturer, and the OnePlus 10 Pro surely deserves a spot in this list. Powered by the lightning-fast Snapdragon 8 Gen 1 Chipset, the OnePlus 10 Pro features a gently curved 6.7-inch AMOLED LTPO display. The screen looks gorgeous and it performs remarkably well in outdoor and indoor environments.
When it comes to the design, there is nothing too special about the OnePlus 10 Pro. However, thanks to its aluminum frame and Gorilla Glass on the front and backside, the smartphone feels pretty nice in the hand.
The ceramic camera module on the back of the handset holds a 48 MP main camera, as well as a 50 MP ultrawide shooter and an 8 MP telephoto lens. It is worth mentioning that the triple-camera setup was developed with Swedish camera expert Hasselblad. While not as consistent as the flagship devices from Apple and Samsung, the OnePlus 10 Pro offers a pretty decent experience both for photo and video shooting.
Some of the phone's main specs include 8 GB or 12 GB RAM memory, 128 GB or 256 GB internal storage, and a beefy 5,000 mAh battery.
The list price for the 8 GB/128 GB version of the OnePlus 10 Pro is $799, but you should be able to find a better deal on Amazon.
Pros
Superb screen
High-quality materials
Cons
Improvement over last year's OnePlus 9 Pro is marginal
Secondary cameras are not the best
iPhone 14 Pro
Every iPhone is a good phone, but the iPhone 14 Pro is undoubtedly one of Apple's best devices to date. Simply said, almost everything about this smartphone is premium. Let's start with the 6.1-inch Super Retina XDR display, which produces stunning colors and amazing brightness. The notch of black dead space on previous iPhone models has been replaced with a pill-shaped cutout called the "Dynamic Island", which is smartly used for different types of notifications and actions.
The iPhone 14 Pro is powered by the all new A16 Bionic processor, which assures a steady and speedy performance during any tasks you may perform. In terms of safety, Apple has taken the iPhone 14 Pro to a whole new level by adding a crash detection feature, as well as a SOS satellite service, which allows for emergency calls when your phone has no signal.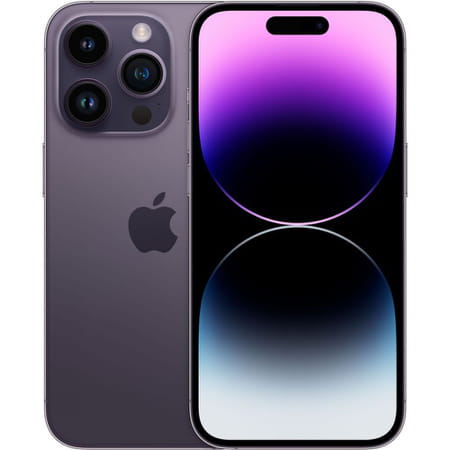 iPhones have always been outstanding when it comes to photography, and the iPhone 14 Pro is no exception to that rule. The camera island on the backside of the handset boasts a 48 MP main camera, supported by a 12 MP ultra wide and an 8 MP telephoto lens. The phone also supports 4K Dolby Vision HDR video recording.
The iPhone 14 Pro has 8 GB RAM memory and it is made available in 128 GB, 256 GB, 512 GB, and 1 TB storage capacities. Although the 3,200 mAh battery does not sound very impressive at first, it should easily take you through a full day of heavy usage.
You can get yourself an iPhone 14 Pro at Apple from $999 (128 GB version).
Pros
Great overall performance
Dynamic island is a genius addition
Long battery life
Cons
Expensive
Still no USB-C charging
Google Pixel 7 Pro
Over the past few years Google's Pixel phone has become a serious competitor for market leaders Apple and Samsung. In our opinion, the Google Pixel 7 Pro is the best Google smartphone so far. Admittedly, the device is quite similar to the Pixel 6 Pro, but with a number of subtle upgrades. The phone is powered by the Tensor G2 processor, the second generation of Google's very own mobile chips.
The Google Pixel 7 pro comes equipped with a 6.7-inch LTPO OLED display, with slightly rounded edges. By default, the phone runs at a 1080p, but users can switch to the extra sharp 1440p resolution. Thanks to the 120Hz refresh rate, navigating and scrolling through the screen feels pleasantly smooth. The phone features an aluminum frame with a glossy finish, and the camera bar has been covered in a nice-looking piece of metal.
On the rear of the handset we find a triple camera system. While the 50 MP main sensor is the same as the one used in last year's Pixel 6 Pro, Google invested in updating both of the supporting lenses. The 12 MP ultrawide camera has gotten wider, and the 48 MP telephone was upgraded from 4X to 5X zoom. It is safe to say that the Pixel 7 Pro is one of the best products on the market when it comes to smartphone photography.
Boasting a total of 12 GB RAM memory, the Pixel 7 Pro is a great companion for multitaskers. Moreover, the 5,000 mAh battery will keep the light on for many hours.
The Google Pixel 7 Pro is made available with 128 GB, 256 GB, or 512 GB internal storage. Prices on Amazon start at $879.
Pros
Unique look and interesting color options
Google's own-made G2 chip is super fast
Outstanding camera performance
Cons
Only 3 years of security updates
Battery life could be better
What are the best cheap phones for 2023?
Samsung Galaxy A23 5G
If you are not keen on spending top dollar on a smartphone, Samsung still has you covered. The Galaxy A23 5G is an excellent all round smartphone with competitive features at an affordable price level.
Let's start by taking a look at the phone's display, you'll get a gigantic 6.7-inch 1080p screen that produces well-saturated colors at a fairly decent brightness level. The Qualcomm Snapdragon 695 processor is powerful enough to allow for a smooth and clear 120Hz adaptive refresh rate. Another huge advantage is the availability of a 5G modem, a feature that is far from common in budget smartphones. The phone has a straight-forwared plastic design with a Gorilla Glass front. Nothing too fancy, but it gets the job done. On the side of the phone we find a fingerprint sensor, which allows you to safely unlock the device.
The phone boasts a basic quad-camera setup, relying on a 50 MP main camera, a 5 MP ultrawide camera, and 2 MP macro and depth lenses. Although you cannot expect miracles to happen, the Galaxy A23 5G manages to produce very decent looking photos, especially outdoors. The cameras deliver good detail and fairly accurate colors.
Some of the phone's most important specifications include 4 GB RAM memory, 64 GB or 128 GB internal storage, up to 1 TB expandable storage through microSD, and a 5,000 mAh battery.
The Galaxy A23 5G is available on Amazon from $265.
Xiaomi Redmi Note 11
Xiaomi has earned a reputation for being one of the top budget phone manufacturers on the market. The China-based company offers a wide range of affordable handsets that offer a good bang for the buck. The Redmi Note 11 is a perfect example of what Xiaomi is capable of.
At first glance, most of us would agree that the RedmiNote 11 doesn't look like a cheap smartphone at all. The handset boasts a 6.43-inch AMOLED screen running at a respectable 2,400 x 1,080 resolution. The vivid display is capable of a 90Hz refresh rate, although its default rate is 60Hz. In our opinion, this is one of the best screens to be found within the $170 - $250 price range.
Under the hood, the Redmi Note 11 packs a Qualcomm Snapdragon 680 chip, 4 or 6 GB ram memory, and 64 GB or 128 GB internal storage. The phone's battery has a generous 5,000 mAh capacity. Moreover, Xiaomi has added IP water and dust protection to the handset. Other features worth mentioning are dual-SIM support and microSD memory expansion.
Not surprisingly, the Xiaomi Redmi Note 11 comes with a quad-camera setup. This consists of a 50 MP primary lens, an 8 MP ultrawide lens, a 2 MP macro lens, and a 2 MP depth lens. That said, the Redmi Note 11 delivers an average photo and video performance. But then again, that's a logical trade-off when choosing for an affordable smartphone.
You can purchase a Redmi Note for as low as $175 on Amazon.
Google Pixel 6A
Google's first budget smartphone, the Pixel 3A, was introduced in 2019. At less than half the price of its flagship devices, the phone turned out to be a gigantic hit. The Pixel 6A is the third iteration of "the Google phone for the people". It is a great performing handset with appealing looks.
Users who prefer smaller phones will easily fall in love with the Pixel 6A, as it has a compact design. Its 6.1-inch OLED screen has natural and vibrant colors, capable of 60Hz refresh rate at a good brightness level. The back of the phone features a two-tone design and a horizontal camera bar similar to the one we find in the flagship Pixel models. The Corning Gorilla Glass 3 front may not be the best in class, but it provides an acceptable level of protection and durability.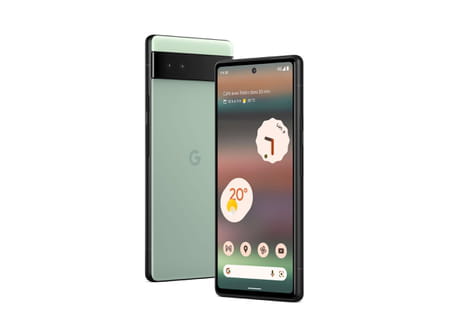 Things get more interesting when looking at the phone's camera setup. The Google Pixel 6A uses a combination of a 12.2 MP main lens and a 12 MP ultrawide lens. Even though this may sound modest, the real hero behind the camera setup is the photo processing software, which is powered by Google's flagship-grade Google Sensor Chip. Thanks to the advanced computational processing capabilities, the Pixel 6A is without a doubt the best camera phone in the mid-range segment.
The Pixel 6A has 6 GB RAM memory, 128 GB internal storage, and a powerful 4,410 mAh battery. Thanks to the IP67 protection rating, the phone is water resistant for as long as 30 minutes in up to one meter of water.
The phone's full retail price is $449. However, thanks for a huge price drop you can get it for as low as $299 at Google.
visit our forum for more topics related to smartphones