Commandos: Behind Enemy Lines is the first title in the acclaimed Commandos series. This game revolutionized the real-time strategy genre introducing unique and distinctive gameplay mechanics. Set during the hellish World War II in Europe and Africa, you take command of a small group of elite soldiers to lead raids behind enemy lines and ensure their safe return.
Plot
The plot is set at the end of 1940 when the western European continent was under the yoke of the German Army, momentarily stopped in its progress through the English Channel while its troops were preparing to invade England. However, one British Colonel, Lieutenant Colonel Dudley Clarke, disagreed with establishing a purely defensive strategy. Instead, driven by his will to create a unique military unit composed of six men, he built a team of specialists to execute dangerous offensive raids and infiltrations that shift the balance of power.
Gameplay
Challenging: Commandos: Behind Enemy Lines features 20 challenging missions in different locations throughout Europe and North Africa, offering various scenarios and tactical challenges.
Take down the villain Nazi army: Your objective is to undermine the German military power through sabotage stratagems and quick tactical ops to weaken the opposing force and alter the war's course.
Isometric view: The game features an isometric view that allows you to zoom in and out as you play and easily manage all your units and resources. Also, you can switch between six camera angles, providing greater control as you execute your plan through missions.
The commandos: You will lead a group of six different furious fighters, each one with unique abilities and specializations in combat. Each commando has different strengths and weaknesses, so you'll have to use them cleverly to achieve your objectives and guarantee their safety on the battlefield.
It won't be an easy task: Commandos: Behind Enemy Lines is famous for the consequent difficulty throughout the 20 missions it offers. Nevertheless, you will persevere and hone your strategy to take down your enemies as you progress on the battlefield. And don't worry, it still manages to offer a very entertaining experience mission after mission.
Characters: As mentioned above, each character has a specific ability, including Jack "Butcher" O'Hara (specialist in close-range combat and able to carry heavy objects), Sir Francis "Duke" T. Woolridge (lethal long-range sniper), James "Fins" Blackwood (with amphibious skills), Samuel Brooklyn (vehicle driver), Thomas "Fireman" Hancock (explosives expert) and René "Frenchy" Duchamp (highly talented spy).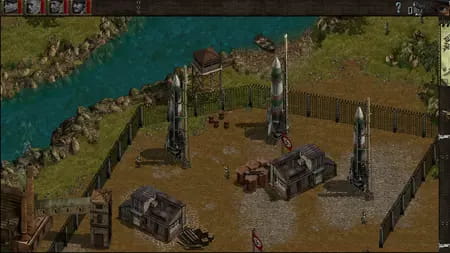 Graphics and sound
The graphics were really stunning when the game was released in 1998, with very polished textures and beautiful lighting techniques. In addition, the scenarios have been carefully recreated with astonishing precision and the character animations go beyond the merely functional, offering a visually pleasant experience.
Duration and game modes
Commandos: Behind Enemy Lines mainly features a single-player experience, challenging players with 20 perilous missions. Each mission is a different challenge that requires cunning, skill, and a well-thought-out strategy to overcome. You will enjoy the game for about 23-30 hours, depending on how far you want to discover everything it offers.
Also, you can play in co-op multiplayer mode on a LAN or over the internet.
What do the reviews say?
Commandos: Behind Enemy Lines is quite an ancient video game that many players praised when it was released. It is rated Very Positive by over 2500 players on Steam and 8.8/10 by over 140 users on Metacritic.
Age rating
Commandos: Behind Enemy Lines has been rated PEGI 16 as it contains explicit violence.