Creeper World 4 brings the series experience even further as it offers a 3D gameplay perspective and a new FPS game mode. Also, it brings your energy and structure management to the next level. All of this, with always more fun and almost infinite possibilities, thanks to community-driven content creation.
Gameplay
Stop it: The deadly Creeper is coming for you one more time, spreading wherever it can and destroying everything. The evil seems to come from strange egg-like emitters constantly striving to expand themselves. It feels no pain and can act unpredictably, so adapt your strategy throughout your missions to survive and take it down. Oh, and think about taking advantage of the terrain.
Extend your structures: Make sure you develop your economy and infrastructures in an optimized way, as you will have to build structures to extract resources, others to transport energy, as well as defensive weapons that will need an energy supply to work properly. It can be as cruel as a zero-sum game because if you don't do it right, the Creeper will overcome you.
Weapons: You have many ways to fight and destroy the deadly evil Creeper and prevent him from overcoming your structures, including bombs, repelling items, and all kinds of air, land, or orbital weapons.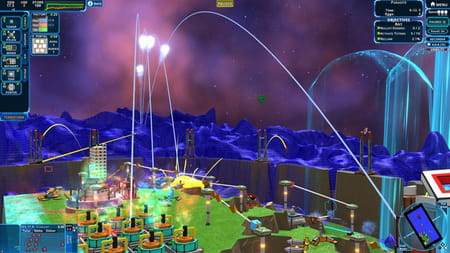 FPS: Your base is controlled by an AI, and you have to repel the Creeper to acquire more improvements and extend your structures across the map. This is a refreshing mode with a different gameplay pace, as you are now an active soldier looking the devil in the eye.
Create content: You can design custom maps and missions using both the map editor and the unit scripting editor. Those two tools bring infinite gameplay possibilities as players can now build unique scenarios where they fight against enemies that can adapt their behavior throughout the game.
Terraforming: Terraforming can be achieved by adjusting the elevation of the terrain during missions. Using it strategically can give you the advantage of having a higher ground or a better defensive position against opponents.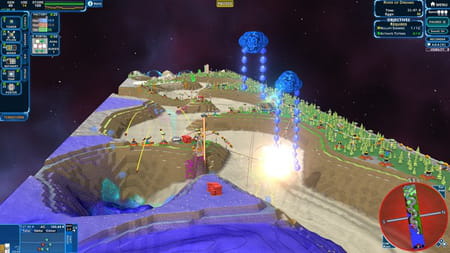 Graphics and sound
This is the first title of the series in a three-dimensional perspective with improved graphics compared to the previous games. Even though it does not feature high-end graphics, the game's unique look manages to provide an immersive nice-looking experience with a gorgeous OST and audio feedback.
Duration and game modes
Creeper World 4 offers single-player and co-op multiplayer experiences through different game modes. The main Story mode will teach you all the different gameplay mechanics of this fourth title, you should enjoy it for about 16 hours. But you will also be pleased to discover refreshing daily missions, random missions with procedural generation (you can tweak the map size and the enemies, resources, and eggs settings), and lots of community-created content.
What do the reviews say?
Creeper World 4 has been rated Overwhelmingly Positive by over 3000 players on Steam and has a Metacritic User Score of 8.1/10. Like the three previous titles, Creeper World 4 is a successful game that keeps adding more content and innovative gameplay mechanics.
"Creeper World 4 is a triumph of consistency." (Rock, Paper, Shotgun)
Age rating
Creeper World 4 has no official PEGI rating, but as it contains no violence, strong language, or anything else, it can be considered suitable for all audiences.