GPU-Z is one of the best programs for graphics card analysis as it is lightweight and shows you all your GPUs' characteristics and performance settings. Also, TechPowerUp GPU-Z stands out by constantly keeping up to date with the changes made by the major manufacturers.
What is GPU-Z?
GPU-Z is a solution that lists the most important details about your graphics card and GPU, featuring a CPU-Z-like interface. As it provides you with all the key data about the performance of your graphics card, GPU-Z is very useful for monitoring real-time information (such as temperature) if you are overclocking.
What are the key features of GPU-Z?
Gather data: GPU-Z can effortlessly retrieve and show you lots of helpful information about your GPU, like your GPU name, technology, Die Size, Release Data, number of transistors, DirectX support, Pixel Fillrate, Texture Fillrate, Memory Type, Memory Size, Bandwidth, Driver version, GPU and Default Clocks, and lots more. Also, it features a Validation process so that you can verify if results from a graphics card seem coherent.
Real-time monitoring: Yes, it does it too. GPU-Z can monitor and show you real-time data about your GPU, like GPU Clock, Memory Clock, Temperature, Fans speed, Memory Used, Power Draw, and more.
Benchmark: GPU-Z offers a load test that pushes the card to its maximum power to verify proper PCI Express bus speeds.
Multi-GPU: It can seamlessly handle multi-GPU configuration so that you can take advantage of all its features for all your devices.
Vast support: It supports Nvidia, AMD, and Intel graphics cards.
Export: You can easily export and save all the information GPU-Z collected in a text file.
Portable: There is no need to install GPU-Z for it to run, so you can carry it on removable devices anywhere you go.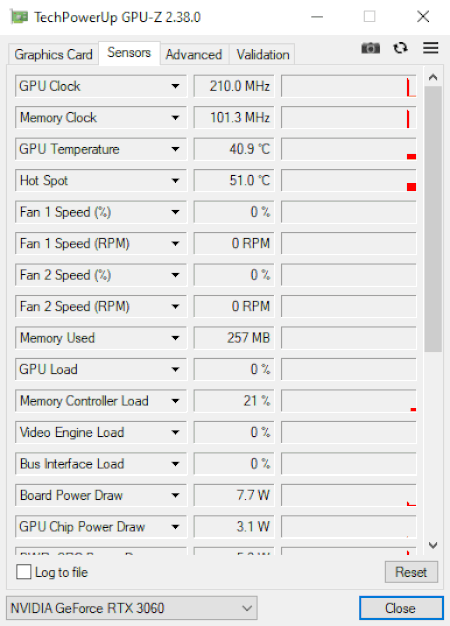 How to install and use GPU-Z?
As you run GPU-Z, you will see the installation is optional, so you can either use it as a portable solution or install it on your PC.
Once launched, you can consult the Graphics Card section to consult all the details about your GPU.
The Sensors section lets you view real-time data like your GPU and Memory Clock, GPU Temperature, Hot Spot, Fans Speed, Memory Used, and more.
In the Advanced section, you can consult details about the different graphics APIs depending on the graphics card you selected in the list.
Finally, the Validation part allows you to upload your data to validate them in case something may seem strange.
Is GPU-Z free?
GPU-Z is entirely free of charge.
Is GPU-Z safe?
Yes, GPU-Z is virus-free and safe.