Virtual birthday party: ideas for kids, adults, games, etc.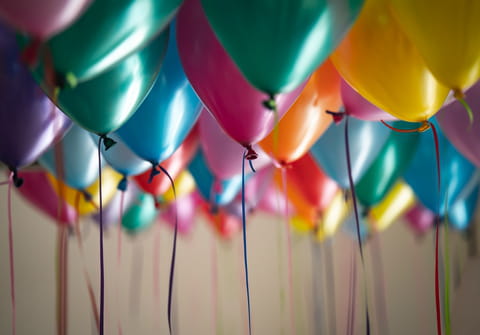 If you are far away from your loved ones and/or distance measures prevent you from meeting, an online birthday party via video call will allow you to feel closer, have fun and share an important date. In this article, we will give you some ideas and tips on how to prepare a virtual birthday party.
How to choose a theme for the party?
The theme of the party depends on the taste of the guest of honor. It can be a hobby, a sport, a movie or a series. If the virtual party is for a child, it's always a good idea to choose their favorite superhero, character or cartoon. What about an online sleepover to celebrate among friends? This way, they can enjoy some of the activities we propose later on.
How to prepare the invitations?
Make the guest list: Does the guest of honor prefer big parties or something simple with his family and closest friends? This is important when preparing the guest list. For example, if you are celebrating a child's birthday and you know that he would love to see all of his friends, the more you invite, the merrier!
Designing the invitations: Even if you don't print the invitation, it can be the same gesture and even prettier than other times. You can create virtual invitations using tools such as Canva, which has free templates to which you only add images and/or text. It is very intuitive and user friendly, you can get the mobile app for Android and iOS.
What information should the message or email include?
Depending on the communication channel that guests use the most, you can send the digital invite through an instant messaging application, a social network, or email. It is important to include key points in the message so that the guests can prepare themselves:
The time to get the party started. If you want to build expectations, include the schedule with the time of each activity and, especially, the time to sing happy birthday.
The website or application for the video call and the link to connect. This way your contacts can download the tool and create an account beforehand, if necessary. Keep in mind the limit of participants when choosing a platform. Check out this [ link article] to discover how to improve group video calls.
The theme of the party: a nice detail can be if each guest has a decorative element that alludes to the theme, whether it's a prop, a drawing, a sign, photos or images, balloons, hats, streamers, etc. Everyone can decorate their space according to their budget and possibilities. In addition, it is an opportunity to be creative and use some imagination.
The music: Prepare a playlist of the guest of honor's favorite songs, you can make a collaborative playlist on Spotify you can see how here. Depending on your budget, it may also be a good idea to hire an artist to help you liven up the party, whether it's a singer, a band, a DJ, etc. Remember to send them the invitation with the link and indicate the time they should connect, what a detail to have a virtual performance!
What about decoration?
If you live with the birthday boy or girl, create a party atmosphere with balloons, hats, and signs, or simply with handmade decorations, such as drawings or crafts. Make sure the decorations are visible on the video call to encourage guests. Here you can find some fun background themes for zoom.
Which activities can be fun?
The type of party activities depends on the theme, the guests, and the guest of honor. Here are some ideas:
Play in a group through HouseParty it's free and user-friendly, you can download it here. There are also charades or werewolves!
Are you going to have a sleepover? You could plan a series marathon or watch your favorite movie! Yes, this is possible remotely via the Netflix Party extension or a streaming app from other platforms.
Prepare a recipe together. It can be a dessert, a dish, or even cocktails if there are no children at the party.
If the guest of honor is a dancing lover, it can be fun to plan a choreography of a familiar song simultaneously. You can put together a dance contest or a lip sync battle.
Craft workshop to entertain the little ones. Since this is a virtual birthday, it is best to contact the parents beforehand to make sure they prepare the necessary materials.
The Cake: If you live with the person, you can bake and decorate it according to the theme or order it from a local bakery with home delivery.
What about the gifts?
In case the guests have the possibility to send a gift to guests of honor, coordinate with them to receive them previously, so that they are a surprise for the party. Here are some ideas for digital gifts or gifts you can send from a distance:
Special breakfast or their favorite dish. You can order it from a local restaurant with home delivery.
Flowers or candies with home delivery.
Video with greetings from friends and photos of experiences shared together.
Subscription to a music or video streaming platform.
Physical or digital book (e-book).
An online course on a topic the guest of honor is passionate about (photography, cooking, make-up, music, etc.)
A musical instrument such as a ukulele or a guitar.
Sportswear, headphones or items for a physical activity that the birthday boy or girl enjoys.